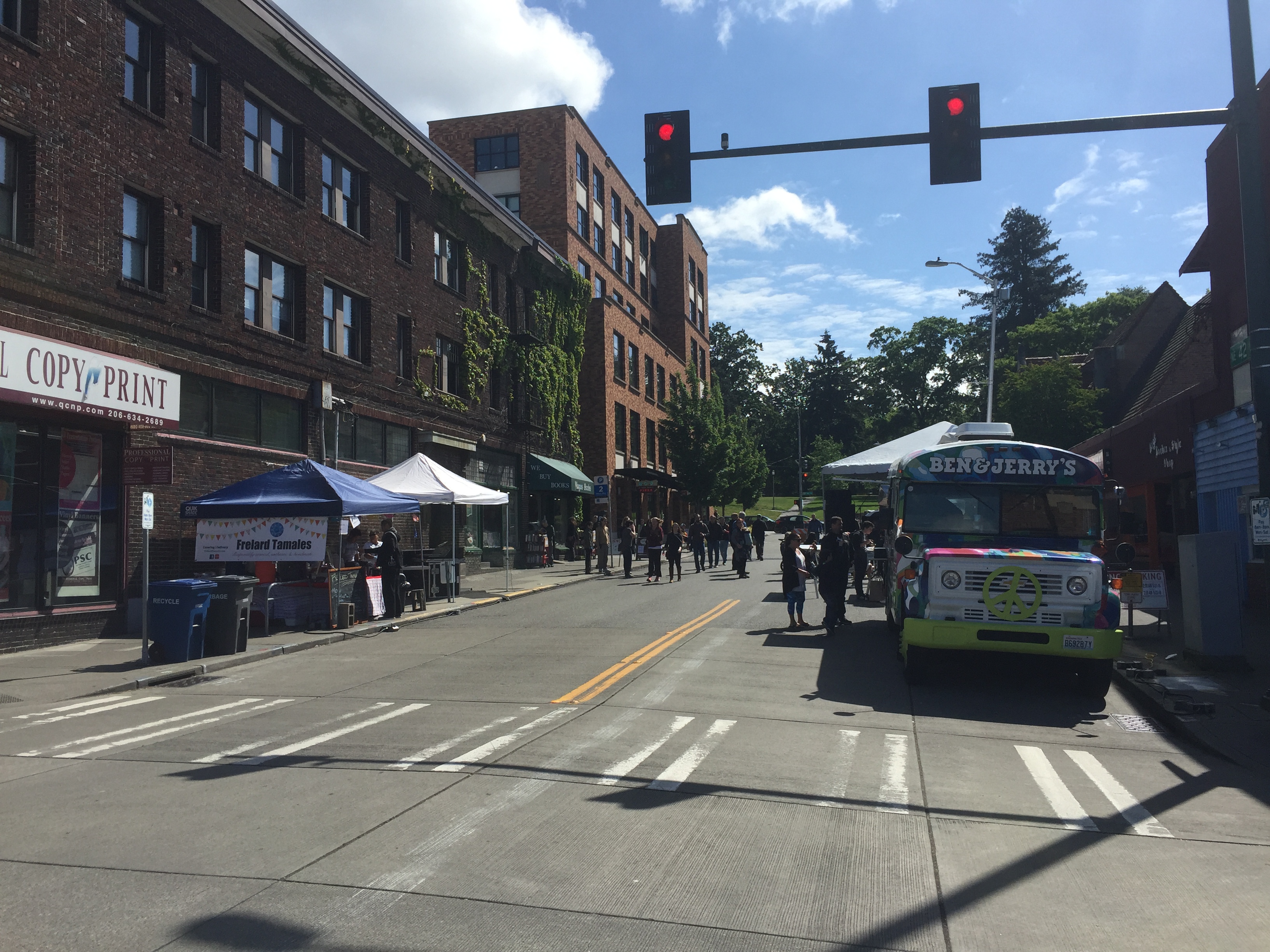 Article note: The foreword of this article is a guest contribution from Marlon Herrera, a member of the Get Engaged 2016-17 Cohort, a group of young adults serving on City of Seattle boards and commissions while the attached letter is a co-signed statement from the Get Engaged 2016-17 Cohort. The views expressed here are those of the cohort solely, not endorsed by the City of Seattle, its Boards and Commissions, or the Accelerator YMCA.
Paul Krugman recently wrote a piece about how our republic is dangerously fragile ($). We have the appearance of democracy, but more and more, we are transforming into a one-party state. The interests of the privileged, wealthy, and white have tended to–and is continuing to–dominate the public sphere.
When it comes to the University District rezone, we see NIMBYs lining up in droves at public hearings, motivated by undertones of elitism and xenophobia. We cannot tolerate this.
We cannot waste this opportunity to enrich one of the city's largest hubs for transit, employment, and retail. We must transform our urban fabric to be more inclusive and sustainable. Our leaders must not cave into the pressures of the privileged few: those who tend to glorify the homogeny of their 'white picket fence' ideals.
In light of national and global political dialogue, Seattle stands as a beacon of progress. We have a long way to go in our journey to be just and inclusive, but the U District Rezone is a small step towards a future that is worth fighting for.
The following transcription is from a letter that the Get Engaged cohort sent last week to Seattle City Councilmember on the University District rezone proposal:
Dear Councilmember Johnson:

As young adults advocating for our future, we are deeply concerned about Seattle's housing affordability crisis. We are troubled by what we see in many other cities, like San Francisco, and we cannot allow that to happen in our city. Everyone deserves a place to call home–regardless of their race and income. Will you help pave the way to a more inclusive housing supply, or will you allow Seattle to be an enclave for the wealthy? Will you stand against displacement, and stand with us: people of color, low-income communities, nonconformists, artists, and entrepreneurs? A decade from now, will this be the same city you cherish today?

Our cohort of City board members and commissioners urges Seattle City Council to approve the University District Rezone without delay. While this is certainly not enough, it is a step towards a just, sustainable, and vibrant future. We support the rezone in the University District because:

The infrastructure for public transit is already being upgraded to carry an increased capacity of riders through the improvements to the local bike and bus lanes and the expansion of two light rail stations within the Urban Village.

The University of Washington is one of the largest employers in the City of Seattle.

Policy regulations are in place to provide the development of a variety of housing through Mandatory Housing Affordability. The University District rezone is designed to create 620-910 affordable units and will be an example for future rezones across the city. This will not meet the demand in our economy, but until the first round of units is built and the process is evaluated it is the best first step.

As a city bound on two sides by bodies of water there are only three directions to go: north, south, and up. The University District is an opportunity-rich neighborhood that can support this higher, taller density. The U District rezone provides the first opportunity outside of the downtown urban core to set a precedent for growth in Seattle that is varied, inclusive, and sustainable.

Many of us are young professionals strapped with student debt; we are worried that our city is becoming a place where only millionaires and the lucky few can afford to live. There is no shortage of stories about rents soaring 50 percent, displacing our friends and families. Buying a home in this city is completely out of reach for any of us. We all want to continue to contribute to Seattle's vibrant urban fabric, but are concerned that we too will not be able to live in the city we serve.

More than ever, we must come together, be kind and courageous, and make Seattle a national model of inclusion–a place where people of all income can afford to live and thrive together–not a city of walls.
City of Seattle – Get Engaged – U District Rezone Letter by The Urbanist on Scribd