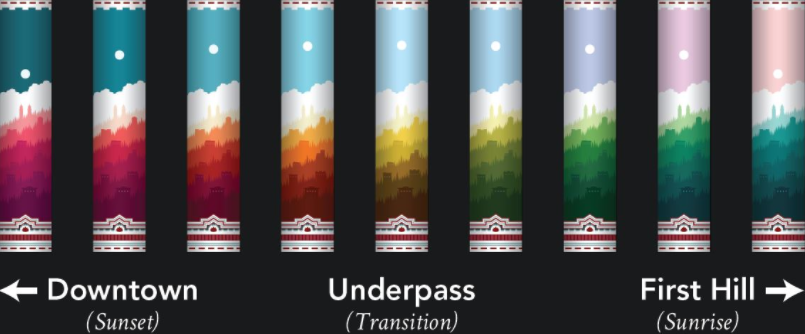 Let there be light! Nathan Watkins' "Sunlight Over First Hill" mural theme has been selected amongst four other competing proposals to wrap some 70 support columns under I-5. The columns dot an area stretching from Cherry Street to James Street below the freeway. The First Hill Improvement Association announced Watkins as the winning artist last Friday. Competition was stiff with solid proposals ranging from checkered-like black and white patterns to bold, bright wildflower designs.


Watkins is a local artist who attends Seattle University, which itself is nestled on First Hill. His design focused on creating identifiable features of the First Hill urban landscape paired with light at different times of the day. In his own words, Watkins wrote:
…I decided the most effective way to signal entry into First Hill to the largest amount of people would be to build from its common visual cues, amalgamating elements taken from places like the Italianate style brick architecture common in First Hill, the steepness of the streets, identifiable landmarks, a larger than average amount of greenery, and geographical bearings…

In being so identifiably "First Hill", the finished product of this design would in effect claim the underpass as explicit First Hill territory by absorbing the buffer zone between the neighborhood and downtown with a true product of its own culture. This design could represent no other area, and in being as such it is a powerful expression of the identity, character, and presence of First Hill.
With the backing of local grants and the First Hill Improvement Association, Urban Artworks will be responsible for the $40,000 mural installation. Painting of the columns should only take a few weeks with installation slated to begin in May.
Related Article

Stephen is a professional urban planner in Puget Sound with a passion for sustainable, livable, and diverse cities. He is especially interested in how policies, regulations, and programs can promote positive outcomes for communities. With stints in great cities like Bellingham and Cork, Stephen currently lives in Seattle. He primarily covers land use and transportation issues and has been with The Urbanist since 2014.