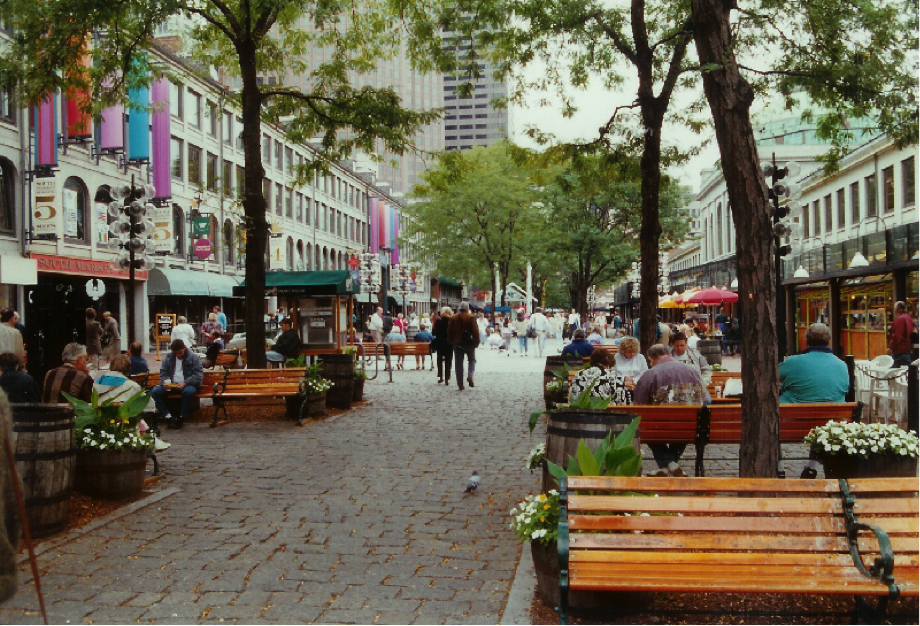 Could E Pike Street between 12th Avenue and Broadway look like this pedestrian zone in Boston?

The trend towards a more walk-able and pedestrian-friendly Seattle is obvious. The light rail expands and connects a rising number of neighborhoods to the city center. At the same time it provides a convenient way to commute to work without driving a car. More than ever the city expressed its commitment to a more pedestrian friendly future in the pedestrian retail areas (pedestrian zones) ordinance, which went into effect on June 15, 2015. "The legislation amended the Land Use Code and the official Land Use Map to add or expand a pedestrian designation in 42 neighborhoods and modifies the development standards that apply in pedestrian zones to meet the changing needs of these neighborhood business districts."
The land use code describes a Pedestrian Zone as "an intensely retail and pedestrian-oriented shopping district where non-auto modes of transportation to and within the district are strongly favored." Existing pedestrian zones of Seattle like "The Ave" or the area around Broadway and Pike and Pine Street in Capitol Hill meet this description only partially. Parking and passing cars often exacerbate crossing the street, pollute the air, cause permanent noise and endanger pedestrians especially on crowded Friday and Saturday nights.
The idea of closing pedestrian retail areas to cars is not a new one. That's why Capitol Hill Eco District piloted a three-block pedestrian zone between Broadway and 12th Avenue on E Pike St on four Saturdays in August 2015. Entertained by local artists, buskers and a program that celebrated the LGBTQ community, people enjoyed the perks of traffic free streets. "Despite mostly positive reviews from folks walking E Pike Saturday night, any expansion of the program will likely remain a nighttime affair. Non-nightlife businesses in the area haven't exactly embraced the idea of a car-free E Pike," reports Capitol Hill Seattle.
Apparently retailers are still scared by the idea of converting streets into pedestrian zones. The question of what the impact is of pedestrianization and traffic calming on retailing has been asked many times and has made me wonder if there are founded reasons for retailer's reservations against pedestrian-only zones.
Let's take a look over the big pond to Europe.
Here the system of a pedestrian-only zone is well established and seems to work quite well. Pedestrian zones represent the heart of cities like Paris, Copenhagen, Prague, Munich, London, or Barcelona. People enjoy gathering and meeting friends, having a coffee and food on the streets and to go shopping at their favorite stores. There is absolutely no indication that retailers don't want to be in these places. You can find big retailers like Zara, H&M, and Nike as well as small local businesses in pedestrian zones.
A JLL survey about German pedestrian-only zones supports the positive impact on retail business. Over the last five years, the number of people passing by in pedestrian zones increased by 2.5% even with e-commerce challenging the established retail business. These days it's the pedestrian zones that generate the highest retail rents per square foot in entire Germany. Critics will argue that the principle of pedestrian-only zones is historically rooted in Europe and not adaptable for the US.
But there was a time without pedestrian zones in Europe, too. When Germany and the UK started to pedestrianize town-centre streets in the 1970's, they carried out large-scale research studies of their effect on retailing. These broadly show a positive effect on retailing with shops inside the pedestrian areas being more successful than outside.
The following table shows how significant the pedestrian follow changed after completion of the pedestrian zones:
| Town | Increase In Pedestrian Flow | Years After Completion |
| --- | --- | --- |
| Aachen | 25% | 25 years |
| Bamberg | 38% and 40% | 1 and 2 years |
| Darmstadt | 18% | 3 years |
| Herford | 31% and 40% | 1 and 4 years |
| Nürnberg | 92% and 69% | Two counts after 5 years |
| Osnabrück | 26% | 2 years |
Change in turnover can be seen in the following tables:
| Town | Street | Shopping Turnover Increase | Date |
| --- | --- | --- | --- |
| Köln | Pedestrianized area | 30%-40% | 1970-1972 |
| Köln | Hohe Strasse | 50%-100% | 1970-1972 |
| Esssen | Pedestrianized area | 15%-35% | 1969-1970 |
| Mannheim | Breite Strasse | 16% | 1979-1981 |
| Nürnberg | 60% of shops in area recorded an increase | | 1972-1974 |
| München | Pedestrianized area | 40% | 1972-1980 |
An example of a pedestrian-only zone working in the United States is Third Street Promenade in Santa Monica. Since the early 1990s, the Promenade became one of the region's biggest attractions. About 40,000 people visit the mall each day, with numbers reaching 60,000 on weekends. In addition to providing a community centre, the Promenade brings high economic returns for the city of Santa Monica.
In 2006, the Bayside District which includes the Promenade, provided over $26 million in revenues for the city's general fund (including $6.7 million in sales taxes, $7 million in property taxes, and $8.1 million in parking revenues). The place is both "funky" and "trendy" with a collection of hip and hedonistic stores. The shops stay open until 10pm or 11pm on weekends; several restaurants stay open until midnight. The Bayside District Corporation has helped the phenomenon, organizing various promotions, such as folk and jazz festivals, and the Farmers' Market twice per week.
Driving to a store by car is not the common understanding of convenience anymore. The new "convenient" is getting the product delivered to the doorstep. Retailers need to attract their customers by offering a unique experience that online shopping can't offer. This is only possible by adding a social component to the shopping experience, creating a local hub and a space for human interaction.
A survey about pedestrian zones from September 2014 shows that Seattle neighborhood residents are highly interested in pedestrian zones. Over 900 responses to the survey revealed the following results: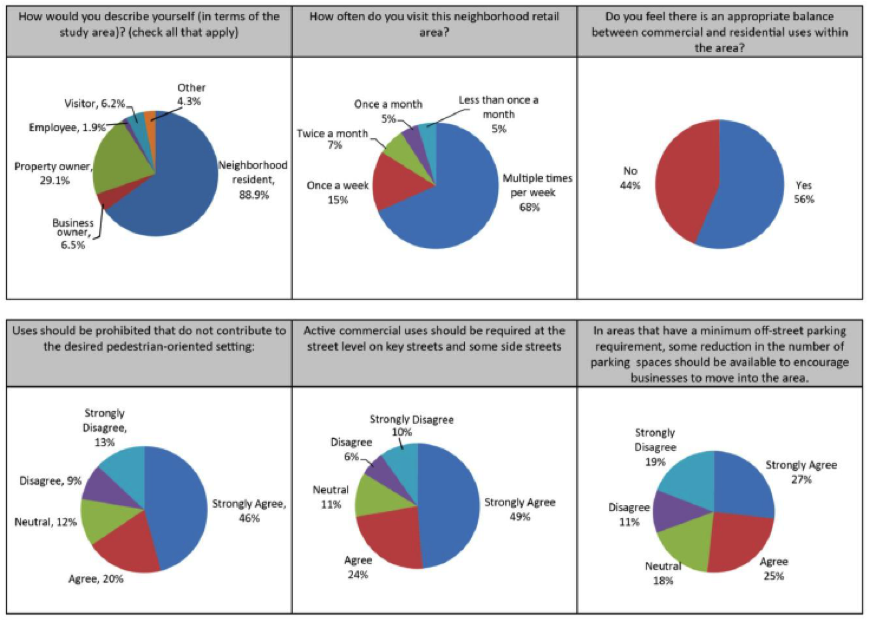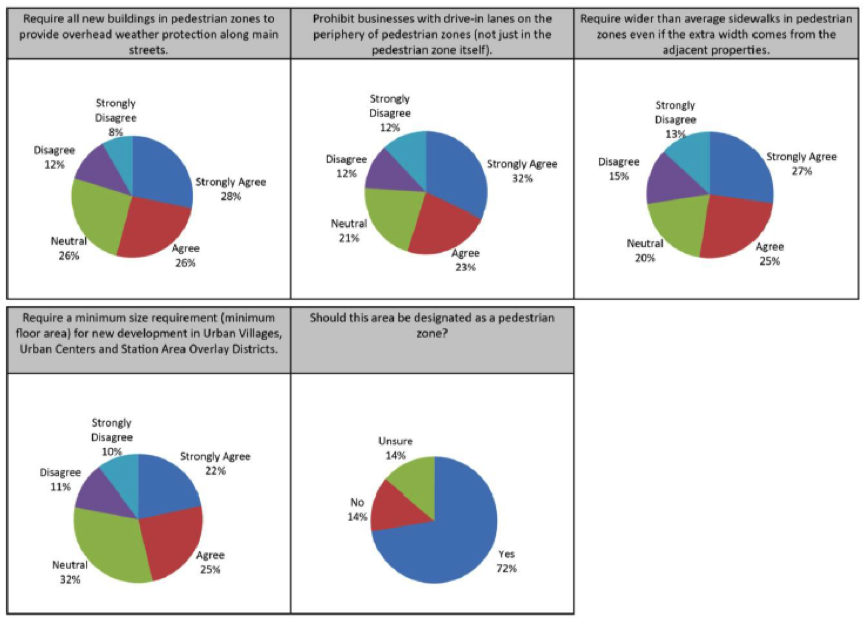 Given all the attempts to encourage people to walk, bike, or commute by train, it is time to adapt retail infrastructure. With a viable concept that respects and fosters the neighborhoods strengths Seattle can do the next step towards a more walkable city center and increase the quality of life for its residents.
Korbinian Wenzl is a MSRE (Master of Science in Real Estate) master's candidate at the University of Washington. Originally from Regensburg, Germany, he moved to Seattle take up studies at the UW and will graduate in June 2017. Besides his education in Real Estate Business, he is particularly interested in the question how urban planning can impact resident's quality of life. He also enjoys spending the weekends in the outdoors or doing sports with friends.
The featured image license allows reuse, manipulation, and commercial use without sourcing.