In the wake of a historic rezone of the neighborhood to allow for a greater density of housing and employment near our future light rail station, the urban design guidelines that have governed the neighborhood for years are now out of date. As a result, the U District Partnership (UDP) and City of Seattle are partnering to implement a community process to update the University District Design Guidelines.
We need your help to get feedback from our community on the design qualities we want all new development in our neighborhood.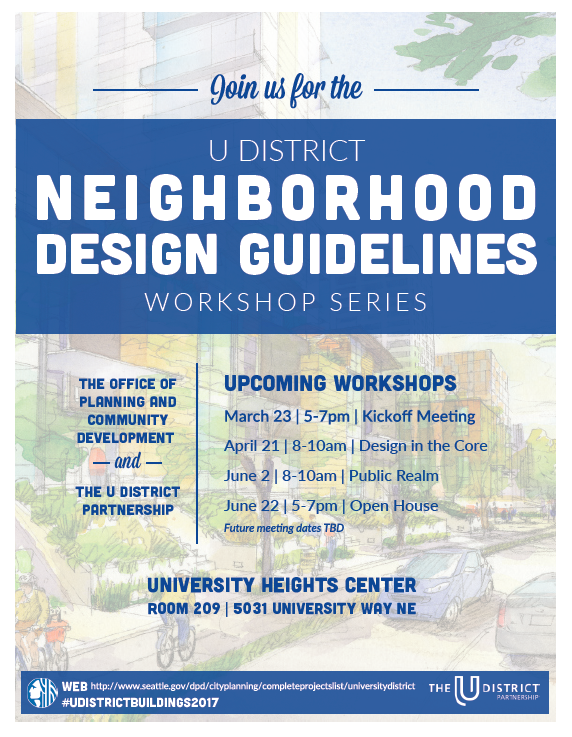 Here's how you can get involved:
Join us for an Urban Design Guidelines Update meeting with the UDP Urban Design Committee and Seattle Office of Planning and Community Development staff. For upcoming dates and topics please see our calendar. Our next event in this series is focused on the Design in the Core of the neighborhood and takes place on Friday, April 21st from 8 am to 10 am at University Heights Community Center Room 209 in the U District.
Look at photos of buildings in the U District gathered by our community. Examine what you like and do not like about the buildings, comment online, and bring your notes to our next meeting!
If you would like to receive future updates regarding the process to update the University District Design Guidelines or have any questions at all about the process please contact Eliot Mueting at eliot@udistrictpartnership.org.
The U District Partnership is a 501 c(3) non-profit organization consisting of residents, students, nonprofits, social service providers, business owners, property owners and major institutions with aspirations of making the U District a vibrant innovative and diverse neighborhood for all.
Eliot Mueting is a born and raised U District native and lifelong Seattleite. As the Director of the Economic Development program for the U District Partnership, Eliot is responsible for guiding growth to foster an active and diverse business district where a mix of companies grow or be incubated, and small independent business owners can flourish.