On the former site of Bill The Butcher in Wallingford, Alchemy Investments is planning a mixed-use project with a large storefront and approximately 43 apartments across a spectrum of sizes from small efficiencies to one bedrooms. What they aren't proposing is parking. No parking for cars is required because the project lies within an urban village with frequent transit (in this instance provided by nearby Route 44, 62, and RapidRide E stops). 35 bike parking spots are proposed.
The Northeast Design Review Board will give the preliminary design Early Design Guidance at 8pm tonight at the Good Shepherd Center. The project's architect, Cone Architecture, will seek to glean design cues from the panel's feedback to take forward in the final design.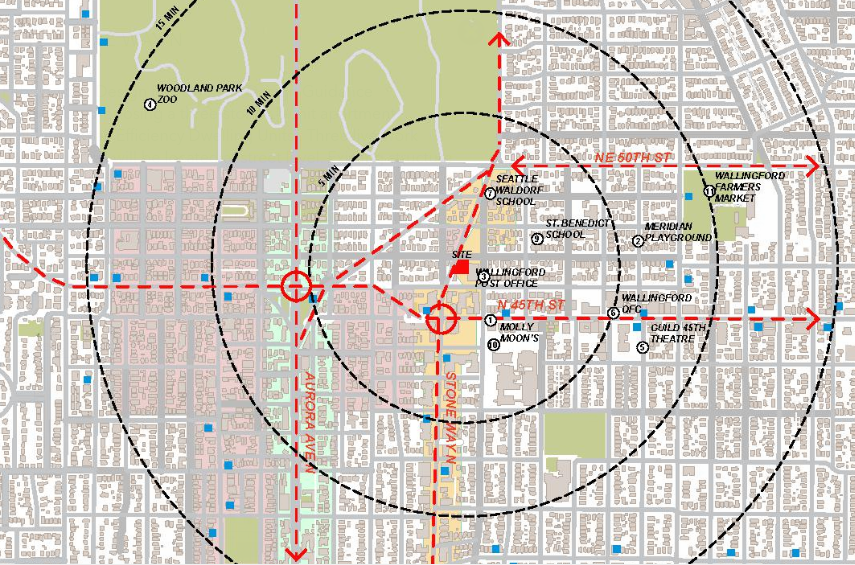 With its smaller units, the project will be geared toward the middle class–who are feeling the pinch of skyrocketing rents in Seattle. Some of the units will be Small Efficiency Dwelling Units (SEDUs) which top out at 320 square feet; a handful more will be efficiency studios which are larger, and full-sized one bedroom apartments (which are larger still).
Adjacent to the Wallingford post office, the site is vacant but used to be home to Bill The Butcher and Zaw, a local chain purveying fancy "artisan" take and bake pizzas. The Zaw chain is still operating in other locations, but Bill The Butcher chain collapsed in epic fashion in Fall 2014 with its CEO fleeing the city still owing her employees more than $100,000. It appears the company's finances were run into the ground funneling money into "sales guru" CEO J'Amy Owen's $2 million century-old Queen Anne Craftsmen mansion. Goes to show Seattle's single-family homeowner dream can be out of reach even if you're looting a meat empire's finances.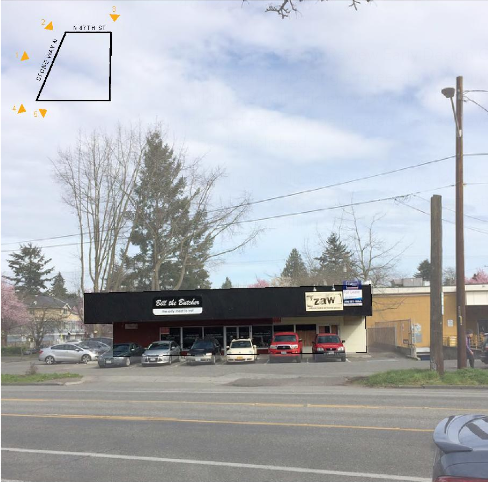 Cone Architecture proposes a three-story building with a rooftop patio and a rear courtyard. The top stories will overhang the storefront creating a natural shelter from the rain for pedestrians or patio seating. The large commercial space fronting Stone Way could be subdivided in the future, the proposal suggests.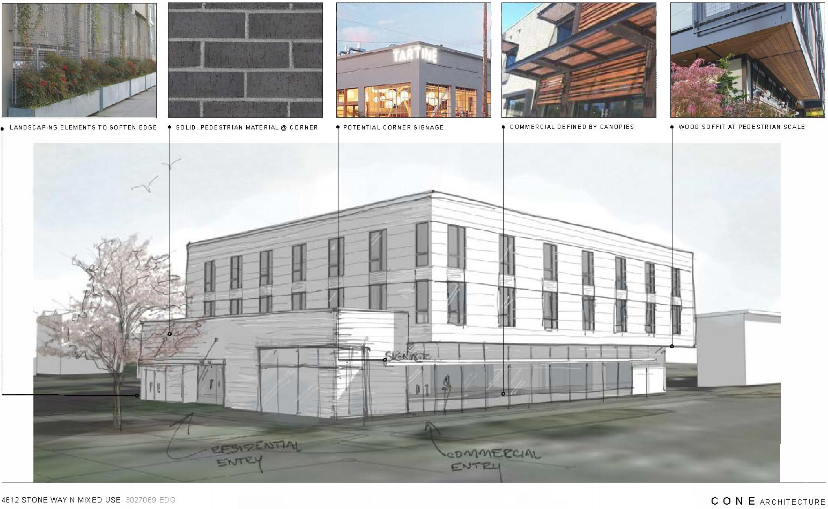 Proposing no parking (for cars) could put the building on a collision course with some members of the Wallingford Community Council who are ever-weary of a parking shortage. The developer is asking for minimal departures: only a commercial depth departure in the preferred alternative. The designers say it's needed to "create modulation and increase pedestrian access," and it does seem an engaging design element. Germane or not, parking is likely to come up in design review, but, by providing ample bike parking and building in an area with excellent transit, the developer has provided great transportation access. Forgoing parking only makes sense in such a project.

The Wallingford housing market is extremely hot with thousands of apartments going in over the last decade but demand still not sated. A few blocks to the south, Smith & Burns opened in early 2016 with 150 upscale apartments, 30 of which were affordable (at 75% of area median income) via the Multi-Family Tax Exemption (MFTE) program which exempts new apartments from property tax obligation in exchange for setting aside 20% of its units as affordable with some family-sized units. A block east, 48 apartments are under construction at N 45th St and Woodlawn Ave. To the west, an efficiency studio project called LIV Wallingford just opened on N Midvale Pl with 30 units. And that's just projects within a few blocks of the Bill The Butcher site.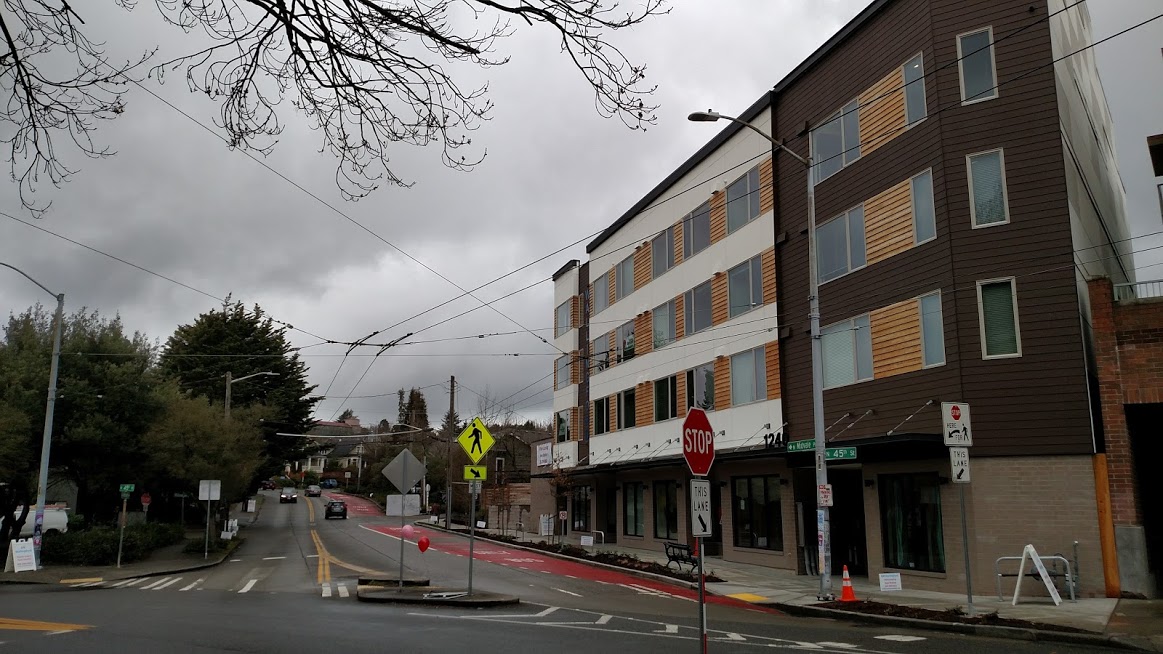 To give comment or learn more about the project, attend the EDG design review tonight at Good Shepherd Center. The project goes at 8pm with a review of a 52-apartment project at 4710 20th Ave NE in the U District up first at 6.30pm.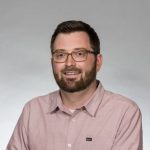 Doug Trumm is publisher of The Urbanist. An Urbanist writer since 2015, he dreams of pedestrianizing streets, blanketing the city in bus lanes, and unleashing a mass timber building spree to end the affordable housing shortage and avert our coming climate catastrophe. He graduated from the Evans School of Public Policy and Governance at the University of Washington in 2019. He lives in East Fremont and loves to explore the city on his bike.