As the City of Issaquah continues working through its Central Issaquah development moratorium, there will be another public touch-point at 6.30pm this Thursday (June 22nd) to discuss everyone's favorite topic: parking!
The city is seeking public comment specifically on parking requirements for to-be-built development within Central Issaquah. City staff have framed the discussion with the following questions:
Are the current parking standards in Central Issaquah appropriate for anticipated development?
Should the City use a structured parking requirement to a) ensure the land in Central Issaquah is more efficiently utilized; and, b) discourage the continuation of single-story, surfaced parked suburban development?
The question of how much, if any, parking should be required was addressed earlier in the moratorium process and is therefore out of scope for the upcoming discussion. The Land & Shore committee reviewed a Fehr & Peers parking analysis and agreed with the consultants that the current parking requirements are "right-sized." Instead, the city wants to know, what does good parking design look like?
Similar to the issues around Vertical Mixed Use development, the real estate market in Central Issaquah generally does not yet merit structured parking. Structured parking is incredibly expensive, and the city needs to consider that too stringent of a requirement could effectively prohibit new development in the short-term. An ECONorthwest study commissioned for the moratorium suggests the market can support up to 50% structured parking for office development, but less than 50% for residential and retail. Retail in particular is shown to not support structured parking.  In the following chart, Residual Land Value = Project Value – Project Costs.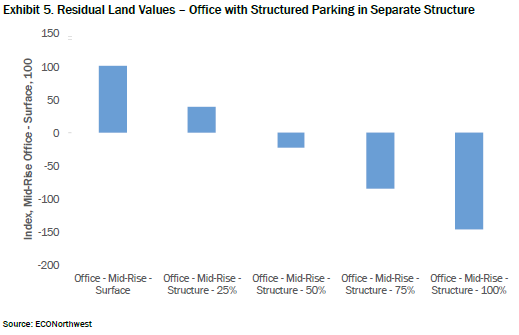 Currently, structured parking is encouraged but not required. Staff is proposing to update the Central Issaquah Development and Design Standards to require office and residential developments to provide 33% of their parking as structured parking. There will be no requirement for retail development.
It might be more useful to write the design standards to specifically address surface parking problem, rather than address it tangentially by requiring structured parking. Surface parking isn't problematic per se, but the way surface parking de-activates streets and diminishes the pedestrian experience. If a developer wants to put in surface parking away from active streets, that's their prerogative, and that space can always be redeveloped in the future.
Personally, I'd like the city to consider policies that discourage or prohibit surface parking along identified corridors, similar to requiring retail on the ground floor of all multi-story developments along certain streets. Additionally, the parking design requirements could differ between Central Issaquah neighborhoods, depending on how urban the neighborhood vision is. When a developer cannot provide surface parking, he or she could either provide structured parking directly or participate in a Parking and Business Improvement Area (PBIA) to provide structured parking indirectly. A PBIA would levy a special assessment to build and maintain parking structures for the shared use of the businesses and residents within the PBIA boundary.
Considering the additional cost of structured parking, I prefer zoning for Central Issaquah to be calibrated for the long-term. If zoning requirements mean that new development will be cost prohibitive in the short-term, then so be it–in this current economic boom, redevelopment of Central Issaquah is a question of if, not when. From the ECONorthwest study, "…in the longer-run, commercial rents are on a path (historically) where the land values and rents will be in a place where higher levels of structured parking can be financially supported." If the economy cools in the future–as it inevitably will–and the city is still seeking redevelopment, requirements and incentives can always be adjusted in the future.
The Issaquah Planning Policy Commission will be holding a public hearing tomorrow (Thursday, June 22nd at 6.30pm) on proposed amendment to the Central Issaquah Development and Design Standards at Council Chambers in City Hall South.
AJ McGauley was a temporary transplant in the Seattle area, living in East King with his lovely wife for five years before returning to the great Midwest. Having lived in nine very different cities in the six years prior to moving to Washington, he discovered the wonky side of urbanism after reading The Urbanist and is interested in why cities grow (or don't grow) in different ways. He worked for Sound Transit and can still be found riding transit for fun.