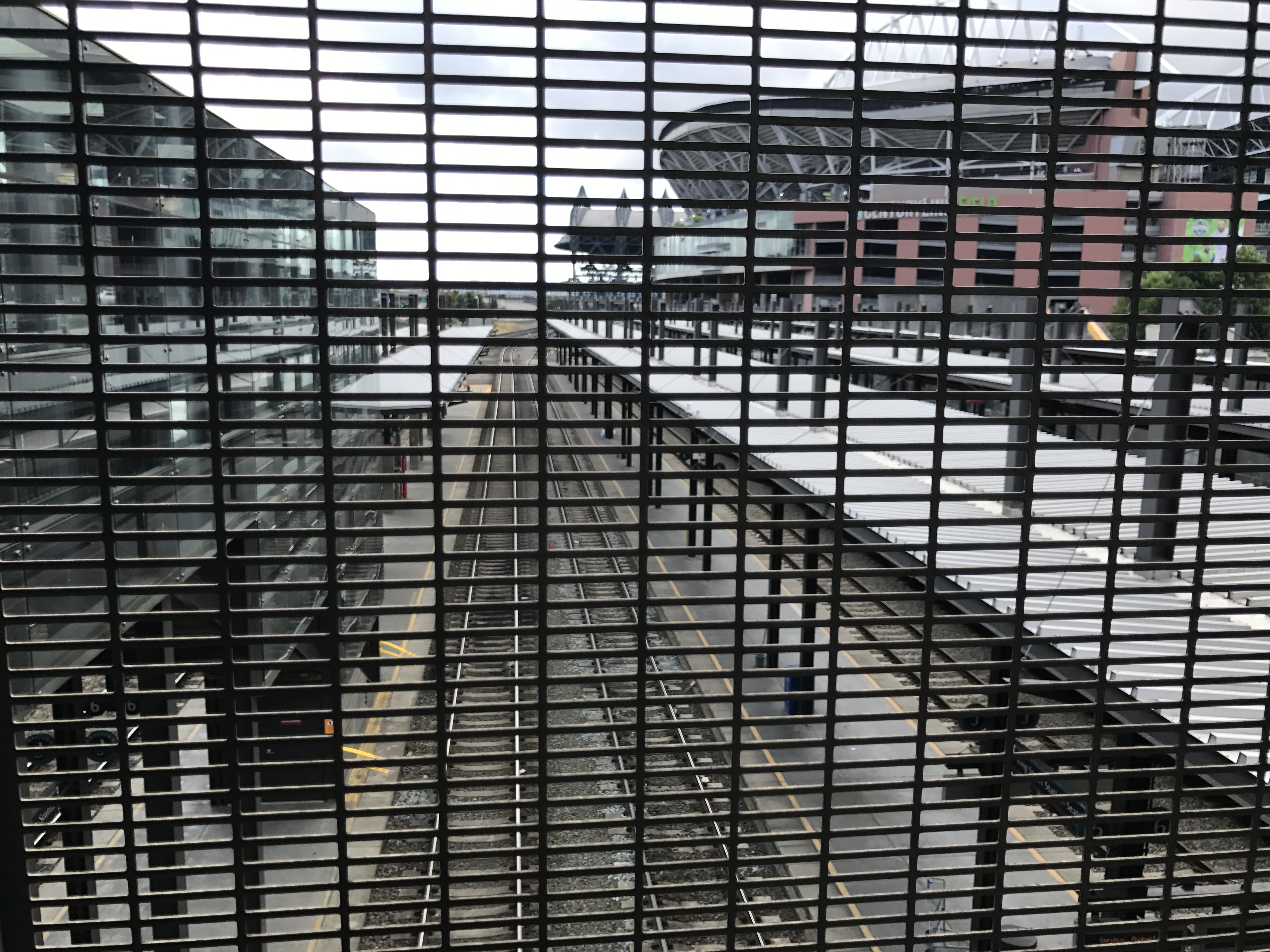 This fall, service on Amtrak Cascades will improve service with increased frequency on trips between Seattle and Portland and the opening of a shorter, more direct route in Pierce County. Amtrak Cascades is adding two new daily services and adjusting schedules to spread out service throughout the day, which affect trips across the network–not just for Seattle-Portland trips. A new corridor dubbed the Point Defiance Bypass will shave off nearly a dozen minutes from trips south of Tacoma, allowing trains to be more competitive over express bus service like Bolt Bus during certain times. A portion of the corridor is already open providing weekday commuter rail service from Lakewood to Seattle on the South Sounder line.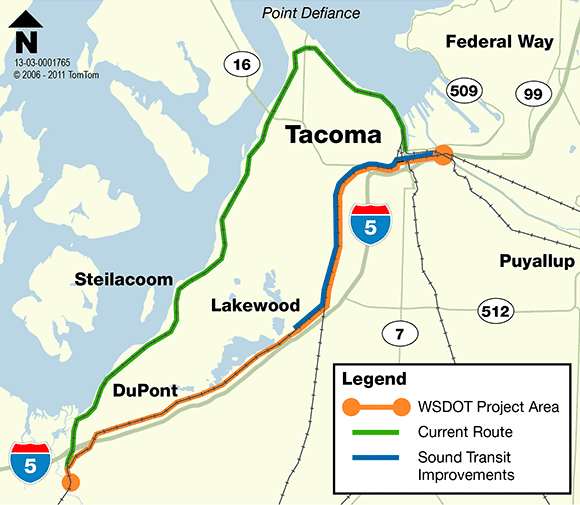 The Washington State Department of Transportation (WSDOT), which manages the Amtrak Cascades program in the state, reports that 19 of 20 key higher-speed rail projects have been completed. The last major milestone in the program includes construction and opening of a new station facility in Tacoma at Freighthouse Square later this year. Many of the other key program projects have involved the construction of bypass and siding improvements to keep passenger rail moving quickly in targeted chokepoint locations (e.g., a Vancouver, WA rail yard bypass, siding in Kelso, and siding in Mount Vernon). Earlier this summer, Amtrak Cascades received eight new locomotives to facilitate running more trips. The Siemens locomotives are much more fuel efficient and meet newer crash worthiness requirements than the older Talgos EMDs.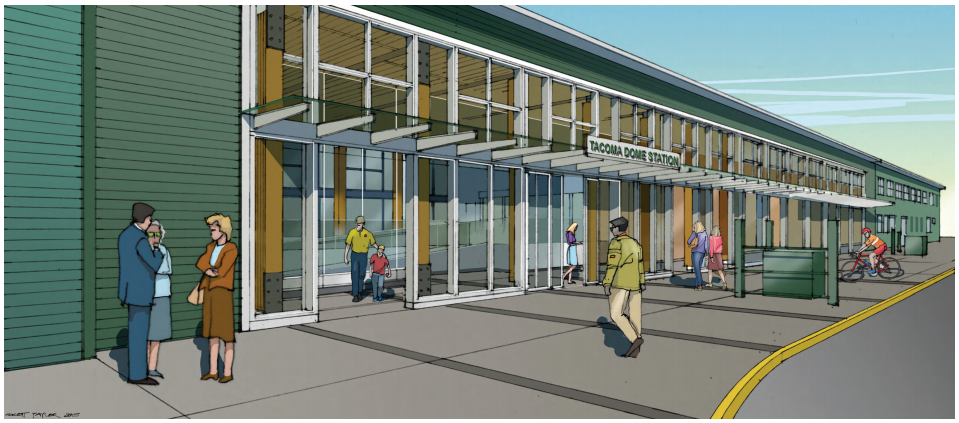 A comparison of the current and future corridor frequencies on Amtrak Cascades is noted in the following table:
| City Pair | Current Trips | Fall Trips |
| --- | --- | --- |
| Seattle - Portland | 2 | 4 |
| Seattle - Vancouver (BC) | 1 | 1 |
| Portland - Vancouver (BC) | 1 | 1 |
| Portland - Eugene | 1 | 2 |
| Seattle - Eugene | 1 (2 with Coast Starlight) | 1 (2 with Coast Starlight) |
Over the weekend, WSDOT released a full timetable of the new Amtrak Cascades fall schedule: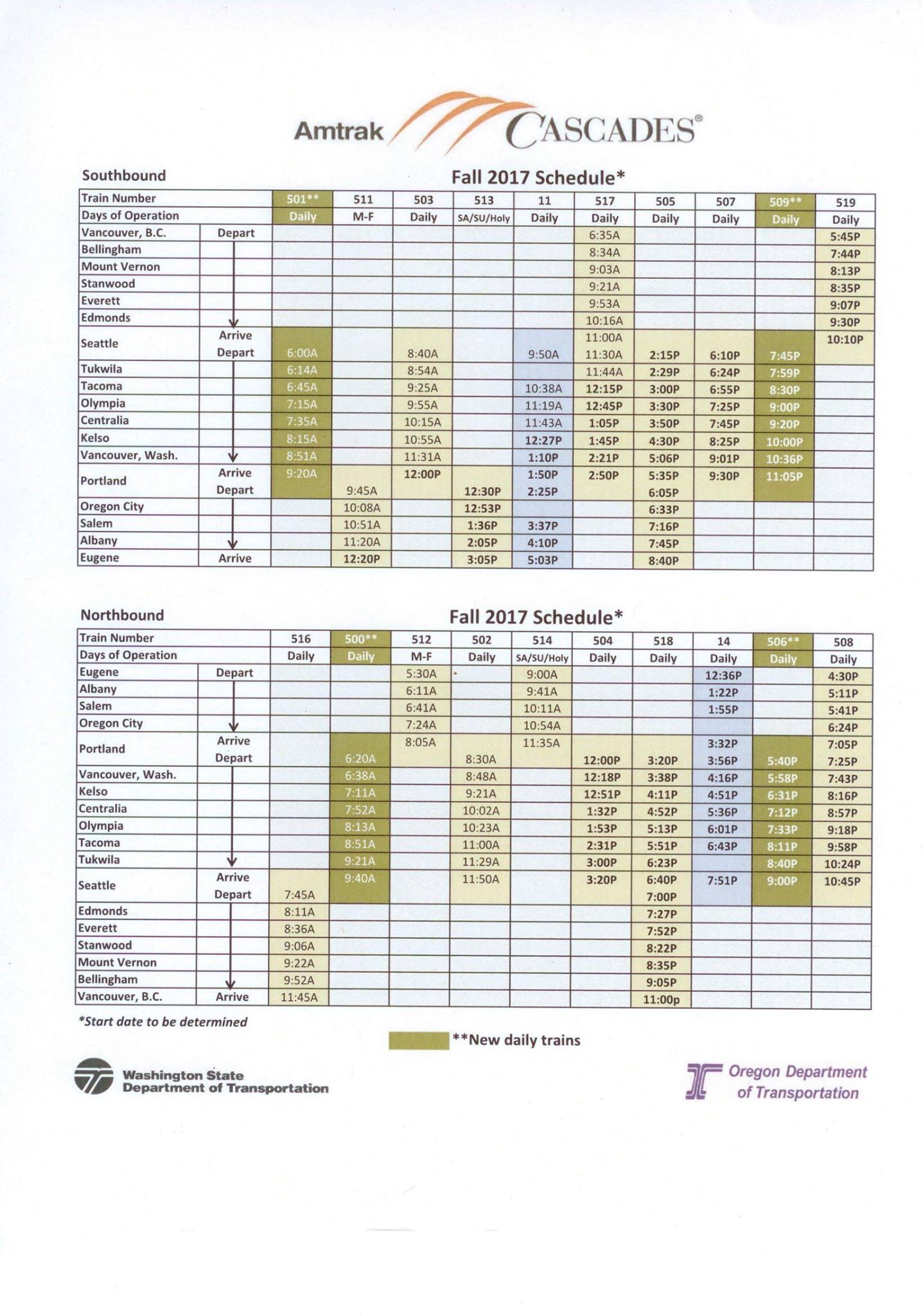 The new Amtrak Cascades trips could turn out to be a boon for more than just long-distance passengers. In a tweet this morning, Sound Transit confirmed that the agency is evaluating expansion of the Rail Plus program. Currently, commuters between Everett and Seattle (including the Edmonds stop) are able to use their pre-loaded ORCA Business Passport or monthly passes to purchase cheap weekday Amtrak Cascades passes between the city pairs. Expansion of this to include weekend and south Puget Sound service would be an obvious win for transit riders giving more reasonable rail options and boosting overall ridership on Amtrak Cascades.
Funny you should ask about expanding the Rail Plus program. We're actually looking into that right now.

— Sound Transit #MaskUpWA – 🚆 🚈 🚍 (@SoundTransit) August 14, 2017
The long-term vision for Amtrak Cascades is to provide 13 daily roundtrips between Seattle and Portland, and four daily roundtrips between Seattle and Vancouver, BC by 2035. With the addition of the new Portland trips, WSDOT is halfway to those goals.
Governor Jay Inslee and passenger rail advocates, however, are pushing for more ambitious long-term goals. In April, the Governor's request for a full high-speed rail study covering the corridor from Portland to Vancouver, BC was passed by the Washington State Legislature. $300,000 have been allocated to the comprehensive study, which is due by the end of the year. All Aboard Washington is also bringing attention to the restoration of passenger rail between Seattle and Tri-Cities via Stampede Pass with a new survey. The route would add stations in Cle Elum, Ellensburg, Yakima, and Toppenish and operate via Auburn.
In the meantime, passengers on the southern portion of the Amtrak Cascades corridor can expect more frequent and faster service where it's sorely needed.

Stephen is a professional urban planner in Puget Sound with a passion for sustainable, livable, and diverse cities. He is especially interested in how policies, regulations, and programs can promote positive outcomes for communities. With stints in great cities like Bellingham and Cork, Stephen currently lives in Seattle. He primarily covers land use and transportation issues and has been with The Urbanist since 2014.