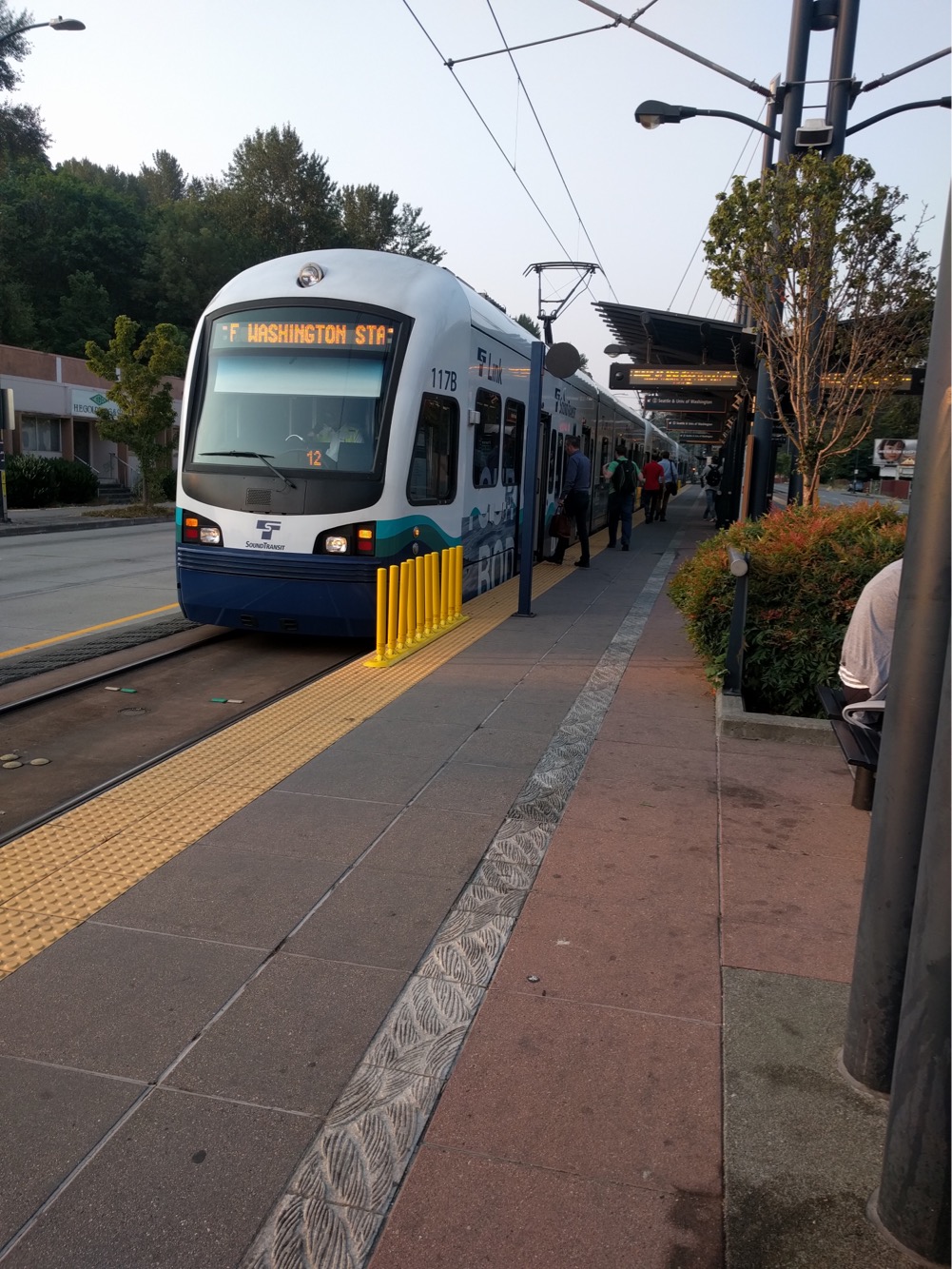 Sound Transit is threading together the planning work for light rail between West Seattle and Ballard via Downtown Seattle, despite the corridors destined to be served by separate lines. The Sound Board of Directors met last week to authorize preliminary engineering and award a contract for planning consultant services on the project. The full preliminary engineering budget was set at just over $285.8 million.
HNTB Corporation was selected as the lead consultant for alternatives development, the first of three phases for preliminary engineering. The resolution awarding the $24.4 million contract also stipulates options for HNTB to complete the second and third phases if subsequently approved by the board. The second phase would be dedicated to development of a Draft Environmental Impact Statement and conceptual engineering design while the third phase would complete the environmental review process with a Final Environmental Impact Statement and delivery of preliminary engineering drawings.

Sound Transit anticipates that the first phase of preliminary engineering will be completed by early 2019, taking approximately 18 months. All three phases of preliminary engineering are projected to wrap up in 2022. At that point, the project would largely remain idle under construction on the West Seattle corridors begins in 2025. Construction on the Ballard corridor would follow two years later in 2027.
These timelines are under Sound Transit 3's existing financial structure; both mayoral candidates have called for expediting the timelines. Cary Moon proposes to use municipal bonding to fund the projects sooner while Jenny Durkan makes a vaguer pledge about using all the tools. And on the flipside, if anti-transit Republicans continue to control the executive and legislative branches, the lack of federal grants could impact timelines in the other direction.
During the alternatives development process, HNTB will begin project analysis of the Ballard and West Seattle corridors that voters approved last year. The process will consider a variety of factors in alignments and technology, though light rail is already a foregone conclusion. This work will also help begin the scoping process required for analysis in the Draft Environmental Impact Statement. The two voter-approved corridors are actually composed of three key conceptual segments, which are described in the following: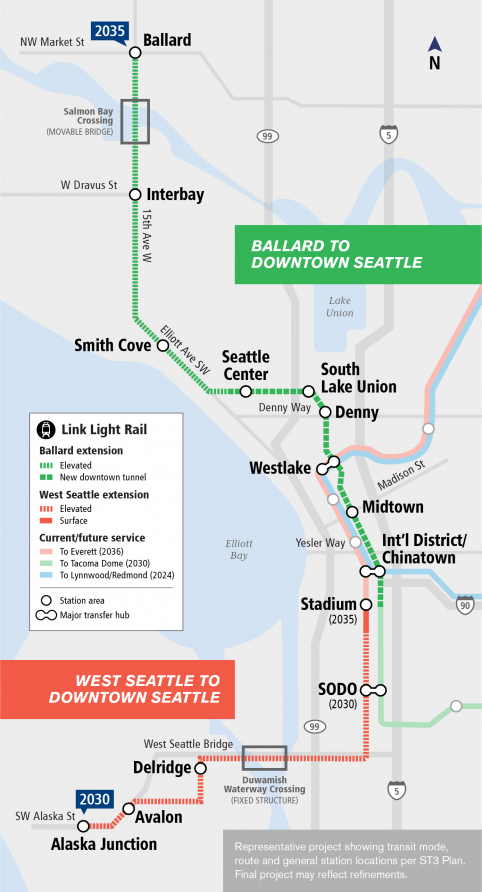 West Seattle to Downtown Seattle. The West Seattle line would open in 2030, a full five years before the Ballard line, running between Alaskan Junction and International District/Chinatown Station. The conceptual alignment anticipates five new stations, four of which would be elevated and just one at-grade. To connect West Seattle with SoDo, a new bridge span over the Duwamish Waterway would be required. Sound Transit has indicated that the bridge would be a high-rise, perhaps similar to the West Seattle Bridge to avoid regular bridge span openings required by large vessels. The line would also need to be elevated over State Route 99 and the Spokane Street Viaduct. In West Seattle, hilly topography is a serious challenge to rail, which is why the conceptual alignment envisions an elevated segment traversing Delridge Way SW and SW Genesee St to skirt around some of the steepest and most challenging portions of the West Seattle peninsula.
New Downtown Seattle tunnel. A new Downtown Seattle tunnel would be required as part of The proposed Ballard line necessitates a new Downtown Seattle tunnel since capacity in the existing one would be consumed by train operations of two other lines. A third line would heavily limit frequency across all lines. The conceptual alignment is very rough, but would travel between Chinatown-International District and South Lake Union. The tunnel would likely connect to the existing International District/Chinatown Station, but be located below or to the side of the existing station box. Four tentative station locations have been identified, including a new Midtown station in the downtown office core and connecting station to Westlake Station. The tunnel north of Chinatown-International District could be placed under Fifth and Sixth Avenues, which are are two to three block east of the existing tunnel, and then continue on Westlake Avenue to Denny Way.
South Lake Union to Ballard. The Ballard line would open in 2035 connecting up with the new Downtown Seattle tunnel and terminating in central Ballard. The line would wrap around Interbay and serve the soon-to-be Expedia campus at Smith Cove. The line would be mix of two underground station and three elevated stations.The terminal in central Ballard is expected to be around 15th Ave NW and NW Market St as an elevated station allowing future expansion north and east. To reach Ballard, a new crossing of Salmon Bay would be required. Sound Transit has indicated that a new rail-only movable bridge span would be constructed near the Ballard Bridge, but environmental concerns like fish kills of protected salmonid species (referred to as "take" by the National Marine Fisheries Service), regular and substantial delay to passengers, and challenging property acquisitions make that proposition highly suspect. The analysis will likely need to consider an underground crossing and a fixed high bridge, as Seattle Subway has suggested.
The first set of public meetings on potential alternatives will begin in early 2018. Feedback provided through this outreach process will then be used to evaluate tradeoffs between alternatives. This first phase will be highly important in guiding the direction of process since Sound Transit will take that information and return with another round of meetings in early 2019 to share findings. At that time, the public will again have an opportunity to weigh in before the agency moves forward with identifying a preferred alternative and other alternatives to be evaluated in greater detail through the Draft Environmental Impact Statement process. The key takeaway here is that feedback in 2018 will be critical for those who want to see an alignment reflecting their vision for a 100-year-or-more regional light rail system.

Stephen is a professional urban planner in Puget Sound with a passion for sustainable, livable, and diverse cities. He is especially interested in how policies, regulations, and programs can promote positive outcomes for communities. With stints in great cities like Bellingham and Cork, Stephen currently lives in Seattle. He primarily covers land use and transportation issues and has been with The Urbanist since 2014.