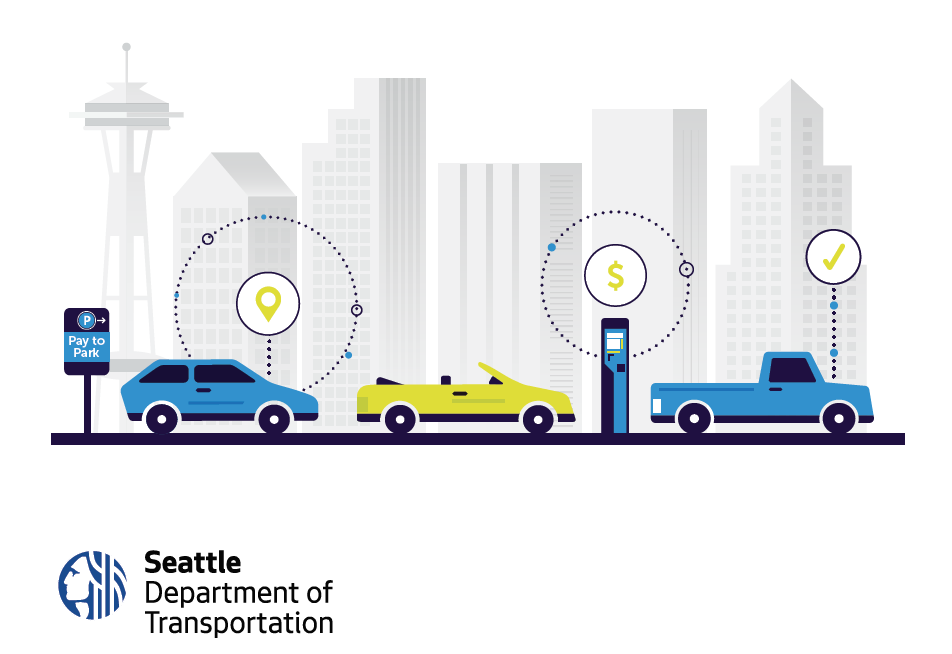 Seattle operates a performance-based on-street parking program in more than a dozen neighborhoods. The paid parking program uses a highly analytical approach to determine periods of paid parking, parking time limits, and paid parking rates based upon local demand. Transportation officials conduct annual surveys at the block level to evaluate this demand. Some neighborhoods have multiple paid parking subareas to better address local demands as opposed to uniformly applying parking regulations across a whole neighborhood. Examples of this include Ballard and Uptown which have three and four paid parking subareas respectively.
Generally, the Seattle Department of Transportation (SDOT) tries to manage paid and time limited parking by having 15% to 30% of parking spaces available at any given time. Areas with parking occupancies above 85% usually see increased hourly paid parking rates or revised parking restrictions. Below 70% occupancy, SDOT may revise hourly paid parking rates downward or loosen parking restrictions.
It's been two years since we last checked in Seattle's paid parking program. Earlier this month, the Seattle Department of Transportation (SDOT) released their annual parking demand report and plan to revise paid parking rates and restrictions. The most notable changes include:
Extended paid parking hours in Capitol Hill North, Capitol Hill South, and Pike-Pine until 10pm;
Extended paid parking hours in the Ballard Locks during Summer 2018 and all year in the Ballard Edge until 8pm; and
Lowering morning paid parking rates in many urban centers and villages while raising afternoon rates, which suggests demand is markedly different in those periods.
Extended Paid Parking Hours
SDOT is extending paid parking hours primarily in Capitol Hill. Three local subareas, including Capitol Hill North, Capitol Hill South, and Pike-Pine were chosen for the extended paid parking hours. Parking occupancy in each of the subareas regularly exceed 90% after 8pm. Some times even saw 110% occupancy after 8pm during the survey, which reflects how much demand local trips to restaurants, bars, and clubs are generating in addition to local trips.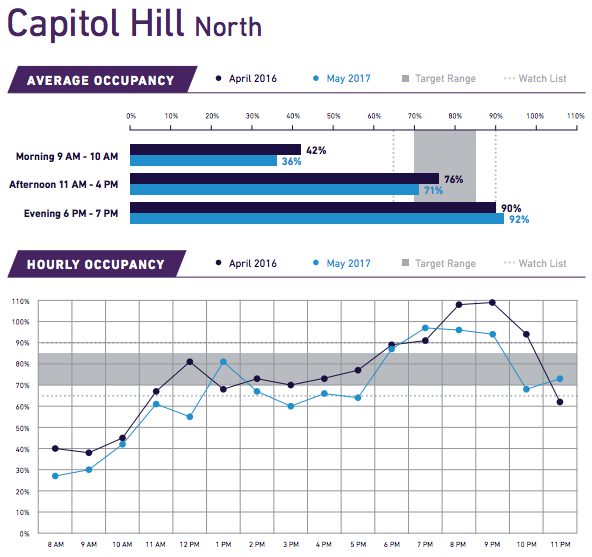 The annual survey also showed significant demand in the Ballard Locks subarea with occupancy rates shooting up after 6pm during the summer. SDOT's data shows that average occupancy during this year's survey was about 50% at 6pm whereas the 7pm and 8pm timeframes shot up to 90% and 80% respectively. To better manage occupancy rates, paid parking will be extended from 6pm to 8pm in the summer months of 2018. Similarly, the Ballard Edge area has seen high demand during evening hours, which is why SDOT will also extend paid parking until 8pm there.
SDOT will also look at other neighborhoods to see if extending paid parking in the future might be sensible. Survey results from 2017 suggest that parking occupancies remained high after 8pm in variety of areas, including: 12th Avenue, Ballard Core, Chinatown/International District Core, First Hill, and Green Lake.
Possible Future Expansion of Paid Parking Zones
Paid parking zones could eventually come to new areas in 2018. In 2017, SDOT studied four areas specifically: Fremont, Roosevelt, Uptown, and Westlake Ave N near Lake Union. SDOT is currently reviewing the 2017 data to determine if parking utilization rates make paid parking a desirable tool to manage demand. If the SDOT proposes expansions, the department will conduct public outreach prior to making a decision. Last year, SDOT made expansions in some unpaid parking areas on Dexter Ave N and Eastlake Ave E near South Lake Union. SDOT made the expansion because daytime parking occupancy rates were at 100%, which is likely reflective of the growing neighborhood for both residents and jobs.
Delayed 2016 Hourly Rate Changes
In 2016, SDOT had planned to roll out hourly paid parking rate changes in nine subareas across five neighborhoods. However, installation of new dynamic pay stations was slower than expected meaning that implementation of hourly rate changes was not possible. The pay stations are unique because they allow hourly rates to be modified by time of day. The following paid parking subareas will see changes hourly rate changes in the coming year: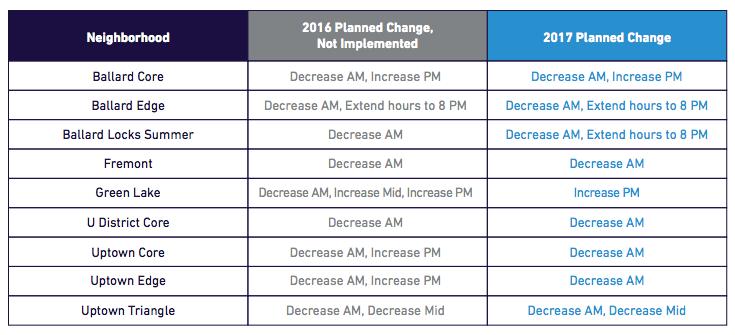 In some cases, the planned changes differ from 2016 due to the results of the 2017 survey. Examples include Uptown Core, Green Lake, and Ballad Locks (Summer).
General Paid Parking Changes
This slideshow requires JavaScript.
Besides some of the changes already discussed, SDOT will make general adjustments to paid parking rates based upon time of day. Rates will generally be revised up or down by 50 cents:
Morning (8am-11am): Only one subarea (Cherry Hill) see an increase while 14 others will see hourly paid parking rates decrease. Many of these changes are related to the delayed installation of the dynamic paid parking stations. This is reflected in hourly paid parking rate increases for afternoons and evenings where demand tends to be higher.
Afternoon (11am-5pm/6pm): 10 subareas will see an increase during afternoon hours while only one subarea (Uptown Triangle) will see hourly paid parking rates decrease.
Evening (5pm to 8pm/10pm): Three subareas will see an increase during evening hours while four subareas see hourly paid parking rates decrease.
SDOT will also make some small changes in certain areas to parking time limits. Several examples include Capitol Hill North, Capitol Hill South, and Pike-Pine where extended paid parking hours will be instituted. Current parking regulations set maximum parking time limits at three to four hours after 5pm for paid hours.
So Capitol Hill South, for instance, where paid parking lasts until 8pm, parking is technically limited to three hours but in practice unlimited after 5pm if fully paid during the period. SDOT's new restrictions would actually eliminate time limited parking after 5pm. This means that parking merely only needs to be paid during the paid parking period. A vehicle parked at 5pm could remain in the same place after 10pm without having to be moved.
The paid parking rate changes should be rolling out soon
A Data-Driven and Technological Approach to Parking Management: Seattle's 2015 Fall Pay Parking Rates and Regulations

Stephen is a professional urban planner in Puget Sound with a passion for sustainable, livable, and diverse cities. He is especially interested in how policies, regulations, and programs can promote positive outcomes for communities. With stints in great cities like Bellingham and Cork, Stephen currently lives in Seattle. He primarily covers land use and transportation issues and has been with The Urbanist since 2014.