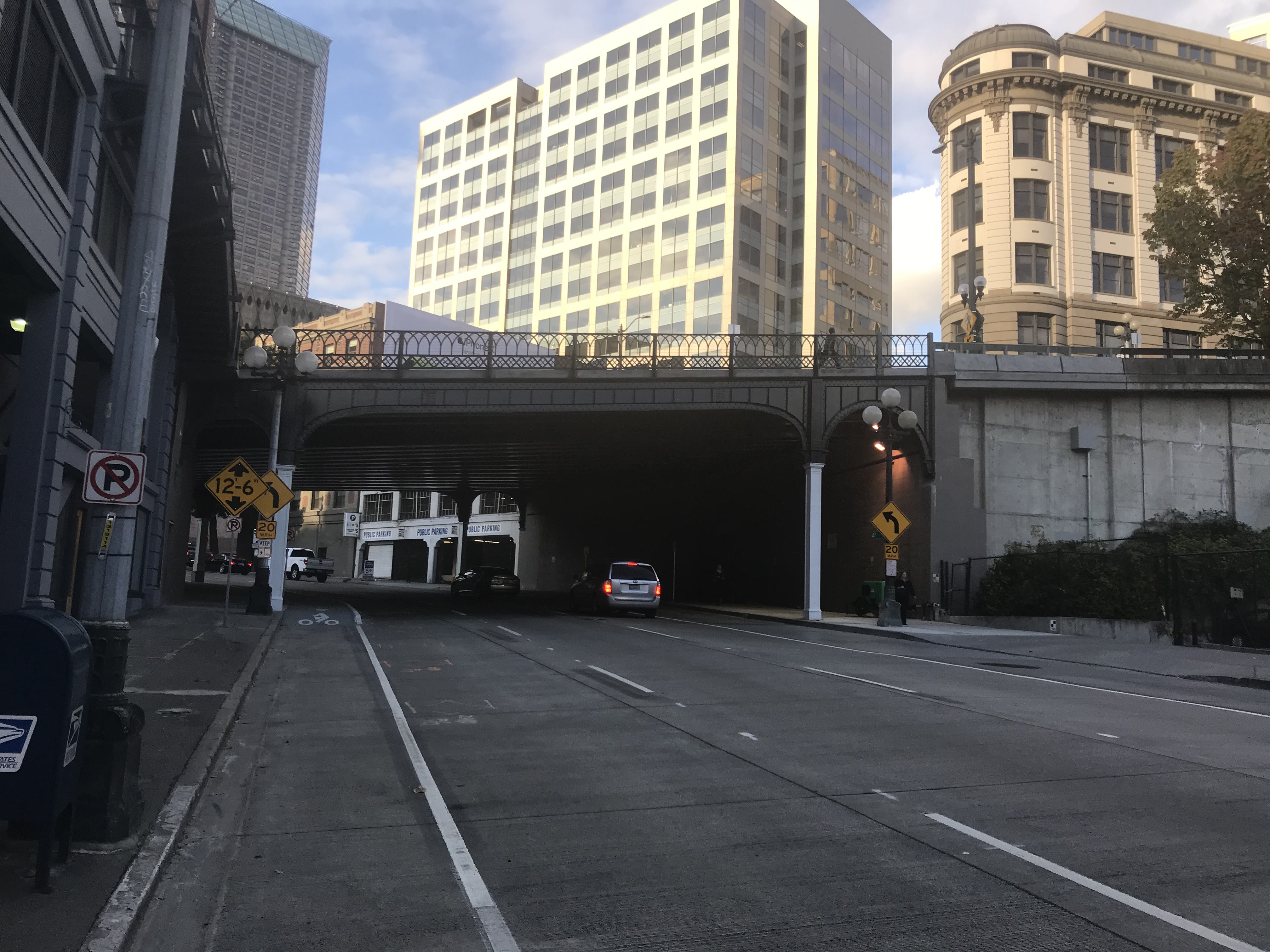 The old Yesler Bridge reopened on Tuesday after a 16-month closure for a major rebuild and restoration effort. The Downtown Seattle bridge is a key artery linking Yesler Terrace/First Hill to the city center. Yesler Bridge crosses over Fourth and Fifth Avenues connecting Yesler Way east and west of those avenues and Terrace Street. The closure had impacted local bus routes that typically traveled down Fourth Avenue since the full scale rebuild meant temporarily closing the street underneath. Transit agencies are beginning to restore routes to the corridor.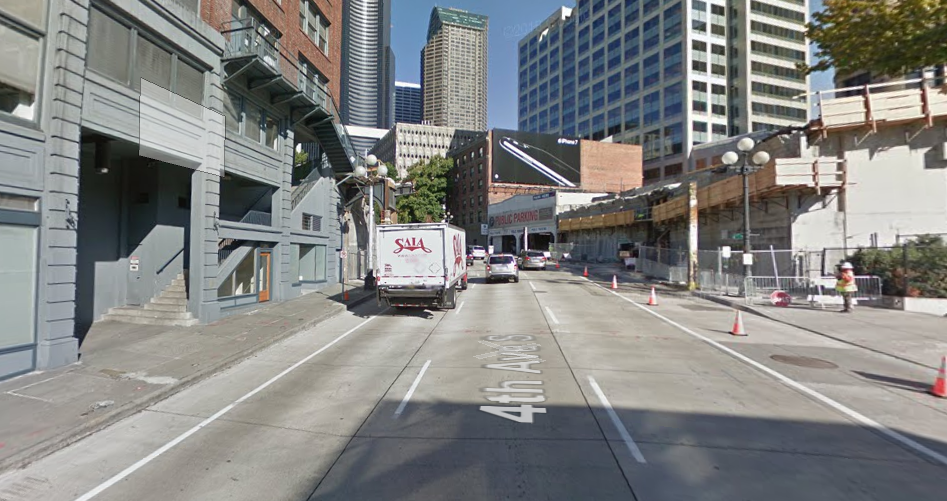 The rebuild was a long-time coming. The Yesler Bridge was originally constructed in 1910 as a steel bridge, which is a rarity in Seattle. The iconic bridge–known for its decorative details–was in need of deep restoration, reinforcement, and upgrades. Removal of the bridge support columns was a key project element. The Seattle Department of Transportation (SDOT) replaced these columns with a single span superstructure made of concrete. The new single span sits on steel girders that hold the bridge up over Fourth and Fifth Avenues. Another structural enhancement to the bridge included rehabilitation and replacement of the abutment walls.
This slideshow requires JavaScript.
SDOT restored decorative and historic features, such as street lighting, railings, and rounded fascia girders, to the bridge. New bikes lanes and improved pedestrian facilities were also installed as part of the project. A full bike lane is now provided in the uphill direction on the bridge; sharrows in the downhill direction. Underneath the bridge on Fourth Avenue, SDOT installed a raised curb bike lane where the street bends reducing the likelihood of collisions from motorized vehicles rounding the curve.
This slideshow requires JavaScript.
On the bridge itself and Terrace Street, the pedestrian environment has greatly improved. SDOT widened sidewalks, added curb bulbs and extensions at the intersection with Terrace Street, and added curb ramps for accessibility. The wider sidewalks, curb bulbs, and curb extensions should make crossing the Terrace Street intersection a lot easier for pedestrians.
Metro has proposed shifting Routes 3 and 4 from James Street to Yesler Way. That is now possible with restoration and reopening of the bridge, but new trolleybus wire would need to be installed to make that work. Thus, the route change isn't a foregone conclusion. SDOT is looking at how to improve reliability on James Street. Aside from a less direct route, there are ample reasons to keep things the way they are for First Hill–which is primarily served by the James Street segment in question.
The bridge restoration and rehabilitation project topped $19.6 million with funding coming from the 2006 Bridging the Gap Levy.

Stephen is a professional urban planner in Puget Sound with a passion for sustainable, livable, and diverse cities. He is especially interested in how policies, regulations, and programs can promote positive outcomes for communities. With stints in great cities like Bellingham and Cork, Stephen currently lives in Seattle. He primarily covers land use and transportation issues and has been with The Urbanist since 2014.