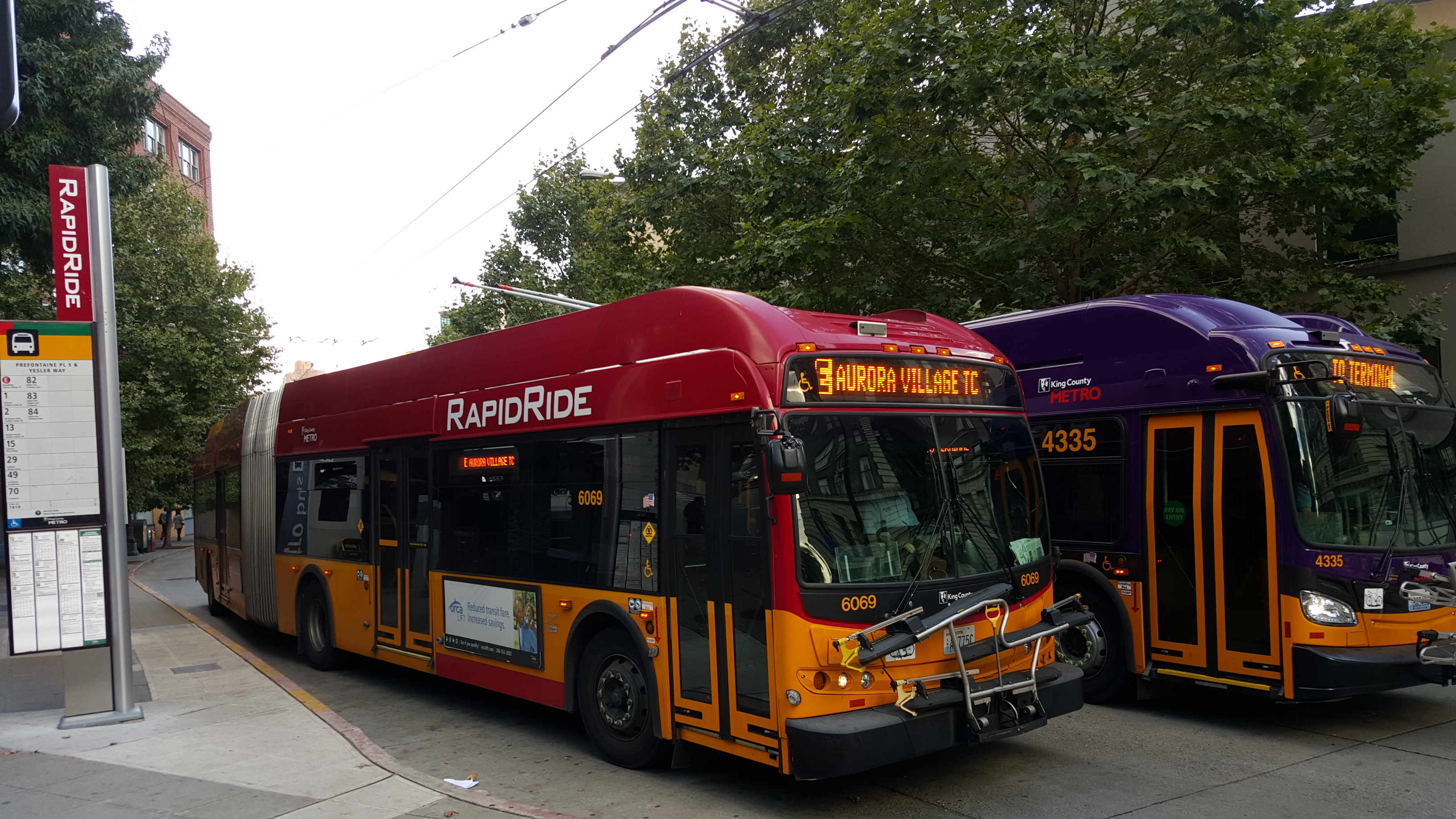 The planning process for the RapidRide H Line linking Burien to Downtown Seattle is moving forward. King County Metro Transit is seeking feedback on customer experience with the current Route 120–which the H Line will replace–and the kinds of priorities that should be incorporated into the new line. The H Line is slated to get the standard RapidRide features of transit service priority treatments, off-board payment kiosks, all-door boarding, and higher quality stops.
However, the survey asks wide ranging questions of customers to get a better sense of how they're using the Route 120 today and expect to use the H Line in the future. Questions like frequency of trips a rider takes on Route 120, what stops a rider typically uses along the Route 120/H Line corridor, and how a rider would use the Route 120 or H Line to various destinations in the future appear in the survey. Metro plans to use the survey feedback to determine the other improvements that may need to be made on the corridor to meet the needs of riders.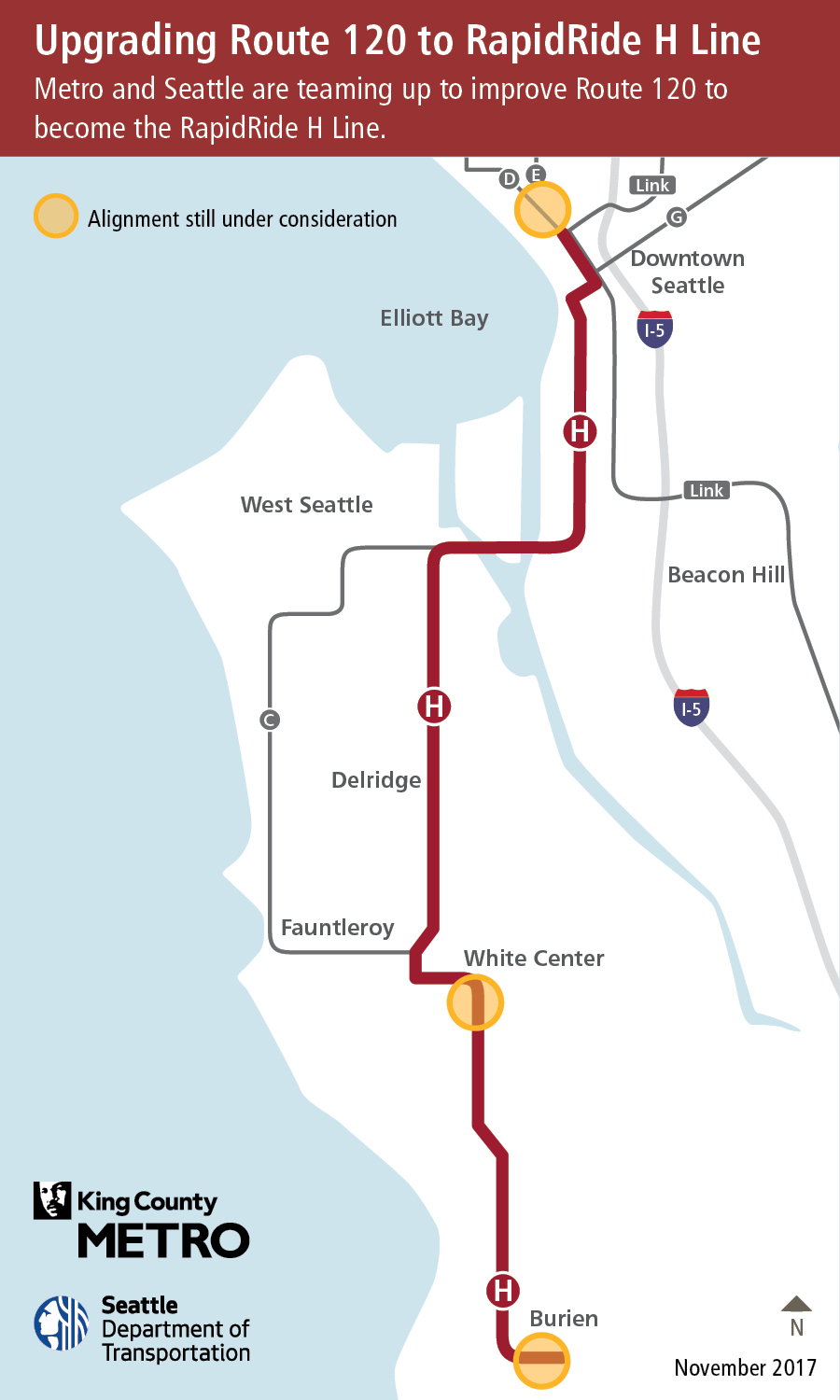 Last year, the Seattle Department of Transportation held a workshop to begin finer grain corridor planning. Then in March, SDOT returned with detailed options and sought feedback on different tradeoffs for corridor treatments such as lane configurations and transit priority. Metro will use much of that work by SDOT to inform their planning process, too.
As far as the alignment of the H Line is concerned, Metro envisions using the same path of Route 120, except for three segments which are still being studied.
Where the line terminates in Downtown Seattle remains a question. The Route 120 current ends just north of Virginia Street on Third Avenue while three RapidRide Lines operate on same street. The RapidRide C Line happens to have the most similar characteristics since it runs from West Seattle through Downtown and then terminates in South Lake Union. The other RapidRide Lines–D and E–originate north of Downtown and converge on Third Avenue near Bell Street. The lines then continue south toward the Chinatown-International District. None of the RapidRide Lines terminate in the central core. Obviously, creating some consistency in service patterns between RapidRide Lines seems sensible to do and extending the H Line could help deliver more local service in Belltown and beyond depending upon where the line terminates. Curb space for bus layovers will invariably be a key challenge in determining a terminal.
Further down the H Line corridor, Metro is considering what should be done with the alignment south of SW Roxbury St. Route 120 runs along 15th Ave SW for about 10 blocks between SW Roxbury St and SW 107th St. South of SW 107th St the Route 120 runs along 16th Ave SW, which is a block back to the west. In effect, the route makes a jog on this segment bypassing the commercial core of White Center and a street with back-in angle parking.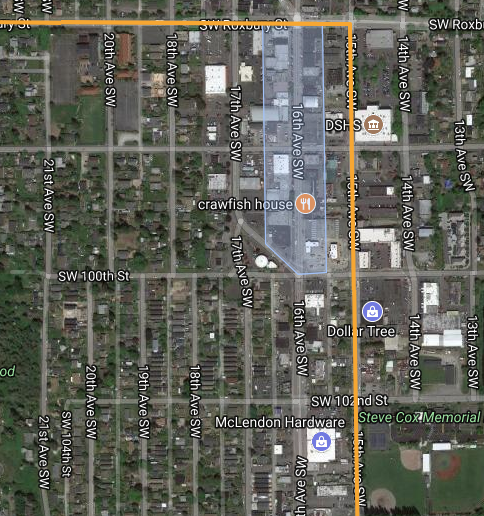 Lastly, Metro is still evaluating how the tail near the Burien Transit Center should work. Route 120 runs along SW 148th St to end at the transit center, but largely misses the core of the town center in doing so. The transit center has an accessway off of SW 150th St which means that the H Line could operate along that street instead and provide better coverage and direct service to Burien's burgeoning town center.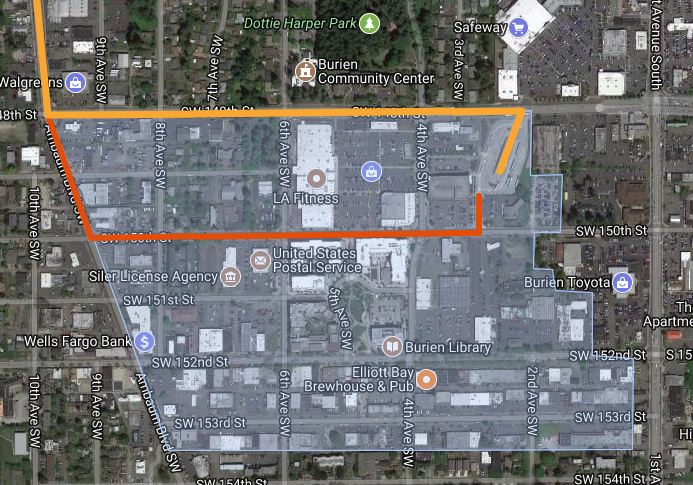 Looking ahead, Metro plans to release a planned alternative in conjunction with SDOT on the H Line in a few months. Prior to that happening, Metro will hold community meetings in Burien and White Center next month and then process feedback received to develop a complete alternative.
Delridge RapidRide Brings Same Old Transit/Bike Lane Tradeoffs

Stephen is a professional urban planner in Puget Sound with a passion for sustainable, livable, and diverse cities. He is especially interested in how policies, regulations, and programs can promote positive outcomes for communities. With stints in great cities like Bellingham and Cork, Stephen currently lives in Seattle. He primarily covers land use and transportation issues and has been with The Urbanist since 2014.