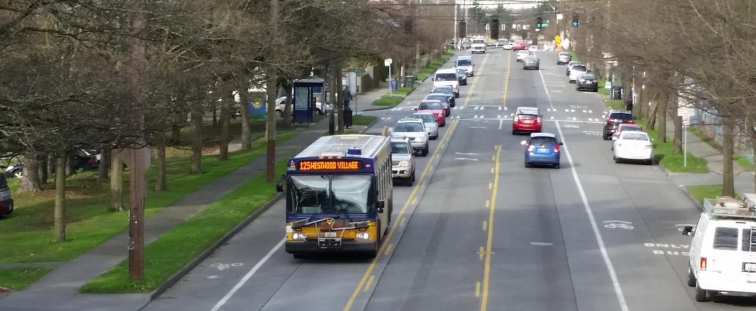 The Seattle Department of Transportation (SDOT) has started taking feedback on the RapidRide H line, which will travel from Downtown Seattle to West Seattle via Delridge Way and continue to Burien. This line is planned to start service in 2020, the year after the Madison line, Rapidride G, begins taking on riders. The H will replace the current Metro Route 120, which has 6,300 average daily boardings–with "RapidRide-ification" it is expected to double to 12,300 per day.
The open house currently shows two options for the line, and once again Seattle transit advocates are presented with a classic dichotomy: bikes or transit lanes.
Both options include bus-only lanes for the entire way from the West Seattle Bridge to SW Alaska St. Currently there is only a business access and transit (BAT) lane in the northbound direction–a lane would be added southbound as well. From there the two options differ, in a tradeoff that is becoming all-too-familiar to transit advocates.
Option 1
Option 1 would remove one direction of the current protected bike lane (PBL) between SW Orchard St and SW Holden St, and create peak-only bus lanes out of the parking lanes between those two streets in both directions. North of Orchard, the southbound transit lane would extend to 23rd Ave SW, but the northbound one would not. Between 23rd and Alaska there would be no transit lanes, nor would they extend south of Holden. No bike facilities would be added to Delridge, but the line would intersect with several existing or planned neighborhood greenways, making those the only all-ages-and-abilities bike facilities connected to the RapidRide line. The current southbound unprotected bike lane on Delridge south of Alaska would go away.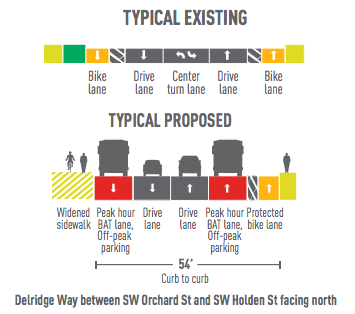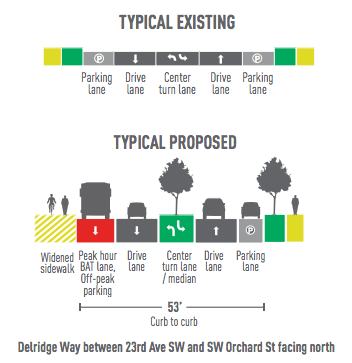 Option 1 is expected to improve northbound bus travel time by up to 9% and general purpose travel time by 1%, and reduce southbound transit time by up to 16% and general purpose by 8% by separating the lanes of traffic. You can view the full plan for option 1 here.
Option 2
The second option would convert the current southbound unprotected bike lane on Delridge into a protected bike lane. The only northbound bike facility would remain the stretch of PBL that is currently in place between Orchard and Holden.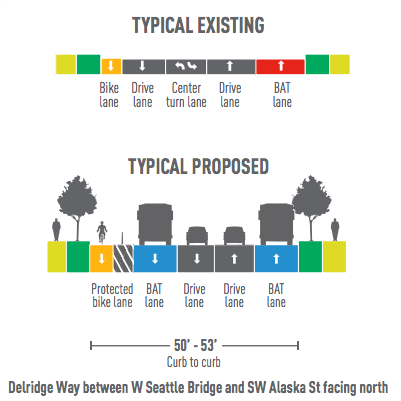 According to the City, option 2 would reduce transit travel times northbound by up to 8% and southbound by up to 12% but would slow general purpose travel times by 10% and 5% respectively. View the entire option 2 ere.
The Real Culprit: Parking
It is disappointing to see the dichotomy being presented that safe facilities for bikes need to come at the expense of faster trips for transit riders. According to the presentation that was made to the Seattle Bicycle Advisory Board last week, both options are retaining a lot of on-street parking, leading to the lack of options for other modes. Option 1, which converts a protected bike lane on Delridge into a peak-only transit lane, would actually increase the amount of off-peak parking available on Delridge, while decreasing the amount of parking space during peak hours. Option 2 would only lead to a reduction of 27% of on-street parking spaces on Delridge, even as general purpose travel times are expected to slow.
This RapidRide corridor should provide quick travel times, ease of boarding, and improved pedestrian crossings on Delridge Way, but the plan in its current stage clearly isn't ready to be signed off on. SDOT should come back with a better, more-integrated plan that doesn't pit modes against each other, but instead works to make our goals of complete streets a reality.
Seattle – Delridge RapidRide H Options by The Urbanist on Scribd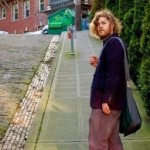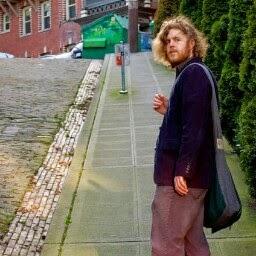 Ryan Packer lives in the Summit Slope neighborhood of Capitol Hill and has been writing for the The Urbanist since 2015. They report on multimodal transportation issues, #VisionZero, preservation, and local politics. They believe in using Seattle's history to help attain the vibrant, diverse city that we all wish to inhabit. Ryan's writing has appeared in Capitol Hill Seattle Blog, Bike Portland, and Seattle Bike Blog, where they also did a four-month stint as temporary editor.