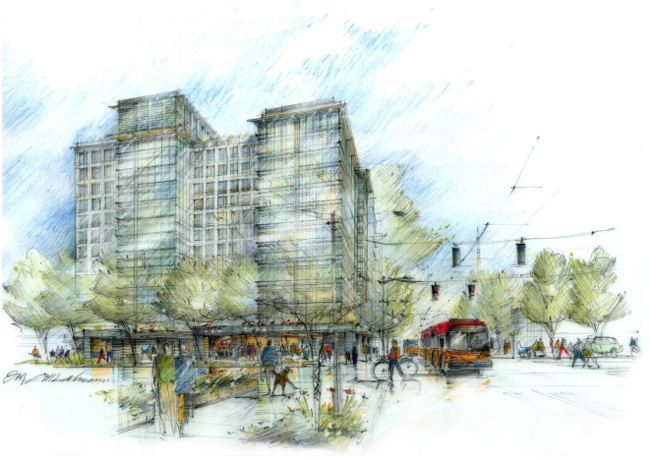 On Thursday, the Sound Transit Board of Directors approved a suite of agreements related to affordable housing on sites owned by the transit agency in Seattle. The board signed off on three agreements that could pave the way for development of three separate affordable housing projects by local non-profit developers totaling more than 630 dwelling units. One of the three developments could even include a transit-oriented highrise–something that many urbanists have repeatedly campaigned for around station areas.
Another agreement could result in an intricate land swap with Seattle Central College at the Capitol Hill Station Site. The sole boardmember that voiced opposition to any of the affordable housing agreements was Pierce County Executive Bruce Dammeier.
Central Roosevelt Station Site Negotiations
The Board of Directors directed staff to begin the process of negotiating agreements with non-profit developers Bellwether Housing and Mercy Housing Northwest to develop affordable housing on the central Roosevelt Station site. The site is intended to be mixed-used in nature, but residential will be the predominate use. The preliminary project concept would include 245 dwelling units and a mix of retail, daycare, and community space. The development would also need to provide public space where the community can gather, a mid-block through connection for pedestrians, and a high quality design that responds to the active pedestrian-oriented nature of the site and station. Bellwether and Mercy would be expected to pay Sound Transit $6.75 million, a significantly discounted price.
All 245 dwelling units would be set aside as long-term affordable housing. 40% of the dwelling units would be rented to households making between 30% and 50% of the area median income. The remainder of the units would be rented to households making at or below 60% of the area median income. On top of that, 42% of the dwelling units would be designed for families with two and three bedrooms.
Originally, Sound Transit purchased the site in 2008 to provide space for construction staging and eventually the station headhouse. A fair market valuation of the site indicates that the property is worth approximately $18.5 million and could be worth $19.1 million by 2020. However, the $6.75 million land sale to Bellwether and Mercy would obviously be far less than that valuation. This deficit means that Sound Transit would need to make up the difference in other surplus land sales in the future to achieve the overall financing goal of $98.8 million. So far, the agency has received $32.1 million in land sale proceeds for other sites. Assuming that the central Roosevelt Station site sells for just $6.75 million, the agency will need to sell another $55 million worth of surplus land to achieve the financing goal.
Seattle City Councilmember and Sound Transit Boardmember Rob Johnson praised the collaborative effort by residents and other parties to locate affordable housing at Roosevelt Station. "This project is a perfect example of Sound Transit's commitment to affordable housing," he said. "Through a collaborative, community-driven process, we are working to align the opening of these units as closely to the station opening in 2021 as possible. I'm grateful to the project team for their excellent proposal, the neighborhood for its tireless advocacy, and [Seattle] and Sound Transit for making this exciting project come to fruition."
Bellwether and Mercy will need to procure financing sources to realize development at the central Roosevelt Station site. The negotiation process will help further develop the overall site concept plan and associated costs in deliver those elements. The Seattle Office of Housing (OH), however, may be one source of funding for Bellwether and Mercy. OH has already indicated that the agency would be willing to fund up to $15 million in affordable housing at the site if certain conditions are met. A transaction agreement is expected to be brought back to the Board of Directors early next year.
Capitol Hill Land Swap Agreement
Sound Transit is engineering another affordable housing project in Capitol Hill, albeit it in a very different way. Seattle Central College approached the transit agency to do a land swap since the college would like to own and develop a site closer to Capitol Hill Station. The college had already begun negotiating with Capitol Hill Housing to develop two parcels (known as the "Atlas Site") on Broadway with affordable housing. The Sound Transit Board of Directors approved a memorandum of understanding allowing agency staff to negotiate the terms of the land swap, including discounted land value prices to accommodate development of affordable housing.
The Atlas Site is midblock on Broadway between Pine Street and Pike Street and partially developed with street-front retail in two one-story buildings. The remainder of the site is surface parking. Development of the site would mean removal of some popular local businesses, at least for the interim.
Compared to the Sound Transit-owned site (known as "Site D") which is a modest 10,383 square feet, the Atlas Site is larger (14,400 square feet) providing more opportunities for affordable, mixed-use development but that also comes with a higher market value for the land. Under the land swap terms, Capitol Hill Housing would be responsible for paying the difference on behalf of Sound Transit to the tune of $2.2 million. The voluntary affordable housing provider would also pay Sound Transit somewhere between $2 million and $3 million for the Atlas Site.
Capitol Hill Housing plans to construct 78 affordable housing units on the Atlas Site. Sound Transit estimates that is 34 more affordable housing units than would be feasible on Site D. Capitol Hill Housing's development would also return ground-floor retail to the Broadway frontage.
Earlier rumors about a possible sale of Site D to Seattle Central College included the property being used as student housing. However, it is now understood that the college would use the property as a new entrance to the college as well as new teaching space, student support services, and a bookstore. The entrance, by the way, could result in a better connection for students to the west headhouse of Capitol Hill Station. On the Atlas Site, Capitol Hill Housing would be expected to create active street-level uses, such as retail. Leasing of those retail spaces would partially help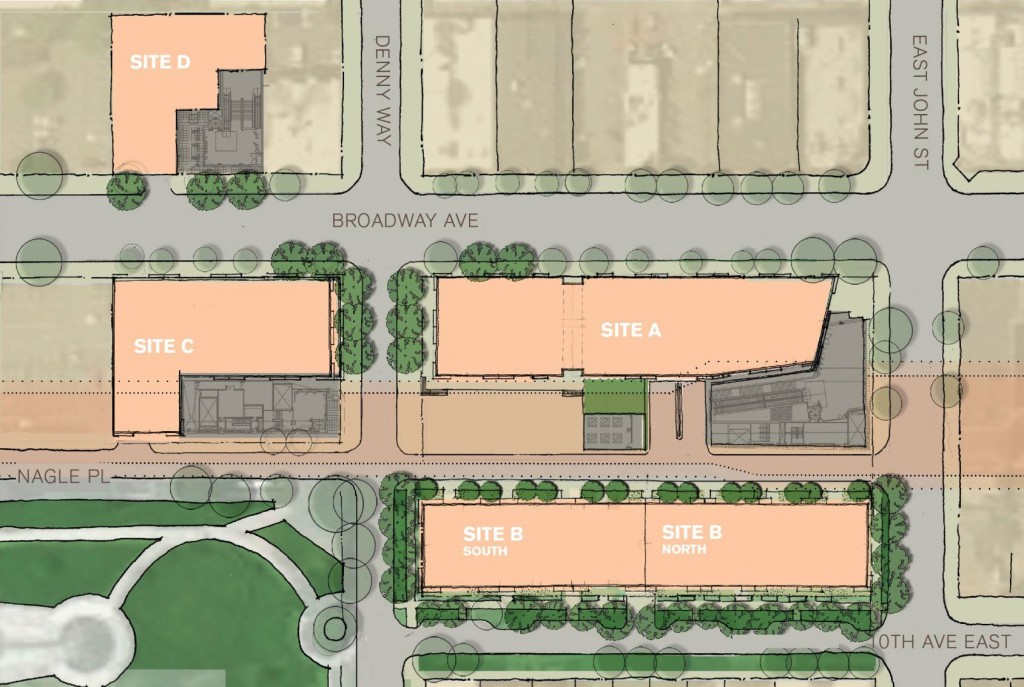 A final tripartite purchase and sale between the Sound Transit, Seattle Central College, and Capitol Hill Housing for the properties is expected to come somewhere in the 2019/2020 timeframe.
First Hill Site for Affordable Housing Tower
In First Hill, non-profit developers Bellwether Housing and Plymouth Housing Group will have rights to develop a highrise tower on a 21,600-square foot site owned by Sound Transit. The property is an artifact of the University Link light rail extension which had originally planned a station at the site. However, development of a station in First Hill was never realized. The site is located at the corner of Madison Street and Boylston Avenue.
The non-profit developer duo plans to construct a 13-story tower with 100% of the dwelling units set aside as affordable. Zoning on the site allows buildings as tall as 160 feet, though that could change to 200 feet by the end of next year. If completed, it would be the first highrise affordable housing project built in Seattle in more than 50 years. The estimated project cost minus land acquisition is $92 million, though the board indicated its willingness yesterday to transfer the property free of charge. The project is relying of funding from a variety of sources such as King County, Seattle Housing Trust Fund, and Washington State Housing Trust Fund.
A total of 308 apartments
would be constructed
as part of the project. Bellwether would deliver 197 units for households making between 30% and 60% of the area median income. Of those, Bellwether would construct 30 of the units to be family-sized with two or more bedrooms. Plymouth would deliver an additional 111 units for households making up to 30% of the area median income. Plymouth's program would place a focus on senior residents coming out of homelessness.
Since the project would be partially funded by the Washington State Housing Trust Fund, the tower would be built to the Evergreen Sustainable Development Standard, a high environmental design standard administered by the Washington State Department of Commerce. No residential parking is planned for the residential components of the project.
Right now, the site is fairly low-slung with a payday loan building and medical clinic. The site certainly is transit-oriented with the First Hill Streetcar running on Broadway a block to the east. Routes 9, 12, and 60 also provide frequent bus service to nearby neighborhoods. In a few short years, King County Metro Transit, partnership with Sound Transit and Seattle Department of Transportation, will launch the RapidRide G Line on Madison Street providing very high quality, frequent bus service between the Central Area and Downtown Seattle.
King County Council Chair and Sound Transit Boardmember Joe McDermott highlighted the need for more affordable housing. "Now more than ever, Seattle is experiencing a critical lack of housing for our most vulnerable citizens," he said. "The ability of Sound Transit to work with developers to use land that is no longer needed for construction for affordable housing presents a tremendous opportunity to combine public and private resources for the greater good."
Sound Transit staff anticipates returning to the board in 2018 with a formal agreement to transfer the property to Bellwether and Plymouth.
Sound Transit Board Considers Land Grant for First Hill Affordable Highrise Today

Stephen is a professional urban planner in Puget Sound with a passion for sustainable, livable, and diverse cities. He is especially interested in how policies, regulations, and programs can promote positive outcomes for communities. With stints in great cities like Bellingham and Cork, Stephen currently lives in Seattle. He primarily covers land use and transportation issues and has been with The Urbanist since 2014.