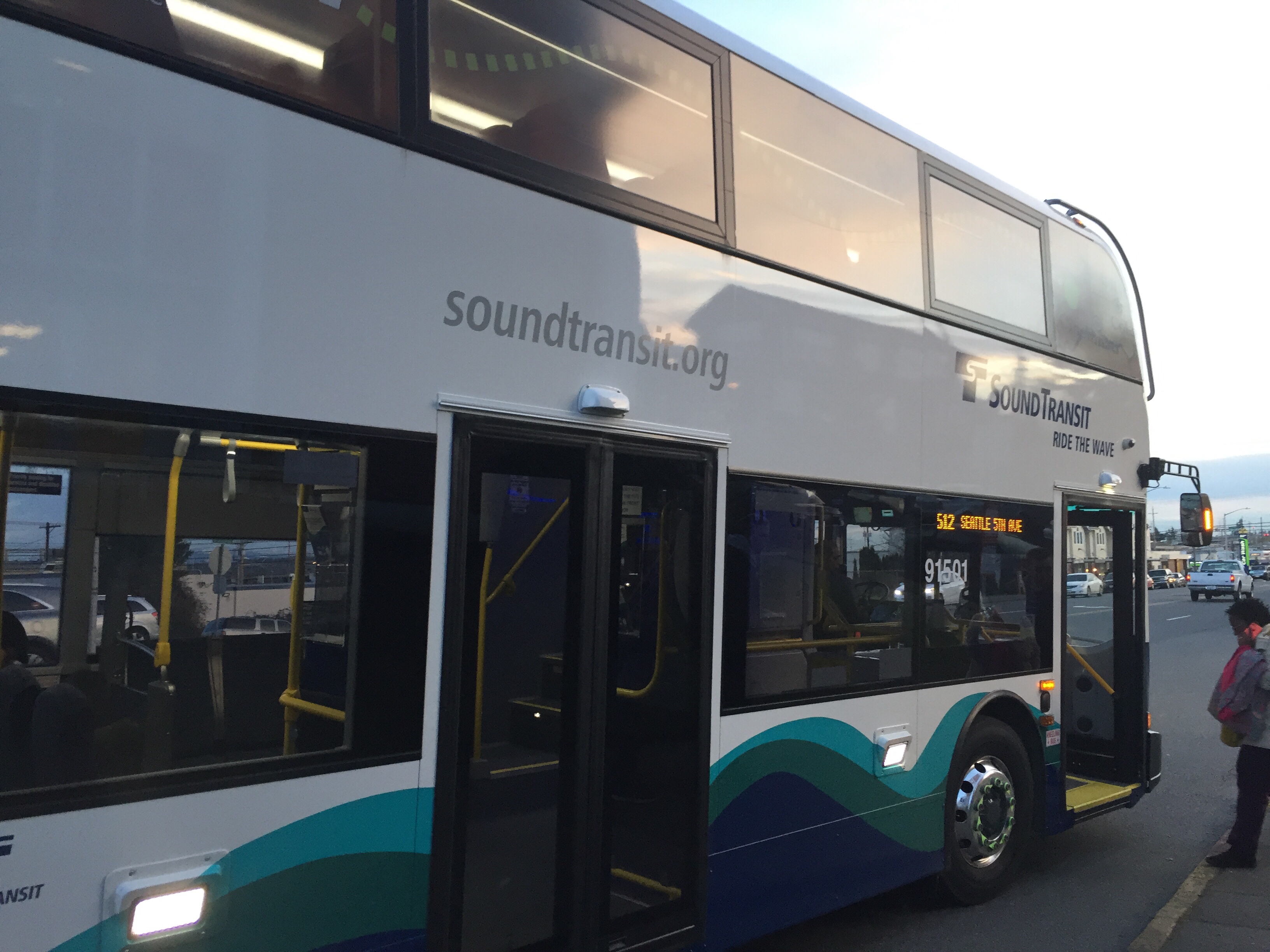 Transit on I-5 will see reliability and speed improvements between Mountlake Terrace and Lynnwood. On Thursday, the Sound Transit Capital Committee approved a contract with the Washington State Department of Transportation (WSDOT) to repurpose shoulder lanes in the southbound direction for bus operations, similar to ones already operating on I-405.
Known as "bus-on-shoulder" (BOS) lanes, these facilities will be designated on inside shoulders adjacent to high occupancy vehicle (HOV) lanes. This will allow buses to weave in and out HOV lanes as needed to move closer to maximum highway speeds, expediting riders on an ever-croweded I-5.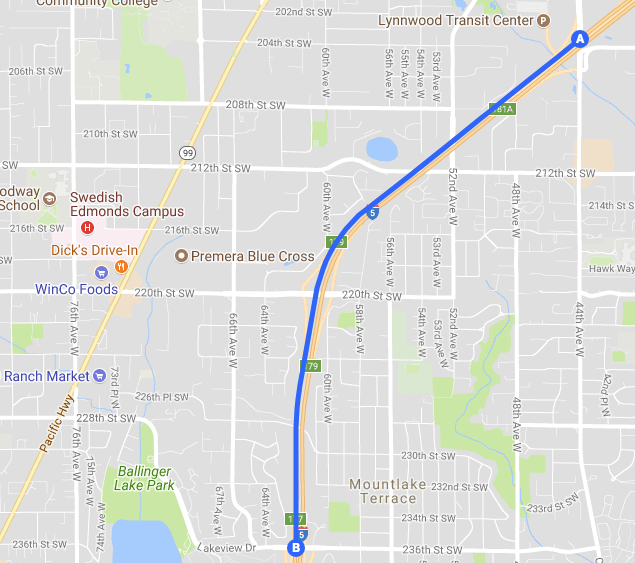 The project is an early action of Sound Transit 3 (ST3), investing in inexpensive improvements that can make quick changes and deliver substantial benefits to riders. Sound Transit has set aside $265,421 for the project. Construction is expected begin next fall with the BOS lanes operational by the end of 2018.
According to Sound Transit, the project will deliver BOS lanes between 44th Ave W (near Lynnwood Transit Center) to 236th St SW (near Mountlake Terrace Transit Center). Over a dozen Sound Transit and Community Transit express routes operate along the 2.5-mile stretch of I-5.
Associated improvements will include signage, striping, renewed pavement, and drainage enhancements as necessary. WSDOT will be responsible for project management and ensuring its completion.
As part of a separate action, the Capital Committee approved a $375,000 feasibility study to evaluate other locations on regional highways that BOS lanes could be implemented, such as SR-167, SR-518, and other portions of I-5 and I-405. The feasibility study will inform Sound Transit on specific improvements that would need to be made, operational benefits, and estimated construction costs. Completion of the feasibility study is expected by the end of 2018. Following the feasibility study, project planning and implementation of BOS lane facilities will continue through the end of 2024 on a rolling basis.
Dave Somers, Sound Transit Board Chair and Snohomish County Executive, praised the Capital Committee's action on the BOS lane project and feasibility study. "We are very happy that this significant investment in Snohomish County is closer to being implemented and closer to easing some of the pressure on our roadways," he said. "Our close partnership with WSDOT allows Sound Transit to get started quickly on this early deliverable ST3 project. Working together and with public support, our agencies will continue to identify every opportunity to speed commuters across the congested Puget Sound region."
Community Transit Using I-5 Freeway Ramps To Improve Reliability

Stephen is a professional urban planner in Puget Sound with a passion for sustainable, livable, and diverse cities. He is especially interested in how policies, regulations, and programs can promote positive outcomes for communities. With stints in great cities like Bellingham and Cork, Stephen currently lives in Seattle. He primarily covers land use and transportation issues and has been with The Urbanist since 2014.