A new study on the vulnerability of small businesses in the University District has been released. Peter Steinbrueck (a former member of the Seattle City Council and newly elected Port of Seattle Commissioner) led the study on behalf of local businesses to take stock of businesses operating in the community and gauge perceived challenges that zoning changes could have on them. The study took a close look at businesses on The Ave (University Way NE) using a survey approach.
The study particularly concerns itself with implications to businesses on The Ave (University Way NE) between NE 40th St and NE 50th St since properties fronting the street were excluded from the neighborhood-wide rezone early this year. However, the study also evaluates businesses widely on The Ave as far as NE Ravenna Blvd (the boundary of the University District). Business owners hope that the study will inform the city council on actions that could be taken to promote and preserve existing small business regardless of whether further zoning changes are made.Committee Hears Testimony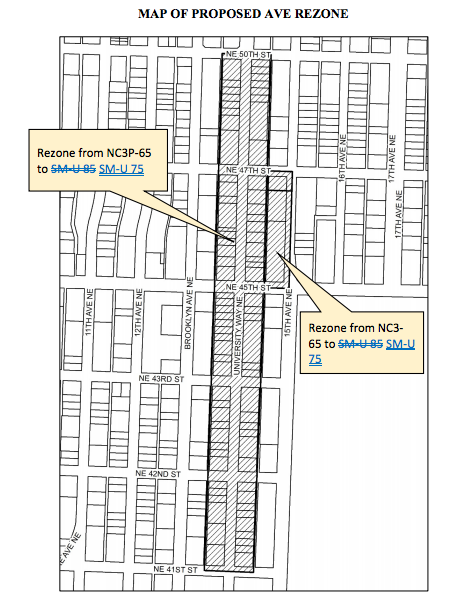 On Tuesday, the city council's Civil Rights, Utilities, Economic Development, and Arts Committee got their first glimpse at the study. Peter Steinbrueck and local business owners Rick McLaughlin, Pamela Jacob, and Chris Peterson presented key findings from study, discussed challenges that small businesses face, and highlighted specific recommendations.
Rick McLaughlin, owner of Big Time Brewery, described The Ave as an "incubator" for small businesses. "It essentially brings in business where they can start off and then they can grow or expand to other parts of the city," he said.
Pamela Jacob, owner of Pam's Kitchen, explained one of the challenges that business owners like herself can face. She has been running her restaurant for more than 11 years, but it's been tough to get ahead. Her restaurant was originally located on the northeast corner of NE 50th St and University Way NE. Expecting to stay there forever, she put a lot of money into the space to make it the kind of place that patrons would keep coming back to.
However, her month-to-month lease was ended in 2014 due to redevelopment of the building and site, forcing her find a new location for her restaurant. She had trouble finding a space to rent, but eventually secured a new location in Wallingford. That meant buying out the spot from another restaurant owner just to lease though and creating a new customer base.
Chris Peterson, owner of the hidden down an alley but well known Café Allegro, highlighted the need for the city to be thoughtful in protecting small businesses, even old ones like his own, and consider what implications that rezoning could have on them, especially in light of the recent neighborhood-wide rezone.
"We're as much at risk of future development as any business on The Ave despite our 47-year history," he said. "What I'd say is at risk in the U District, especially in the core area that has not yet been upzoned, is a sense of place and authenticity in the city."
Key Findings
The study relies largely on surveys and on-the-ground research to better understand how small businesses are operating and the issues they face. The following are some of the key findings in the report:
Restaurants and eateries (not bars and breweries) are the largest category of businesses (45.5%) with retail following in a distance second (29.3%);
Most storefronts are small with 50% 25 feet in width or less (11% are less than 15 feet wide);
Most businesses occupy 2,000 square feet of space or less (55%);
73% of businesses have been in the University District more than five years (24% over 25 years);
Most businesses are women and/or minority owned (65%);
88% of businesses have 15 or fewer employees (51% with five or fewer employees); and
27% of business owners were either unsure or didn't believe that they would be on The Ave in 10 years.
Business owners also identified some common issues that they face, such high rent, parking challenges, drug use, public safety, and street homelessness. Those who didn't think they would remain on The Ave in 10 years said they would need more customers, protection from redevelopment, or more affordable rents.
When asked about positives and negatives from rezoning, business owners identified as more customers as the biggest benefit while displacement and higher rents as the largest drawbacks.
Key Recommendations
The study makes four key recommendations to promote and sustain local businesses in the University District. These include recommendation on land use and zoning, transportation, displacement, and business services.
Land Use and Zoning. The study suggests that the city focus on refinement of any potential zoning, development standards, and design guidelines changes on The Ave to minimize unintended consequences, particularly to local businesses. One strategy identified suggests developing zoning and development standards that would foster and promote small businesses in small tenant spaces (e.g., a range of small storefront widths and small unit sizes) since most business occupy a small footprint.
Transportation. A variety of strategies are highlighted for transportation, including accessible parking, transit pass incentives, and addressing construction impacts.

Potential Development Map from the University District Urban Design Framework. (City of Seattle)

Displacement. Many businesses operate on month-to-month or short-term leases, which can make them susceptible to displacement on properties likely for redevelopment. The study suggests identifying locations where displacement is greatest and developing anti-displacement measures to assist local businesses.