Seattle's Colman Ferry Dock is under heavy reconstruction to fully overhaul the ferry terminal for the first time in decades with new buildings–including a new terminal and entry building–and improved operations through site redesign. The reconstruction work will help the ferry terminal better interface with Alaskan Way where a massive pedestrian- and public space-oriented redesign is taking shape. Ferry terminal construction is slated to continue through 2023. In the interim, passengers will find minor schedule changes that will affect arriving and departing ferries beginning on Sunday, January 7th.
The schedule changes are designed to provide sufficient time for one ferry to dock and depart from the ferry terminal at a time. Schedule changes will move some arrival and departure times forward or backward up to 15 minutes. Washington State Ferries (WSF)–a division of the Washington State Department of Transportation–expects the one-docked-ferry restriction to be in effect during the remainder of the construction period.
Long-Term Impacts
Passengers will continue to see a changing ferry terminal experience over the next five years. While there may be slight pinch to queuing vehicles right now and temporary relocation of water taxi service, the impacts will increasingly be felt as reconstruction moves forward.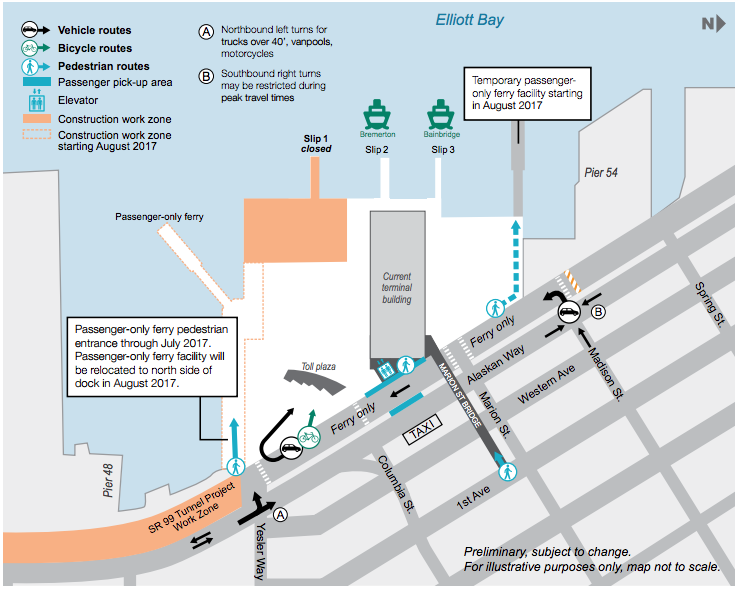 In March, partial demolition of the ferry terminal building will begin and the construction zone will be expanded, covering about of third of the ferry dock. About half of the ferry terminal building will be removed. A good portion of the ferry dock will also be removed at the northwest since expansion of the dock will occur along the south portion of the dock. Space will be even more limited by summer 2019 after the ferry terminal building has been fully removed. Prior to that happening, partial construction of a new ferry terminal building will begin. That structure will be less than a third of the existing ferry terminal building. Work is already underway for pile driving to facilitate the new ferry terminal building.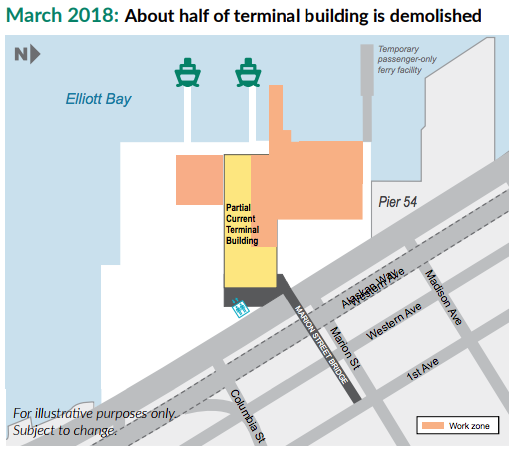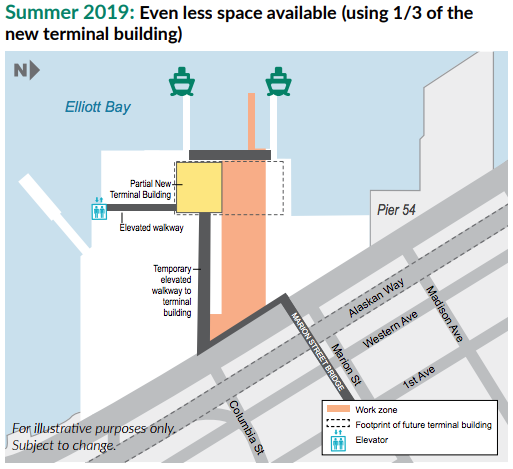 The following construction schedule highlights the continuum of work planned ahead and the timing of impacts at the ferry terminal:

Looking Ahead to a New Ferry Terminal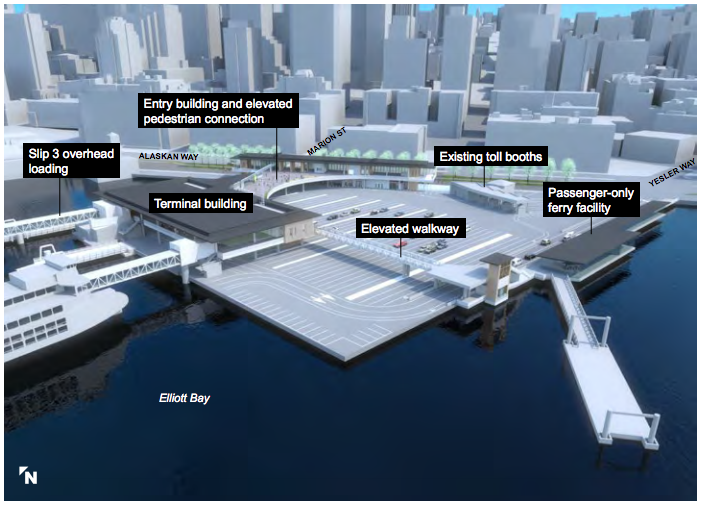 The new ferry terminal will be very different from the one today. In terms of access, vehicles will continue to enter and exit the terminal from one primary location at the intersection of Yesler Way and Alaskan Way. A secondary exit will also remain at the intersection Marion Street and Alaskan Way. However, the access points will have a small footprint.
Bike access is poised to improve with specifically designed and designated facilities. The pedestrian network will also improve with a wider accessway to the passenger-only ferry (water taxi) and new a pedestrian bridge connecting that facility with the new ferry terminal building. A better defined frontage and upper deck skybridge should also generally make the pedestrian environment more welcoming. Other changes include:
The overall layout and space of the new ferry dock will provide for a new entry building, permanent water taxi shelter, terminal building, skybridge, and enhanced docking berths.
A new entry building will be constructed along a larger portion of the Alaskan Way. The building will provide more ground-level retail space and better vertical access, restrooms, and bike facilities.
A new upper deck will be constructed with a skybridge connecting the entry building and ferry terminal building. The deck will be partially covered providing space for retail, outdoor seating and hardscaping, and a ticket booth.
The new ferry terminal building will provide space restrooms, seating, and small retail as well as queuing, loading, and exiting. The space should be more efficient for passenger flows.
This slideshow requires JavaScript.
The current ferry terminal feels heavy, depressing, and dated, which is a far cry from the haydays of the Colman Ferry Dock during the peak of the Mosquito Fleet. The new design of the ferry dock facilities, however, will be much more functional, modern, and light. Overall, the design makes for a more inviting space that efficiently connects passengers to key facilities, despite its heavy auto-orientation.
This slideshow requires JavaScript.
So for now, passengers will have to endure some tough years of a shrinking and changing Colman Ferry Dock, but a much better facility will arrive in 2023.

Stephen is a professional urban planner in Puget Sound with a passion for sustainable, livable, and diverse cities. He is especially interested in how policies, regulations, and programs can promote positive outcomes for communities. With stints in great cities like Bellingham and Cork, Stephen currently lives in Seattle. He primarily covers land use and transportation issues and has been with The Urbanist since 2014.