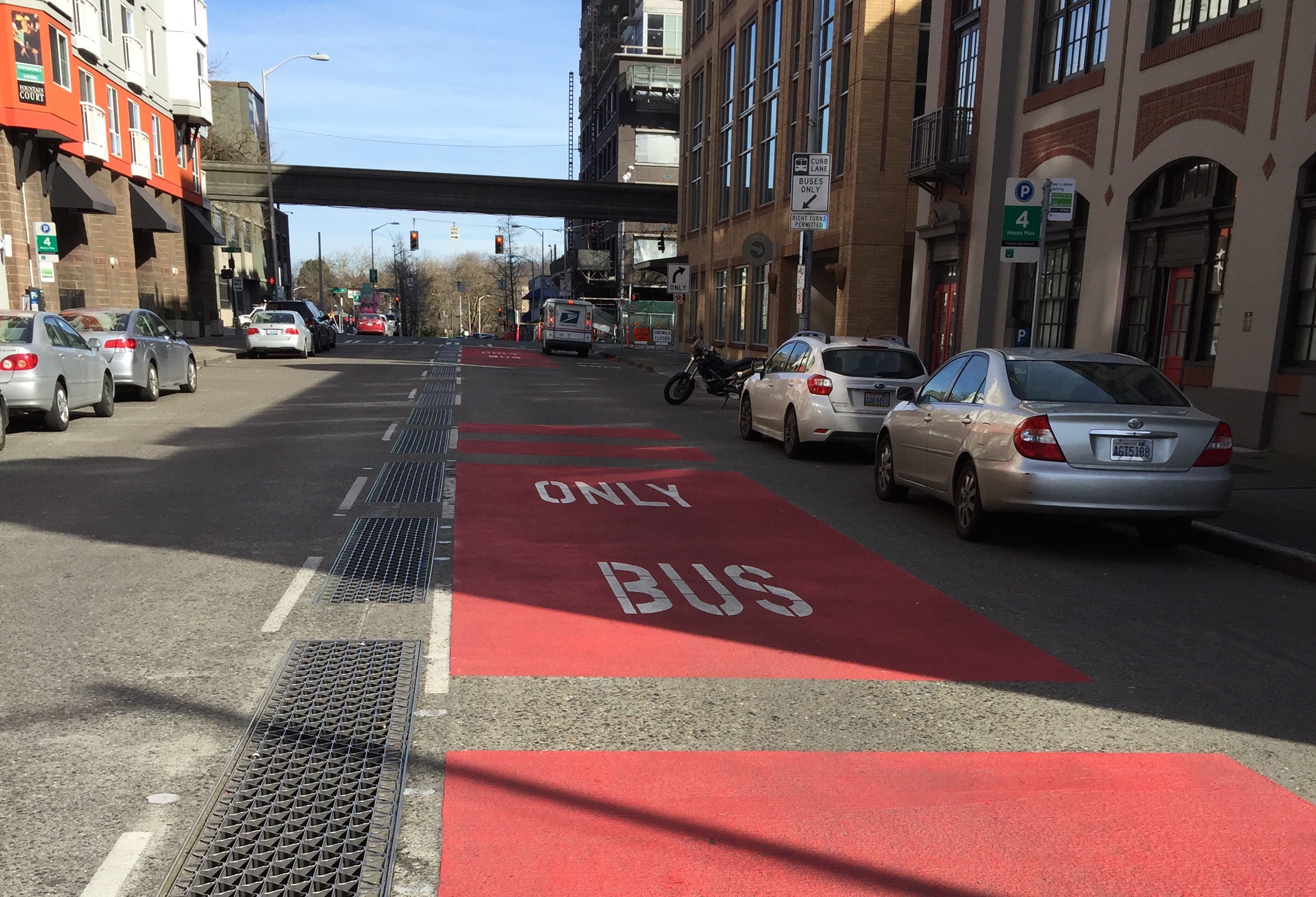 A transportation bill pending (HB 2403) in the Washington State Legislature would allow limited use of transit lane enforcement cameras. The primary purpose of the legislation is to allow local jurisdictions to install enforcement cameras to reduce violations by motorists driving in transit-only lanes and thereby improve speed and reliability of transit. A substitute bill on the matter passed out of committee in the House last week with a "do pass" recommendation and was referred to the Rules Committee, which will decide whether or not to move the bill to a floor vote.
Sponsored by Gael Tarleton (D-Seattle), the substitute bill trims broad allowance of transit lane enforcement cameras to a pilot program. Specifically, up to three transit lane corridors would be allowed in Seattle. No other jurisdictions, for now, could implement such enforcement cameras for this purpose. The period of the pilot program would run from September 1, 2018 through December 31, 2020.
Before implementing the pilot program, the City of Seattle would need to commission a workgroup with King County Metro Transit and the Washington State Department of Transportation. The workgroup would need to recommend specific corridors to implement transit lane enforcement cameras and provide specific analysis of their need. The city council would then need to enact an ordinance authorizing the location of the enforcement cameras.
The bill specifies the method in which enforcement cameras would need to be installed, such as public notice and clear signage of their active use. Other requirements already codified for other types of camera enforcement would also apply to transit lane enforcement cameras. The bill further stipulates how transit lane infractions are to be addressed. Motorists who violate transit-only lane restrictions the first time would be mailed a warning of violation. Second and subsequent violations over a five-year period could be cited as infractions with monetary penalties up to $136. Contesting a fine could be achieved by mail instead of a court appearance.
To evaluate the efficacy of the pilot program, the workgroup would need to provide separate reports to the state legislature by November 30, 2019 and December 31, 2020. The final report in 2020 would need to include two specific recommendations:
How transit lanes can address ongoing construction projects in cities experiencing significant growth and traffic congestion.
Strategies on how to better educate motorists on traffic violations resulting from transit lane enforcement cameras.
The fact that the bill made it out committee is a big step, but it's not necessarily destined to pass the House let alone get signed into law. Some committee members, including Jeff Morris, a Democrat from Skagit County, expressed concern with the entire premise. Feedback to legislators, of course, is always valuable and could help push the bill across the finish line.
State Legislators Resurrect and Introduce Dozens of Transportation Bills

Stephen is a professional urban planner in Puget Sound with a passion for sustainable, livable, and diverse cities. He is especially interested in how policies, regulations, and programs can promote positive outcomes for communities. With stints in great cities like Bellingham and Cork, Stephen currently lives in Seattle. He primarily covers land use and transportation issues and has been with The Urbanist since 2014.