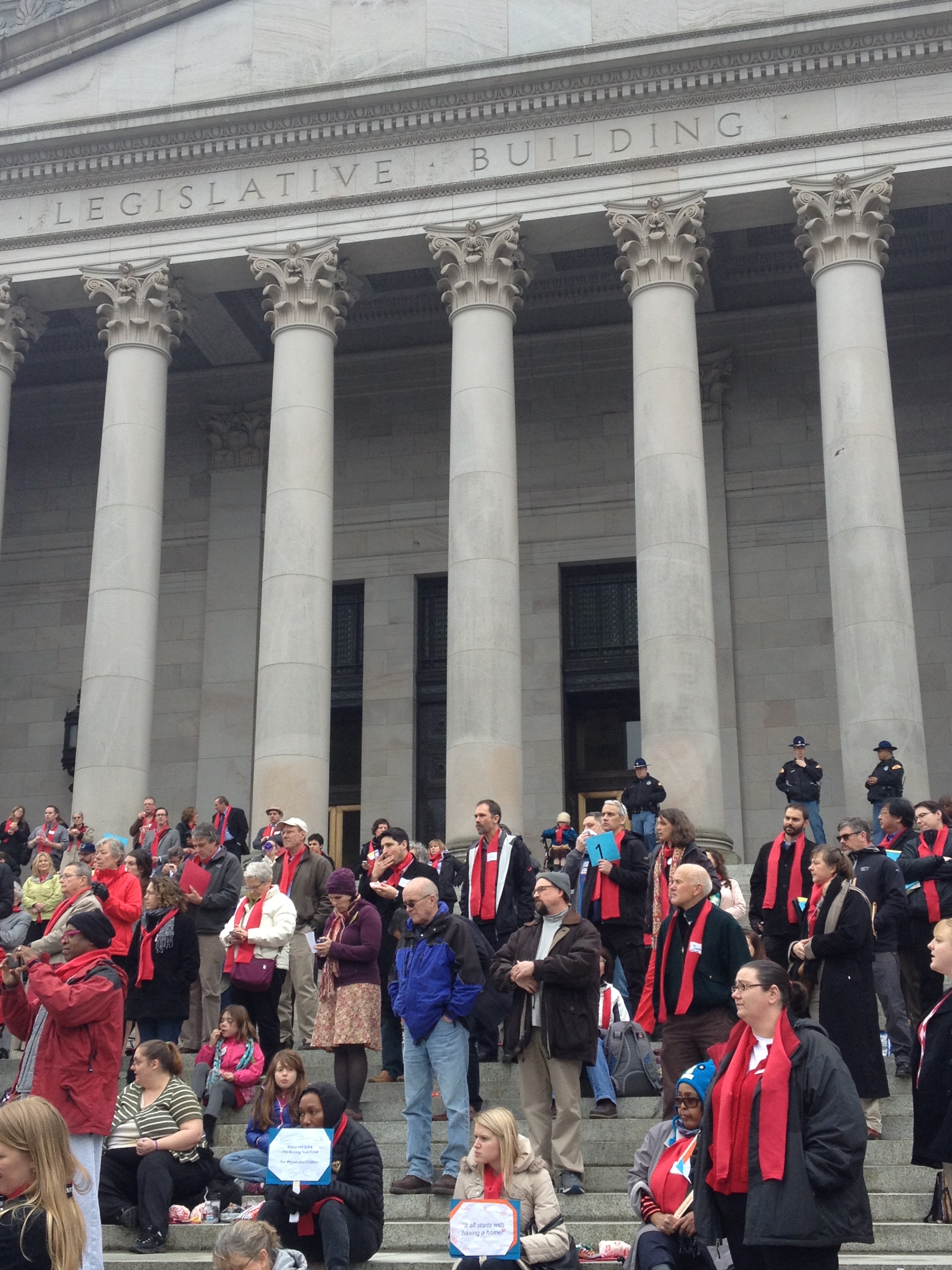 Washington State legislators went back to work on Monday, kicking off a 60-day legislative session. The legislative session is shorter than last year's since odd-numbered years are expected to have legislative work completed quicker. Democrats now hold both the upper and lower chambers of the Washington State Legislature after winning the all-coveted Senate seat up for grabs last November in the 45th Legislative District.
Scores of pre-filed bills were introduced on the first day of the legislative session, including eleven bills affecting public transportation policy–more than a dozen from the 2017 legislative sessions were also reintroduced. The first cutoff for policy bills to get out of committee is February 2nd–less than a month away. Progressive transportation advocates will need to stay on their toes this year to ensure that they advance or stall. Billions of dollars for Sound Transit 3 projects is on the line, for instance, if Democrats take a hatchet to the Motor Vehicle Excise Tax (MVET) and fail to replace funding in other ways.
Transportation Choices Coalition has shared their 2018 legislative agenda that includes allowing the use of transit-only lane camera enforcement, securing new taxing authority for Intercity Transit, and preserving the integrity of Sound Transit 3 funding to deliver the full scope of voter-approved projects on-time. It's a useful starting point for the legislative direction that progressive transportation advocates should support.
2018 Bills Introduced
Here's a rundown of the new bills introduced to the 2018 legislative session:
HB 2317 and SB 6022 would modify contractor bonding requirements for public transportation benefit areas and passenger-only ferry service districts.
HB 2357 would create alternative payment plans for owners of vehicles subject to the MVET in the Sound Transit taxing district.
HB 2395 and SB 6095 are companion bills for the biennial (2017-2019) capital budget, which Senate Republicans stonewalled over an impasse on resolution to the Hirst Decision. The bills would earmark $9.75 million for replacement of diesel buses operated by transit agencies with electric, zero-emission buses. Several million dollars more would also be made available for grants applications to fund pilot projects that can demonstrate new approaches to transportation technology, such as electric ferries and buses.
HB 2400 and SB 6061 would require Washington State Ferries to begin a process of soliciting bids to convert the type of fuel used on at least one state ferry to liquefied natural gas.
HB 2403 would establish a process and standards for local jurisdictions to implement transit-only lane camera enforcement.
SB 6043 would create a statewide regulatory framework for ride-hailing app-based services like Uber and Lyft. While the bill focused on establishing licensing, reporting, and safety standards for drivers and ride-hailing platforms, it would also strip much of the authority from cities like Seattle to regulate them.
SB 6054 would require a feasibility to be conducted on passenger-only ferry service between Olympia and Seattle. The feasibility study would consider direct fast service and slower service with more stops between the two cities.
SB 6101 would modify the biennial (2017-2019) transportation budget by adding millions of dollars in funding for public transportation. Key items include: $3.6 million for a business case analysis of ultra high-speed ground transportation (i.e., high-speed rail) due by mid-2019, nearly $8 million more (totalling $24.1 million) in regional mobility grants for public transportation, $3.3 million transit projects (totaling $20.89 million), and capital expenditures for rail programs would jump from a $58.9 million baseline to $139.6 million with much of it dedicated to passenger rail. Regarding the high-speed rail business case analysis, the legislation requires that the Washington State Department of Transportation evaluate three station location scenarios, conduct market analysis of potential riders by area served, and analyze a variety of relevant factors (e.g., service levels, operational model, equipment needs, ridership, comparative market analysis, public-private partnership scenarios, and financing and fares).
2017 Bills Reintroduced
In addition to the newly filed bills for 2018, more than a dozen transit-related bills from 2017 have been resurrected. A batch of these bills designed to attack the Sound Transit 3, a voter-approved measure, are particularly concerning. Bills to watch from last year include:
Get and Stay Active
There are many great bills proposed for this legislative session, but several are highly distressing. Progressive transportation advocates need to make a concerted effort to get the word out about threats while pushing forward. Make sure to contact your legislators.

Stephen is a professional urban planner in Puget Sound with a passion for sustainable, livable, and diverse cities. He is especially interested in how policies, regulations, and programs can promote positive outcomes for communities. With stints in great cities like Bellingham and Cork, Stephen currently lives in Seattle. He primarily covers land use and transportation issues and has been with The Urbanist since 2014.