Biking in Magnolia and Interbay has gotten much better. The Seattle Department of Transportation (SDOT) recently added buffered cycletracks to local streets. The project resulted in general road rechannelizations, trimming down lanes and converting unused on-street parking areas. Another important aspect of the project is that it ties together three regional trails making it easier to bike between Downtown Seattle, Ballard, and Fremont.
SDOT primarily used buffered cycletracks with flexible posts as treatments on Gilman Ave W, W Emerson Pl, and 20th Ave W. Some concrete was also used on W Emerson Pl to provide added separation and comfort across the arced and turning bridge crossing the BNSF mainline.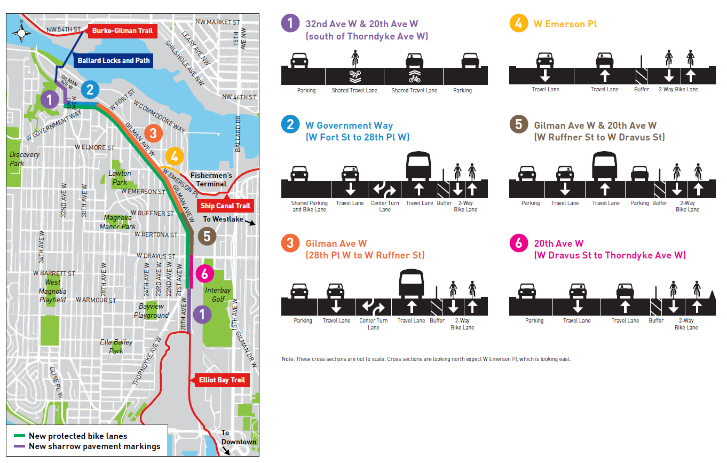 The chosen investments in bike facilities for Magnolia and Interbay are actually quite elegant. Adding in-street cycletracks on Gilman Ave W, 20th Ave W, and W Emerson Pl allows the Elliott Bay Trail, Ship Canal Trail, and Burke-Gilman Trail to be seamlessly connected. The W Emerson Pl buffered cycletracks figuratively and literally bridges the Ship Canal Trail and Gilman Ave W buffered cycletracks together. Meanwhile, 20th Ave W ties into the Elliott Bay Trail and becomes Gilman Ave W to the north. From Gilman Ave W, the bike facilities temporarily turn into sharrows on a local streets that have been calmed flowing into the Ballard Locks and eventually reaching the Burke-Gilman Trail.
While passing through the Ballard Locks may not be the most convenient way of fording Salmon Bay and reaching Ballard, it's much less harrowing than the alternative of crossing the Ballard Bridge on a narrow sidewalk with speeding cars whizzing by.
This slideshow requires JavaScript.
Fully separated or elevated bike lanes would naturally be appreciated. But for streets with such low traffic demand, as is the case in Magnolia and Interbay, the treatment SDOT used feels fairly comfortable. Several improvements, however, could greatly enhance the biking experience:
On Gilman Ave W, the cycletrack is on concrete making the ride a little rough. Seams in the street also add to the roughness. SDOT should consider using asphalt in targeted locations to reduce bumpiness for riders.
Another improvement could be adding bus islands for transit riders, similar to the configuration on Dexter Ave N. Right now, buses must pull into the cycletrack or oddly stop in-lane at certain locations along Gilman Ave W. Stopping in the bus lane obviously creates conflicts with people riding bikes. Likewise, stopping in-lane means that transit riders must step off the curb and into the bike lane.
At the confluence of Throndyke Ave W and 20th Ave W, the buffered cycletrack terminates and creates an awkward shift for people bike for several reasons. First, 20th Ave W abruptly becomes a skinny, substandard street south of the intersection. Second, the intersection is a "y" and dramatically changes the bike lane standards. Sharrows are located on the southern portion of 20th Ave W while bike lanes on Thorndyke Ave W follow the direction of car traffic each way splitting the bike lanes. Together, this makes for a messy transition for people biking in all directions. Revising the intersection for biking would make it safer and more comfortable.
Despite these issues, the new bike lanes greatly improve bikeability in this area of Seattle.

Stephen is a professional urban planner in Puget Sound with a passion for sustainable, livable, and diverse cities. He is especially interested in how policies, regulations, and programs can promote positive outcomes for communities. With stints in great cities like Bellingham and Cork, Stephen currently lives in Seattle. He primarily covers land use and transportation issues and has been with The Urbanist since 2014.