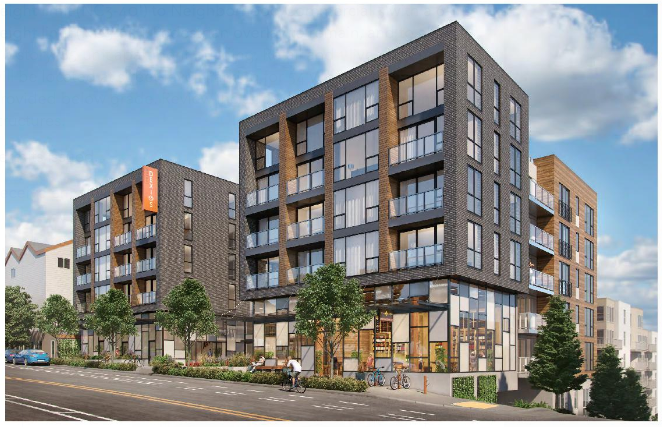 Yesterday, the Seattle City Council approved a contract rezone in the Westlake neighborhood paving the way for a new mixed-use project break ground in the future. The rezone was partially held up in committee due to an appeal by a nearby condominium building owner, Londi Lindell, who didn't want the views of her tenants' units to be blocked. Lindell recent purchased the property and said that the new development would cause 80% view obstruction to her building since only the third floor units would remain unimpeded. The city council, however, did not affirm her appeal or further condition the rezone and new development beyond construction of the proposed projected.
1600 Dexter Ave N Rezone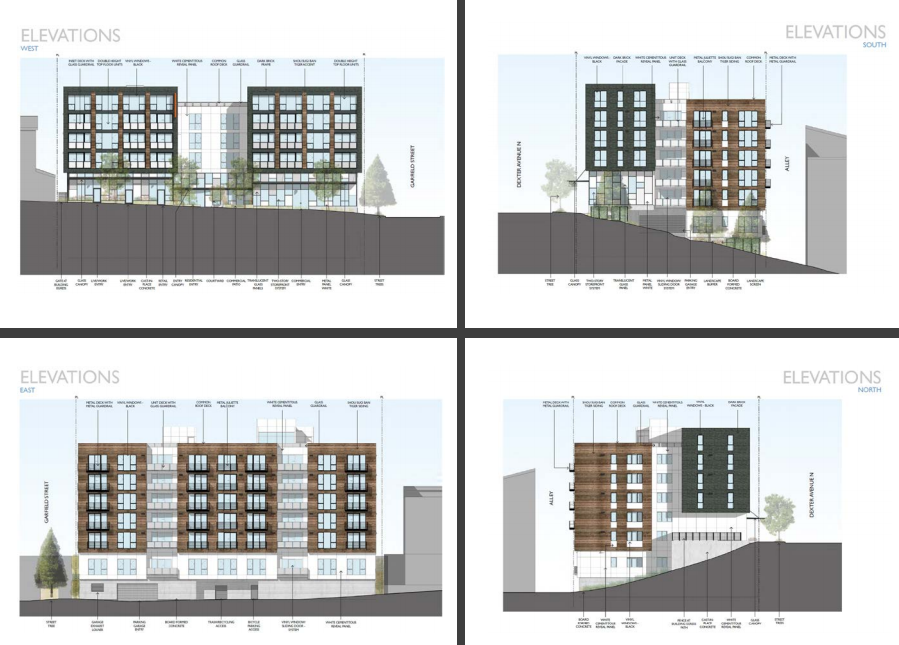 Brook V, LLC requested a rezone for a 14,785-square foot site on Dexter Ave N (1600 Dexter Ave N) to allow a 65-foot tall mixed-use development. Existing zoning on the site is Neighborhood Commercial 3 with a Pedestrian designation and 40-foot height limit (NC3P-40). The city council rezoned the site to NC3-75 to accommodate the proposal, provided that the developer participates in the Mandatory Housing Affordability (MHA) program.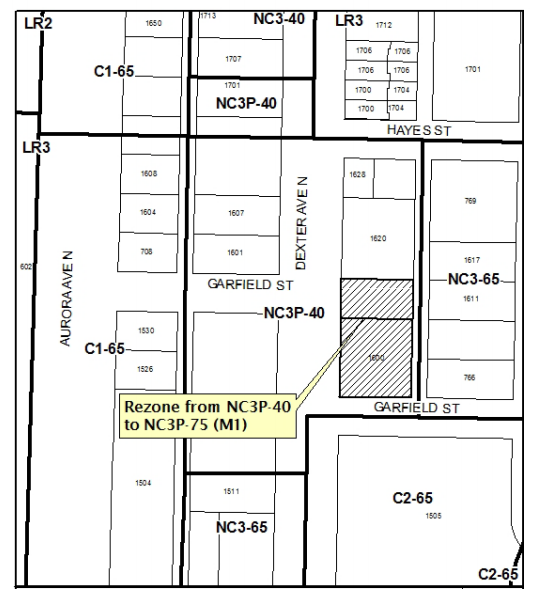 The proposed development will involve construction of a six-story structure with 4,000 square feet of ground-floor retail, one live-work unit, and 85 apartments units. 54 parking stalls will also be provided below ground.
Along Dexter Ave N, the structure will be partially broken up with a recessed area in the middle for a courtyard and entryway. The overall design is modern mixing wood, brick, and concrete with a color palette of earthy tones. An intricate program of windows will offer a lot of solar lighting and targeted semi-privacy.
The development will replace several two-story commercial structures and join a chorus of newly minted mixed-use projects opening up in the burgeoning Westlake neighborhood.
As a condition of the rezone, the developer will have to choose between providing on-site affordable housing or paying into a city fund. The affordable housing requirements are set at the M1 MHA level meaning that the developer will set aside 9% of all units on-site as affordable or pay a fee equal to $20 per square foot for residential space.
Title image courtesy of NK Architects.

Stephen is a professional urban planner in Puget Sound with a passion for sustainable, livable, and diverse cities. He is especially interested in how policies, regulations, and programs can promote positive outcomes for communities. With stints in great cities like Bellingham and Cork, Stephen currently lives in Seattle. He primarily covers land use and transportation issues and has been with The Urbanist since 2014.