Changes could be headed to Broadway this summer and transit riders are poised to benefit. The Seattle Department of Transportation (SDOT) is considering several traffic revisions to improve the performance of the First Hill Streetcar on Capitol Hill. SDOT wants to create a new business access and transit (BAT) lanes on Broadway between Pine Street and Madison Street in the southbound direction. Turn restrictions would also be added to various intersections along that stretch of road and lights retimed. Before making any changes, SDOT is seeking feedback from locals and transit riders.
The proposal is similar to a one-year pilot program operating in Toronto. City officials in Toronto began a trial program in November to reduce congestion that the city's streetcars experience on King Street when mixed with regular traffic. Restrictions have been imposed on through trips for local traffic and on-street parking removed. Initial results from that pilot program have led to ridership to skyrocket more than 25% almost overnight since trip times have been reduced while on-time performance and reliability have improved.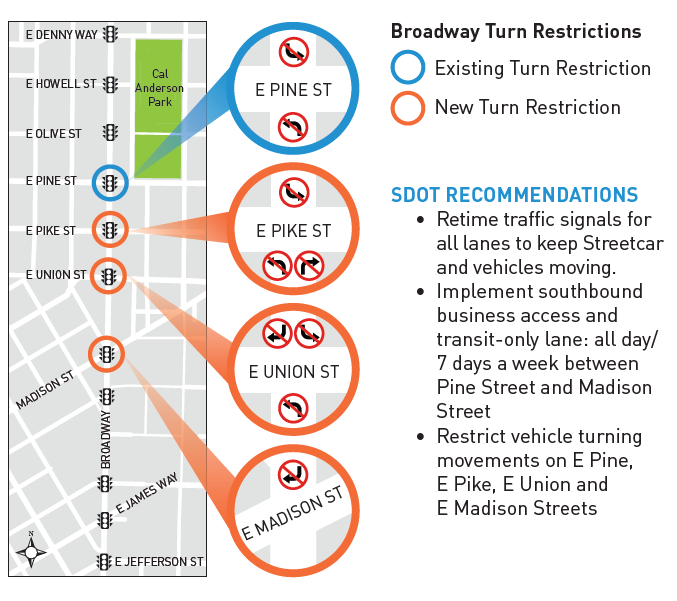 Under the SDOT proposal, on-street parking will remain, but motorists traveling southbound on Broadway will be forced to turn right at the following intersection out of the BAT lane. More broadly, motorists could be prohibited from making certain lefts or rights to avoid the problem with crossing and blocking the streetcar tracks. Broadway is no King Street, but the changes could go a long way toward achieving similar results as Toronto.
"This could be a huge speed and reliability improvement for the streetcar," said Andrew Glass-Hastings, SDOT Transit and Mobility Director. "We estimate two to three minutes in travel time savings. It's part of a broader more comprehensive speed and reliability improvement program for both streetcar lines."
Travel times for the streetcar typically two-and-half minutes in the southbound direction than the northbound between Denny Way and James Street.
In developing the proposal, SDOT has evaluated the performance improvements as compared to the status quo for travel times, which is shown in the table below.
The proposed traffic revisions would improve travel times for all buses and motorists in addition to the streetcar on Broadway. In fact, buses would actually see the largest improvement, but the streetcar would still be faster on average. Comment on the proposal is welcome over the next few weeks.
North of the streetcar's terminus at John Street, improvements are coming this year to speed up Route 8, which will include the addition of left turn signals, improving safety for pedestrians crossing the street to and from the light rail station entrance.

Stephen is a professional urban planner in Puget Sound with a passion for sustainable, livable, and diverse cities. He is especially interested in how policies, regulations, and programs can promote positive outcomes for communities. With stints in great cities like Bellingham and Cork, Stephen currently lives in Seattle. He primarily covers land use and transportation issues and has been with The Urbanist since 2014.