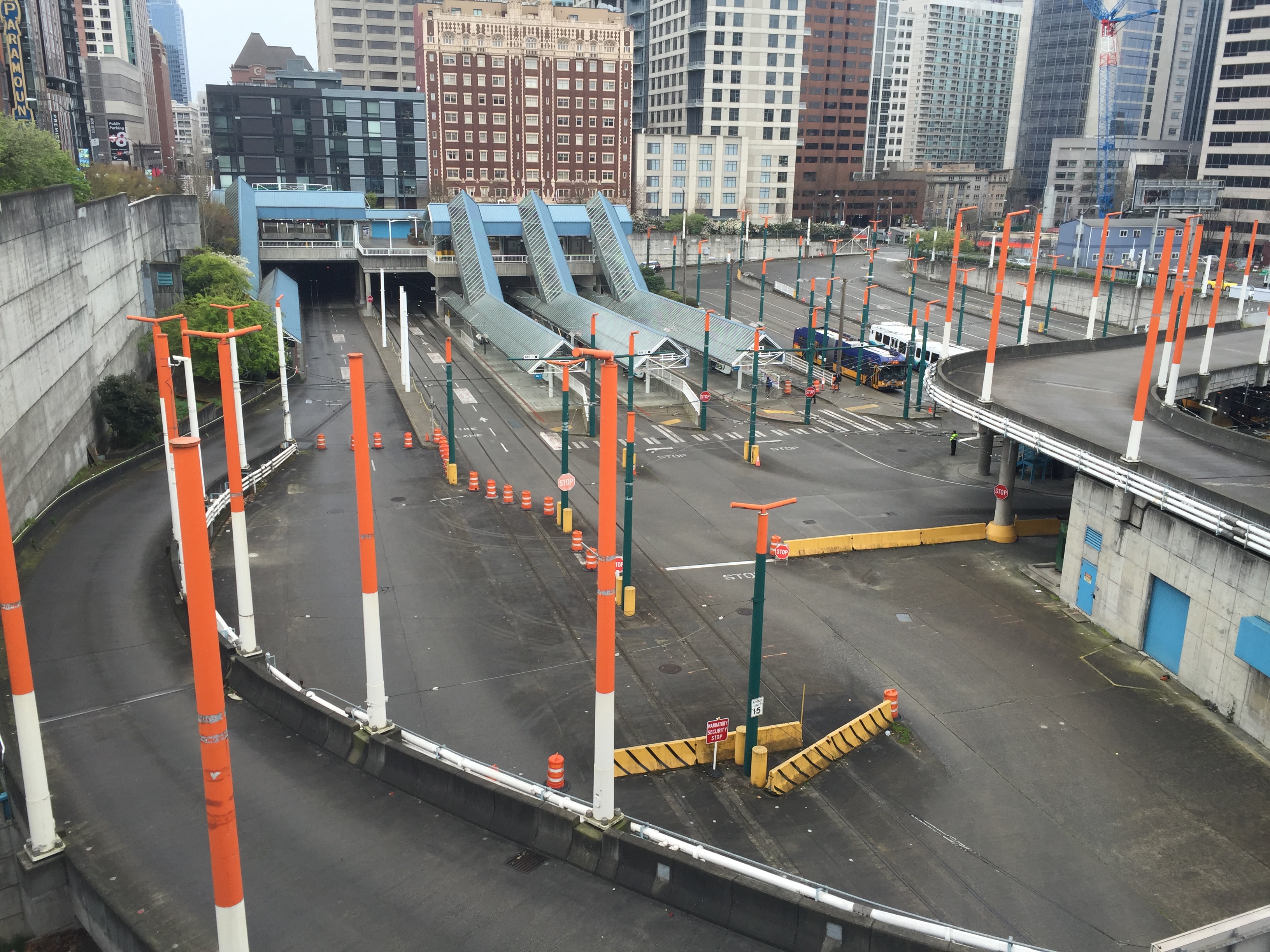 Riders who use Convention Place Station will begin to see disruptions to their commute beginning Saturday, July 21st. Several bus routes that stop at the station on their journey to and from the Downtown Seattle Transit Tunnel will be moved due to early construction of the Washington State Convention Center expansion. In March, all buses that operate through Convention Place Station will be permanently kicked out of transit tunnel to facilitate construction of the convention center expansion.
Routes 41, 74, 101, 102, 150, 255, and 550 will be affected by the stop changes next week. King County Metro Transit and Sound Transit intend to operate the routes from temporary stop locations on Ninth Avenue, just outside of the station. Buses will continue to operate at other stations platforms within the transit tunnel and use a temporary ramp at Convention Place Station to reach street-level and tunnel, which will ultimately add several minutes to trips. The change will affect more than 800 buses and 5,400 passenger entry and exits each weekday that use Convention Place Station.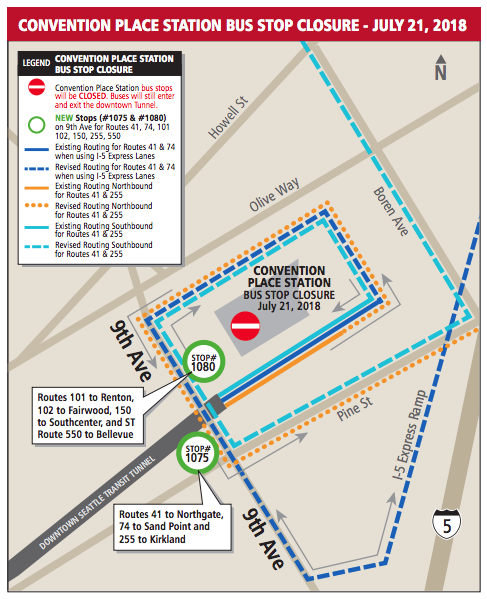 When the March service change occurs, the routes will shift to other Downtown Seattle surface streets. That will leave the transit tunnel for use by the light rail alone and full closure of Convention Place Station.
Even without the convention center expansion, buses would have eventually needed to move out of the transit tunnel to facilitate additional light rail capacity demand with the opening of Northgate Link in 2021, East Link in 2023, and Lynnwood Link and Redmond Link in 2024. For light rail riders, the March service change should provide more immediate benefits in train speeds and reliability, particularly at peak times.
Other changes will swiftly come to the convention center expansion site as construction kicks into full swing. The temporary road realignment for Olive Way is planned to occur soon so that wider construction works on the main expansion site is feasible. This will come with its own pains for people walking and biking through the area.
While these medium-term impacts will be painful for many, they will help facilitate the construction of a 440,000-square foot convention center, estimated to cost upward of $1.6 billion. The Washington State Convention will pay Metro $275 million over 32 years and contribute $93 million to a slate of affordable housing, public space, and transportation projects in Downtown Seattle. From a strictly urban design perspective, the project will also fill in one of the few remaining sites in Downtown Seattle that lack a significant multi-story structure covering most of the lot, which should improve the overall pedestrian realm experience in the area. Boosters of the convention center expansion hope to be open for business in 2021.
Seattle City Council Expands Free Student Transit Passes, Modifies Incentives for Green Building

Stephen is a professional urban planner in Puget Sound with a passion for sustainable, livable, and diverse cities. He is especially interested in how policies, regulations, and programs can promote positive outcomes for communities. With stints in great cities like Bellingham and Cork, Stephen currently lives in Seattle. He primarily covers land use and transportation issues and has been with The Urbanist since 2014.