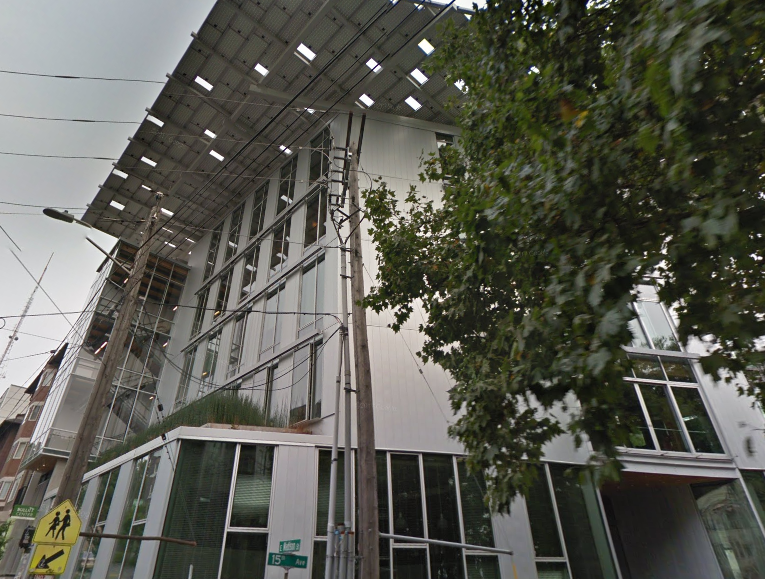 The Seattle City Council had a busy Monday. It passed new incentives for the Living Building Challenge and green building more widely, made material policy changes to the Seattle Transportation Benefit District, updated paid parking policy, and approved a temporary right-of-way easement for Olive Way to allow for construction of the Washington State Convention Center's new $1.7 billion expansion.
Incentives for High Performance Buildings
The city council approved significant revisions to the city's high performance building incentive program. Currently, the program is tailored to the Living Building Challenge–a deep green building standard–offering extra floor area and building height as well as exemptions from the Mandatory Housing Affordability program in exchange for long-term commitments to attaining sustainable buildings. The program authorizes up to 20 projects to participate in the pilot program. However, only one project, the Bullitt Center, has been built under the program in its nine-year life, although a new development in Fremont may follow to become the second.
In response to this, the program is getting another overhaul with updated incentives, standards, and enforcement requirements. Additionally, a new pilot program will be created as a result of recommendations from the Seattle 2030 District so that existing buildings can participate in the incentive options if retrofitted. The two programs will be structured very similarly, though there are some exceptions.
The 2030 Challenge High Performance Existing Building Pilot Program will only be available within urban centers and comes with several key eligibility conditions:
An eligible site cannot not fall within an area designated under Shoreline Jurisdiction or the International Special Review District;
Up to 20 projects will be allowed to participate in the program between now and the end of 2025;
All projects must involve substantial rehabilitation of an existing structure and retain the exterior walls generally;
In zones with height limits of 85 feet or less, the existing structure must attain a minimum height of 47% allowed in the zone and any proposed expansion of the footprint would not exceed 20% of the existing building footprint;
In zone with height limits greater than 85 feet, the existing structure must attain a minimum height of 60% allowed in the zone;
Annual stormwater and potable water use for the project is 50% below the established baselines; and
The mode share for non-drive alone trips to be attained by the project will exceed the established baselines.
To qualify for either green building program, several new standards will apply to projects:
Space heating and water heating cannot be provided through any on-site combustion of fossil fuels; and
With new energy codes in place, a new target will set annual building energy at less than 25% of baseline prescriptive path under the energy code.
New incentives will include:
An increase for additional gross floor area to 25% (right now it's 15%);
An increase for additional gross floor area to 30% for projects that include renovation of an unreinforced masonry structure;
An increase in building height for residential uses by 12.5 feet in zones with height limits of 85 feet or less (right now it's 10 feet), and 25 feet in zones with height limits above 85 feet (right now it's 20 feet);
An increase in building height for non-residential uses by 15 feet in zones with height limits of 85 feet or less (right now it's 10 feet), and 30 feet in zones with height limits above 85 feet (right now it's 20 feet);
Additional building height and gross floor area gained through the programs will be exempt from non-housing-related bonus floor area and building height under the incentive zoning chapters of the Land Use Code;
Mechanical equipment that is fully contained in a structure may obtain small deductions in floor area ratio calculations; and
2030 program projects will be eligible for departures from the Land Use Code, similar to the Living Building Challenge.
For both programs, prescriptive standards will be codified for fining non-compliance with water, energy, and transportation (in the case of the 2030 program) standards after a project is completed. Incremental penalties will be imposed by the type of non-compliance and divergence of the required baseline standard. Penalties derived from this will be used for program that improve energy and water efficiency and reduce greenhouse gas emissions in buildings across the city. The hope is by establishing these standards, developers and financiers will be more comfortable moving forward with projects under the programs since they will have certainty in their responsibilities if subject to fines.
Finally, full design review will apply to all projects participating in the 2030 program in addition to the Living Building Challenge.
Material Change of the Seattle Transportation Benefit District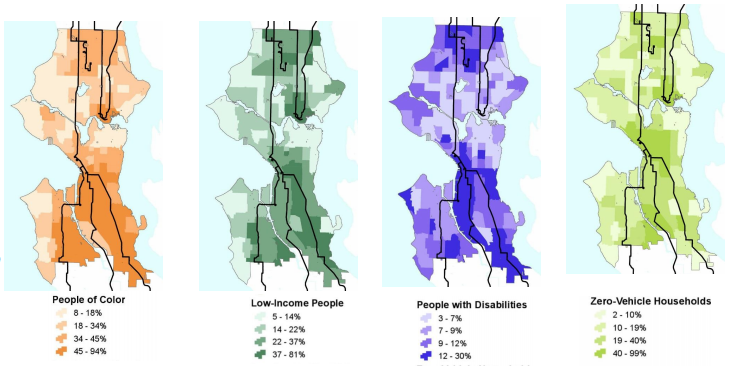 Several material policy changes were adopted to the Seattle Transportation Benefit District (STBD) in four key areas:
ORCA transit passes. $7 million per year will be available for free ORCA youth passes. The policy change intends to provide all Seattle Public Schools high school students (10,200) with free ORCA transit passes. The program should cover another 500 middle school students at Seattle Public School and 300 Seattle Promise community college students. Right now, the city helps fund 3,000 free transit passes for qualifying high school (2,600) and middle school (400) students. Seattle Public Schools provides an additional 8,000 free transit passes to high school (6,200) and middle school (1,800) students. The school district would continue their contributions to funding student passes. Councilmember Rob Johnson said the funding limit could mean that the city could fund additional passes for other students, including those at private schools since the terms of the legislation are not overly prescriptive.
Regional partnerships. The legislation expands the opportunity for regional partnerships to cost-share service improvements on routes that only have 65% of stops within Seattle. This reduces the minimum requirement from 80% of stops within Seattle, allowing many other routes to become eligible for additional service hour investments, including Routes 106, 120, 124, 345, 372, and 373 and the RapidRide E Line–routes that tend to operate in underserved areas of the city.
RapidRide service. All existing and future RapidRide services will be eligible for additional service hour investments regardless of geographic operation (i.e., wholly or partially operating in Seattle) or performance metrics.
Capital investments. Through December 2020, SDOT will be able to spend up to $10 million in additional revenues on capital improvements for transit. These investments could include transit-only lanes, queue jumps, transit signal priority, and other strategies to improve speed and reliability. Capital investments could also be made to enhance the passenger experience, such as off-board fare payment and stop improvements.
Additionally, SDOT will able to spend an additional $2 million for the STBD this year than had been originally budgeted for 2018.
A fifth major policy, however, was stripped from the final legislation after concerns boiled up over equity, labor practices, privatization, and utility of contracted private microtransit services. SDOT had proposed creation of a pilot program to allow the city to enter into private contracts for microtransit services (i.e., minibuses and minivans operated by private entities, not King County Metro Transit) that would travel across the city and address challenges with first-mile and last-mile transit gaps.
WSCC Temporary Right-of-Way Easement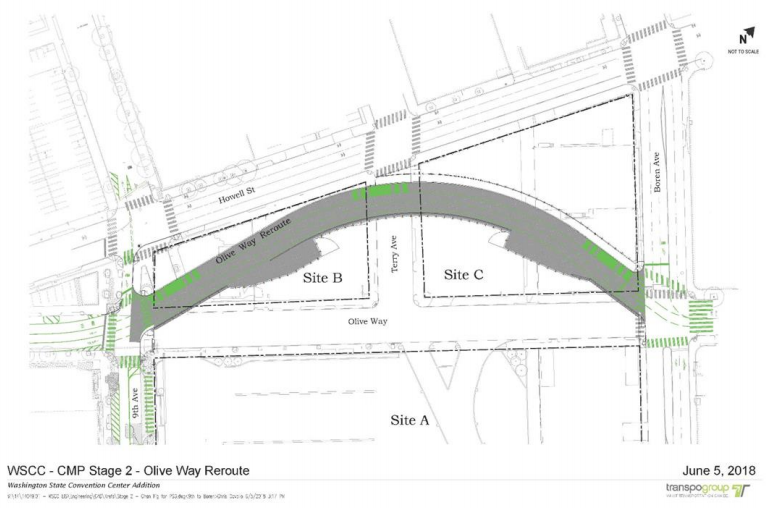 The city council approved a temporary right-of-way easement and agreement for the Washington State Convention Center (WSCC) expansion. WSCC will be responsible for temporarily shifting Olive Way north between Boren Avenue and Ninth Avenue so that traffic can continue to operate on the street while construction at the convention center expansion site happens. Olive Way will become a curved street for the several years before moving back into its old right-of-way alignment. Meanwhile, Terry Avenue will be fully closed until restoration of Olive Way is completed.
Olive Way continue will move traffic westbound and include a bus-only lane. On the north side of Olive Way, a sidewalk will be constructed and provide a connection to sidewalks on Howell Street since the two streets will essentially abut. Crosswalks at either end of Olive Way will be adjusted, often is awkward fashions. Major concerns, however, remain over general pedestrian and bicycle access around the convention center construction site. Staging schedules that have been released to date suggest that people walking and biking will have to endure severe disruptions in the area for the next few years in ways that motorized traffic will not.
Parking Payment Code Update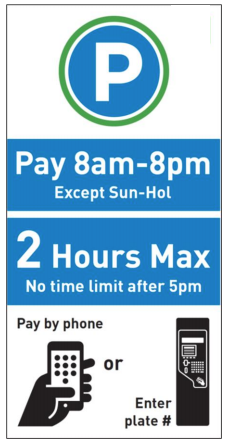 The parking payment code received some small updates by modernizing language and providing flexibility for the future with the city council authorizing the changes.
Over the past decade or so, SDOT has been gradually adopting new parking payment options. In 2004, the city transitioned away from traditional parking meters to pay station kiosks, allowing people parking to use the pay-and-display method instead. In 2012, the city then added a new option of payment by phone.
New pay station kiosks, however, allow for another payment option instead of pay-and-display. Starting later this summer and winter, people paying for parking will be able to type in their license plate numbers at pay station kiosk instead of putting a printed pay-and-display sticker on their windows.
The legislation goes a step further by allowing pay-to-park signage to simply be the regulatory measure for payment of parking. While each block with paid parking currently has a pay station present, it's conceivable that the could change in the future with pay stations being further consolidated or eliminated as mobile payments–which account for 29% of all payments today–continue to rise.
Property Acquisitions for Fairview Avenue Bridge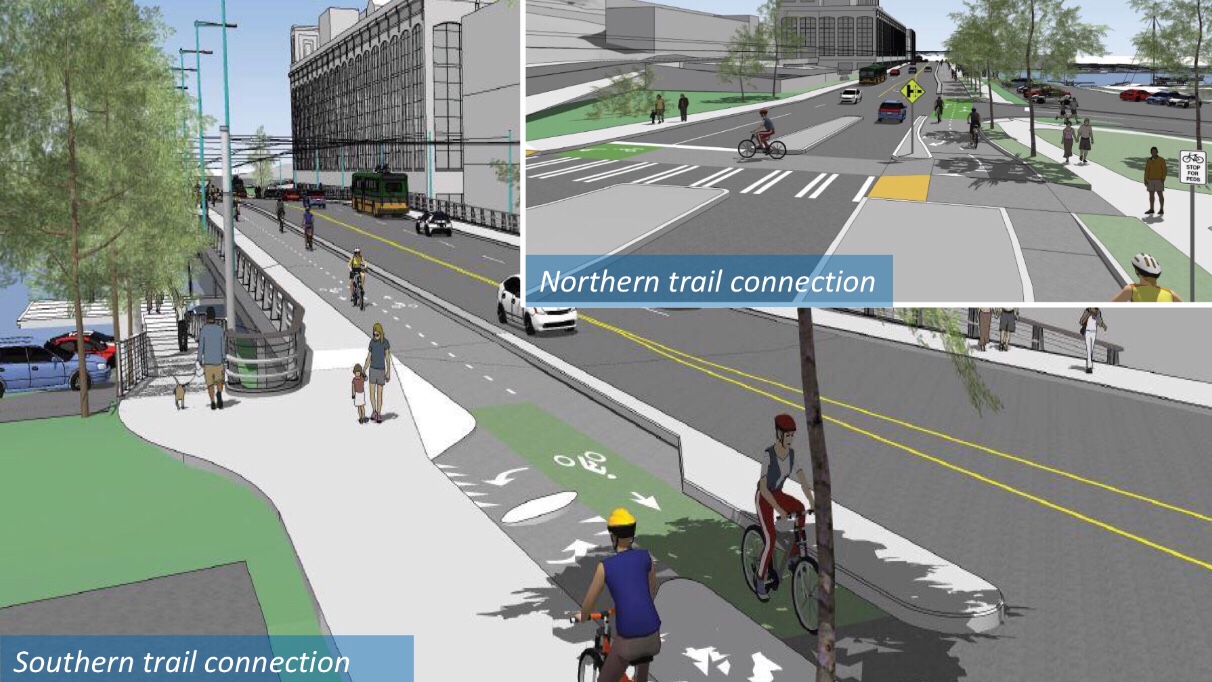 Another transportation-related ordinance also passed, which will authorize SDOT to acquire several small parcels of land to facilitate the rebuild of the Fairview Avenue bridge. The new bridge construction will mean a year or more of local transportation disruptions, particularly to be people walking, biking, or taking transit. But in the long-run, it should result in a better facility with more sidewalks, a protected bike lane, and new viewpoint opportunities for Lake Union. Pre-construction on the bridge will begin this winter.
Title image of the Bullitt Center courtesy of Google Maps.
Council Contemplates Seattle Transportation Benefit District Reforms

Stephen is a professional urban planner in Puget Sound with a passion for sustainable, livable, and diverse cities. He is especially interested in how policies, regulations, and programs can promote positive outcomes for communities. With stints in great cities like Bellingham and Cork, Stephen currently lives in Seattle. He primarily covers land use and transportation issues and has been with The Urbanist since 2014.