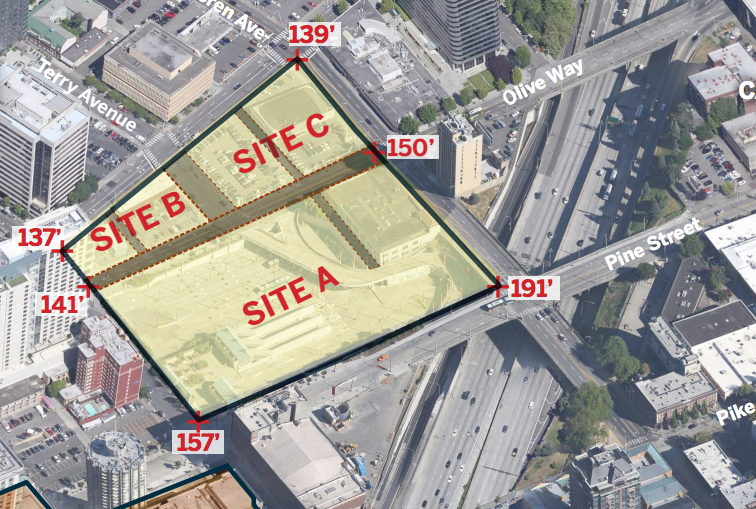 One of the biggest questions swirling around the new $1.6 billion expansion of the Washington State Convention center–apart from whether it will actually get used, and who benefits from it–is how much the developer, Pine Street Group, will have to compensate the citizens of Seattle in exchange for permanent access to rights-of-way, including easements underneath Olive Way and Terry Avenue. Originally, Pine Street Group, helmed by Pacific Place developer Matt Griffin, had proposed a set of benefits that were well below the ratio that the city had received for other large-scale alley vacations in recent history.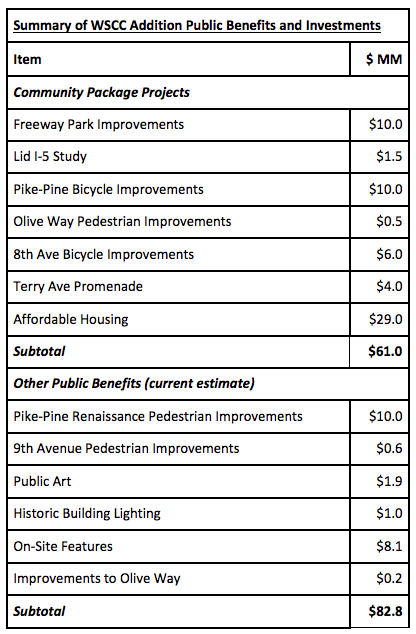 On Monday though, the Community Package Coalition–a broad group of local stakeholders advocating for a comprehensive public benefit package–announced that an agreement had been reached with Pine Street Group to fund $82.8 million in local public benefits. The Community Package Coalition had been advocating for approximately $61 million in public benefits for their objectives. Pine Street Group came through on that amount and is offering a further $21.8 million for other projects.
The list of public improvements and facilities is extensive. The biggest share of public benefits will be focused on affordable housing ($29 million). Rounding out the top five projects are improvements to Freeway Park and Pike/Pine pedestrian and bike improvements (all at $10 million). The bulk of the remaining package is focused on pedestrian and bicycle improvements, such as the Terry Avenue Promenade ($4 million), 9th Avenue Pedestrian improvements, and Olive Way Pedestrian improvements. Pine Street Group, however, has committed to other programs in the package with public art ($1.9 million), lighting of historic buildings ($1 million), and a study to lid I-5 ($1.5 million).
Affordable Housing
Voluntary contributions to affordable housing is a big development. Pine Street Group was already required to pay $5 million to King County–which is selling Convention Place to Pine Street Group–and $4.3 million to the City of Seattle as part of incentive zoning for affordable housing. Pine Street Group submitted their development proposal for the Washington State Convention Center expansion long before the Mandatory Housing Affordability program was a thing.
Earlier discussions in the public benefits package had downplayed voluntary affordable housing contributions despite the fact that a significant share of future convention center employees are likely to be lower wage earners necessitating local affordable housing to support the convention center. Note too that the original convention center in the 1990s included the purchase of affordable housing at Olive Tower Apartments as part of the community benefits package. So the $29 million set aside should go a long way toward providing affordable housing, hopefully to future employees.
Freeway Park
Freeway Park—the largest single park in Downtown Seattle—continues to be an underutilized public amenity. The Freeway Park Association has been advocating for improved park entrances, lighting, and wayfinding. $500,000 will be spent next year on some of those items from a Neighborhood Street Fund grant, but $10 million will go a long way toward really turning Freeway Park into the Central Park that it deserves to be. The Capitol Hill Times went into more depth about improvements to Freeway Park last week.
I-5 Study
The benefits package will include $1.5 million to study the feasibility of constructing a lid on I-5 through Seattle's center city, examining the area from the International District to Lake Union where the demand for new land will be at its peak. The study will also encompass best practices that are happening around the country as other cities begin to cap their urban freeways to stitch their urban centers back together. Studies have shown that constructing an I-5 lid in Downtown Seattle could end up costing around half as much as purchasing similar amounts of developable land near Downtown.
Pike Pine and 8th Avenue Bicycle Improvements
We have been covering plans to install protected bike lanes along Pike and Pine Streets from Second Avenue to Broadway. $10 million for that project will make a critical dent in money needed for those facilities, allowing the Seattle Department of Transportation to invest bicycle master plan funding elsewhere. Eighth Avenue is also planned to be likely the connection between the two protected bike lanes on Pike and Pine and South Lake Union, and $6 million will provide a lot of funding for that project.
Olive Way Improvements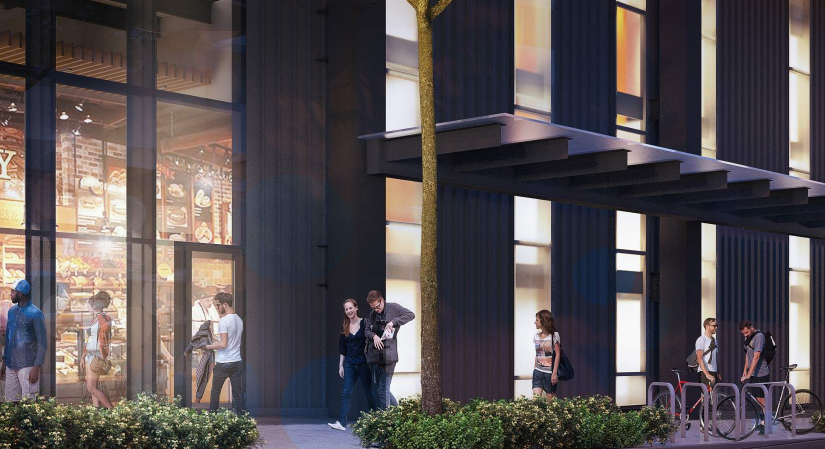 Olive Way is not a pleasant street for people on foot, but it will cut right through the sites planned for the Convention Center expansion. $500,000 will go a long way toward improving the connection between downtown and north Capitol Hill. Last year we explored some possible ways to improve the pedestrian realm on Olive Way.
Terry Avenue Promenade
Not to be confused with the short segment of Terry Avenue that will be vacated underground through the Convention Center expansion, the Terry Avenue promenade will be located along the First Hill segment of Terry. Because land is so expensive in First Hill, the Seattle Parks and Recreation Department has been unable to procure any land in that neighborhood for a new park, already pressed for open space. Utilizing a quiet stretch of Terry Avenue alongside the Frye Art museum, the promenade would pedestrianize the street and encourage users to treat the area more as open space than as street. The full Terry Avenue green street would stretch from Spring Street all the way to Terrace Street.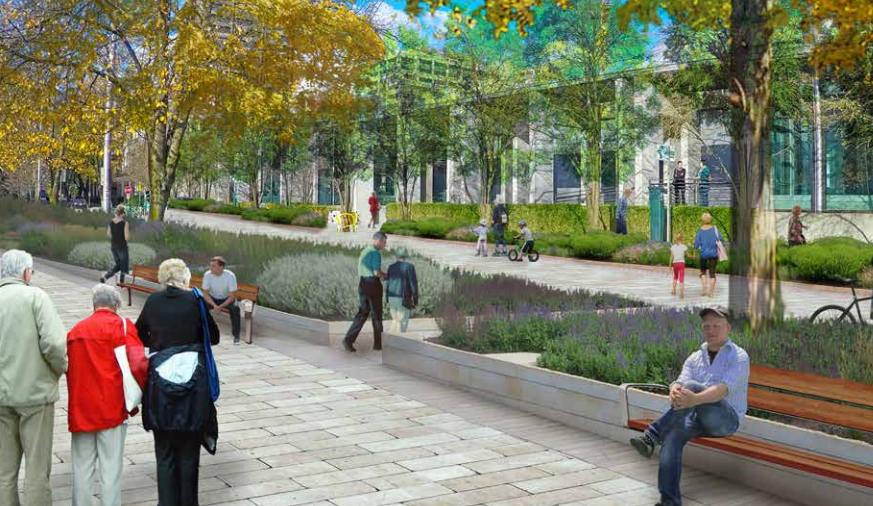 Pike Pine Renaissance Improvements
The benefits package would also invest an additional $10 million into the Pike Pine Renaissance: Act I improvements that aim to create a contiguous pedestrian experience from Pike Place Market to Melrose Market. We wrote about those improvements last week after the latest set of design proposals were released.
Other Improvements
Pine Street Group will also be investing in $1.9 million worth of public art around the new convention center site as well as $1 million to improve the lighting on historic buildings adjacent to the development site, including the Paramount Theater and the Camlin Hotel.
The convention center expansion is also expected to maintain some on-site public open space that will be accessible to the public, though the designs for that have been evolving as the project goes on. Earlier concerns about access to a rooftop garden for the public via one stairwell and elevator were met with concern by community members, so it will be up to the Seattle Design Commission to determine what moves forward.
Huge Win for Seattle Residents
The $83 million benefits package that will accompany the convention center expansion is a huge accomplishment for those who live and work in north Downtown and Capitol Hill. Thanks to the partner organizations that make up the Community Benefits Package, this public project will truly be providing the full benefits to the community that accompany the relinquishing of public land currently held in public trust.
Next the convention center expansion will go back to the Seattle Design Commission for final approval before moving on to the Sustainability and Transportation Committee at the City Council and then to the full council for approval early next year. Meanwhile, our transportation agencies are still hashing out the details of One Center City, a plan to deal with the closure of the bus tunnel, which would likely be brought on a bit sooner by WSCC Addition construction.
City Tells Convention Center: Addition Public Benefits Are Too Small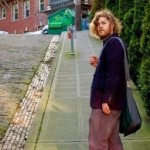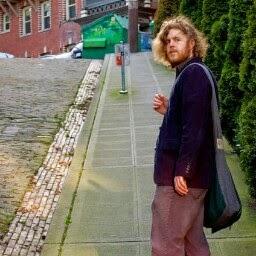 Ryan Packer lives in the Summit Slope neighborhood of Capitol Hill and has been writing for the The Urbanist since 2015. They report on multimodal transportation issues, #VisionZero, preservation, and local politics. They believe in using Seattle's history to help attain the vibrant, diverse city that we all wish to inhabit. Ryan's writing has appeared in Capitol Hill Seattle Blog, Bike Portland, and Seattle Bike Blog, where they also did a four-month stint as temporary editor.