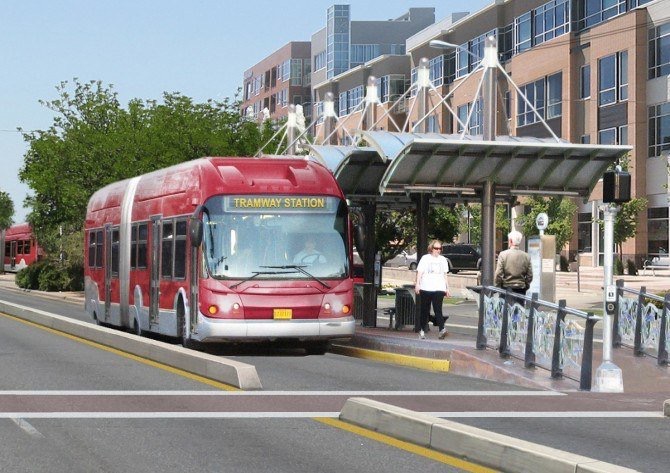 Last week, the Pierce Transit Board of Directors formally took the step to decide the Locally Preferred Alternative (LPA) for an upgraded transit corridor between Downtown Tacoma and Spanaway. The board of directors chose the preferred route and technology to be used, the latter mostly just being a formality as bus rapid transit (BRT) had always been the plan. Still, the LPA was the result of public feedback that showed support for the chosen technology and general alignment.
Pierce Transit already operates Route 1, a conventional bus service, on the 14-mile corridor between Tacoma and Spanaway, largely along Pacific Avenue/State Route 7. BRT would replace this bus service with a faster and more reliable service. That means consolidating bus stops, implementing transit service priority (e.g., bus lanes, queue jumps, and signal priority), and providing level boarding. Frequency is expected to be in the range of every 10 to 15 minutes for buses, which would generally be an noticeable improvement in service levels from today.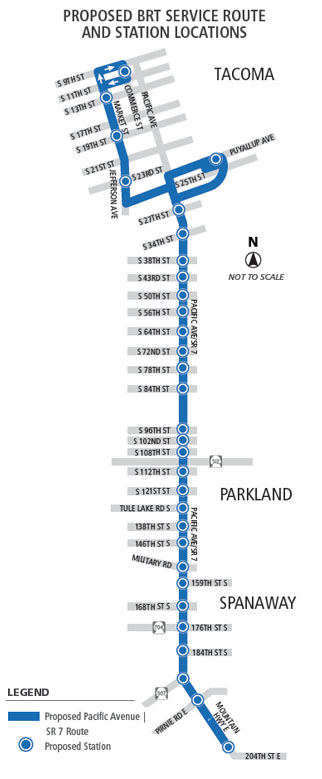 The board of directors made key decisions on the routing, which will start at 204th St E/SR-7 in Spananway and terminate at S 9th St/Market St in Tacoma. The terminus in Downtown Tacoma will allow for transfers to other local and regional transit services, including Tacoma Link that is currently being extended to the Hilltop Neighborhood. The LPA also designates Pacific Avenue/SR-7 as the main street that the BRT will operate along, with the exception of the Tacoma Dome District and Downtown Tacoma.
Unlike Route 1, the LPA identifies a mangled deviation to Tacoma Dome Station duplicating ample connecting services like Tacoma Link and Routes 13, 41, 400, 500, 501, and 575. While this will shave off a little travel time for riders on the southern portion of the line, it will introduce a noticeable time penalty for passengers going between Downtown Tacoma and areas south of S 25th St. It also wastes valuable service hours for a transit agency short on revenues that could be invested in additional trips and frequency. The deviation was a condition for funding from Sound Transit in hopes of attracting more non-park-and-ride patrons at Tacoma Dome Station (garage parking is already running at capacity) with a one-seat ride.
Pierce Transit also hopes to improve the off-board transit rider experience by using higher quality shelters, new brand identity, real-time arrival information, additional lighting and security features, and off-board fare payment kiosks. Boarding buses will be allowed at all doors and onboard riders could expect wifi.
Street changes are very likely to make their way into the BRT upgrades. Earlier in the planning process, Pierce Transit evaluated the potential of using curbside business access and transit lanes, center-running transit-only lanes, and segments of mixed traffic BRT operations. A new fleet of buses would also replace existing ones. The board of directors did not, however, decide upon these aspects of the projects which will be further evaluated and refined as the project moves forward into more detailed planning and design phases.
To date, Pierce Transit has secured $75 million in state and local grants to fund the project ($60 million from Sound Transit 3 and $15 million from Connecting Washington appropriations), but another $75 million is being sought from the federal government. A Small Starts application will be submitted to the Federal Transit Administration later this year and the transit agency hopes to be awarded a grant by early 2019. Detailed planning and design (e.g., station locations, street configurations, bus types, and station amenities) will continue over the next year or so with service commencing by late 2022. Whether or not Pierce Transit secures federal funding, the BRT line will open in 2022, though that would mean paring down some of the bells and whistles from the program.
Pierce Transit Weighs Bus Lane Options for Pacific Avenue BRT

Stephen is a professional urban planner in Puget Sound with a passion for sustainable, livable, and diverse cities. He is especially interested in how policies, regulations, and programs can promote positive outcomes for communities. With stints in great cities like Bellingham and Cork, Stephen currently lives in Seattle. He primarily covers land use and transportation issues and has been with The Urbanist since 2014.