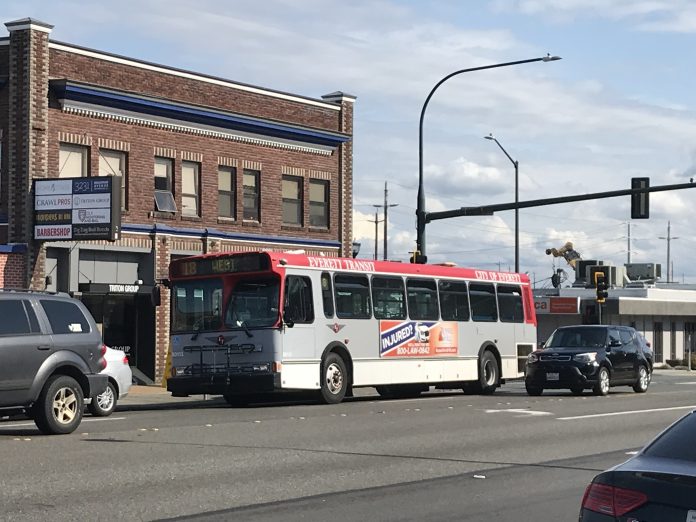 Everett Transit is in the midst of a painful service restructuring planning process. Fresh off its long-range planning effort to develop a path to a more expansive, more frequent network, the transit agency is now proposing significant rollback of service, including deletion of routes and trimming service, while drastically increasing fares on riders. Everett Transit faces the unfortunate realities of growing service costs, meager tax revenue growth, stagnant ridership, and expensive capital outlays necessitating a hard internal look at how to keep people moving.
Everett Transit's "Sustainable Growth Network" Proposal
Everett Transit wants to create a "sustainable growth network" that could eventually grow into a robust and well-used frequent transit network. To get there though, the plan would sap away up to 10% of service hours, cut down on the number of vehicles used, and strip away service on many corridors as a means to reduce costs, be more efficient, and set up service that theoretically could easily be built upon as the city and system grows, but that seems very far off. Last week, Everett Transit's released its six-year transit development plan that affirms long-term service reductions while its countywide partner Community Transit will grow over the next six years, with a 36% service increase just through 2022.
This slideshow requires JavaScript.
The service changes would shake out in various ways to attempt to maintain some semblance of coverage and regular service to communities:
Route 2: The one-way circulator alignment would be deleted in favor of a bi-directional service. This would eliminate service entirely on 112th Ave SW between Evergreen Way and 4th Ave W.
Route 3: The alignment on W Casino Rd would be deleted in addition to the service to Gates 68, 72, and 88 at Boeing. Instead, service would be moved to Merrill Creek Pkwy and terminate at Seaway Transit Center. Span of service and frequency would slightly improve on weekdays and Saturdays. The W Casino Rd service would be maintained by Routes 8 and 12.
Route 4: The southern alignment of the route would be cut back to Everett Station, meaning that the city center and Providence Hospital would no longer be served.
Route 6: The route would no longer operate on Hewitt Avenue and 33rd Avenue. Instead, service would operate on Wall Street and Pacific Avenue in the city center. Peak-hour trips would wind themselves needlessly around Providence Hospital. Service would also be extended north of the Port of Everett along Marine View Drive and eventually back down to College Station near Everett Community College. Weekday service would be boosted to hourly while weekend service would be extended throughout the year instead of just summertime.
Route 7: A one-trip route deviation on W Casino Rd would be eliminated.
Route 8: Portions of the route would be eliminated, including Merrill Creek Pkwy and sections along Madison Street and Evergreen Way. Instead, the route would operate on portions of E/W Casino Rd, 75th St SW, Airport Rd, 100th St SW, and terminate at Wal-Mart just off of Evergreen Way. Overall all frequency would be slightly reduced and span of service adjusted. Route 3 would cover the Merrill Creek Pkwy corridor.
Route 12: The circulator nature of the route would be eliminated to create a bi-directional route on W Casino Rd and 7th Ave SE. Service would be extended to Seaway Transit Center while the portions along Airport Rd, 100th St SW, and Evergreen Mall are largely eliminated. Service on the route would increase dramatically, particularly on weekdays. Route 8 would primarily cover Airport Rd instead.
Route 17: This route would be entirely eliminated. Route 8 would cover a portion of the former route on E Casino Rd and Beverly Blvd. Large swaths of Colby Avenue and Wetmore Avenue, however, would lose service completely.
Route 18: Trips would be significantly cut back to peak hours on weekdays to facilitate commuter travel from the Mukilteo ferry dock.
Route 29: Three dogleg deviations would be deleted in the South Everett. Service frequency on weekdays would see noticeable improvements while span of service would be adjusted to improve weekend service.
Route 70: The route would be adjusted to serve Gate 72 at Boeing and Seaway Transit Center while service would be eliminate along Perimeter Rd and Airport Rd.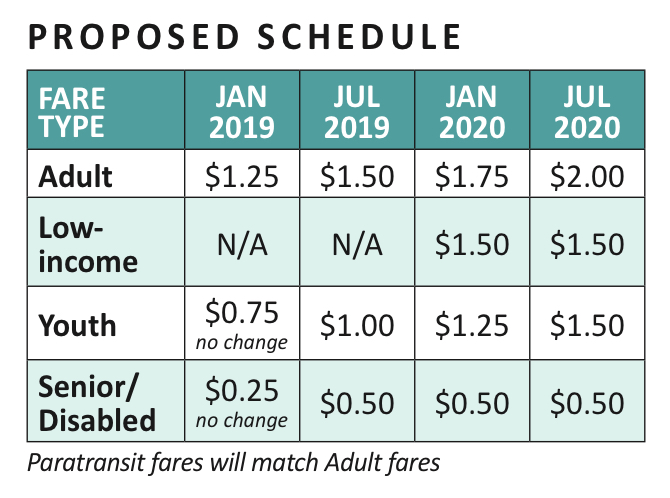 Also under the proposal, regular adult fares would skyrocket from $1.25 to $2.00 in just two years. Youth fares would rise from $0.75 to $1.50, too, and a new low-income fare category would be created by January 2020. Fares are admittedly low in comparison to peers like Community Transit ($2.25 for adults), King County Metro Transit ($2.75 for adults), and Pierce Transit ($2.00 for adults), but the kind of fare increases that Everett Transit is considering seem punitive by nearly doubling the cost to ride what is largely infrequent, indirect bus service.
The last fare increase was in 2013, but that was a much smaller 25-cent rise. That had the unfortunate outcome of suppressing ridership growth and actually diminishing ridership by 12% in its wake. Its hard to imagine the proposed fare increases doing anything but gravely depressing system ridership, even despite some measure of relief for low-income riders though an ORCA LIFT-like fare category.
It Doesn't Have to Be This Way
Fare increases alone will not solve what is fundamentally a tax revenue problem and challenges of administering a legacy network. To remedy this, Everett Transit could look to a package of tax and fee increases or consider options to merge with Community Transit to gain abundant efficiencies.
Everett still has remaining taxing authority and could go to voters with a ballot measure to increase the local sales tax by 0.3%, which would more than solve the financial problem. A back-of-the-napkin estimate shows an additional $10 million in revenue for just the first year, or a 40% increase in overall funding since about 80% of revenues alone come from the sales tax. Other revenue options that could be considered include:
Expanding the Transportation Benefit District to impose vehicle licensing fees funding exclusively or largely transit investments;
Transportation impact fees for capital transit improvement projects in city rights-of-way;
Commercial parking taxes and on-street parking fees;
Special taxes on services like Uber and Lyft; and
Imposing slightly higher annual business license fees on local businesses.
A plan also not on the table is merging (annexation) or contracting. Everett Transit is a rare oddity in the region of a consolidated municipal transit service provider operating almost wholly within the bounds of a single city. Community Transit, the countywide transit service provider in Snohomish County, is a local partner. Merging or contracting service with Community Transit could be another way to resolve essentially all of the problems that Everett Transit faces, though to different degrees depending upon the method:
If Everett Transit were to fully merge into Community Transit, Community Transit would impose its higher sales tax and fares in Everett, consolidate all planning and integrate routes, and expand the overall level of service within Everett. The two agencies already partner on several routes, particularly the Swift Blue Line operated by Community Transit, which provides extensive service in Everett. The challenge with annexing, however, is the matter of merging labor unions and assets, eliminating duplicative administration, and managing the terms of long-term financial commitments and liabilities. Another factor is the anxiety and concerns that invariably comes with eliminating a unitary agency.
Alternatively, Everett Transit could contract with Community Transit to effectively administer all of its work. That would essentially mean the same as merging and the efficiencies (and challenges) that come with it, but it would also mean that Everett would not automatically increase local taxes to purchase additional service. That would need to be accomplished separately to achieve the same intended outcome. Everett could also impose various levels of control on how the contract is managed in the same way that Seattle stipulates how Metro spends money on its contracts for additional transit service.
While the planners at Everett Transit have tried to develop a responsible plan given the numerous financial and legacy problems plaguing the transit agency, it doesn't have to be this way. Additional tax and fee revenue could be collected through various methods and Everett Transit could gain efficiencies by contracting or merging with Community Transit. Fundamentally, riders and constituents should ask for bigger, bolder ideas to be brought to the table before an entire city considers such a massive overhaul of an integral transit network with immense potential. Now through August 20th, community members can have their say on the service restructuring proposal. If they want a better plan for growth, they should make that loud and clear.

Stephen is a professional urban planner in Puget Sound with a passion for sustainable, livable, and diverse cities. He is especially interested in how policies, regulations, and programs can promote positive outcomes for communities. With stints in great cities like Bellingham and Cork, Stephen currently lives in Seattle. He primarily covers land use and transportation issues and has been with The Urbanist since 2014.