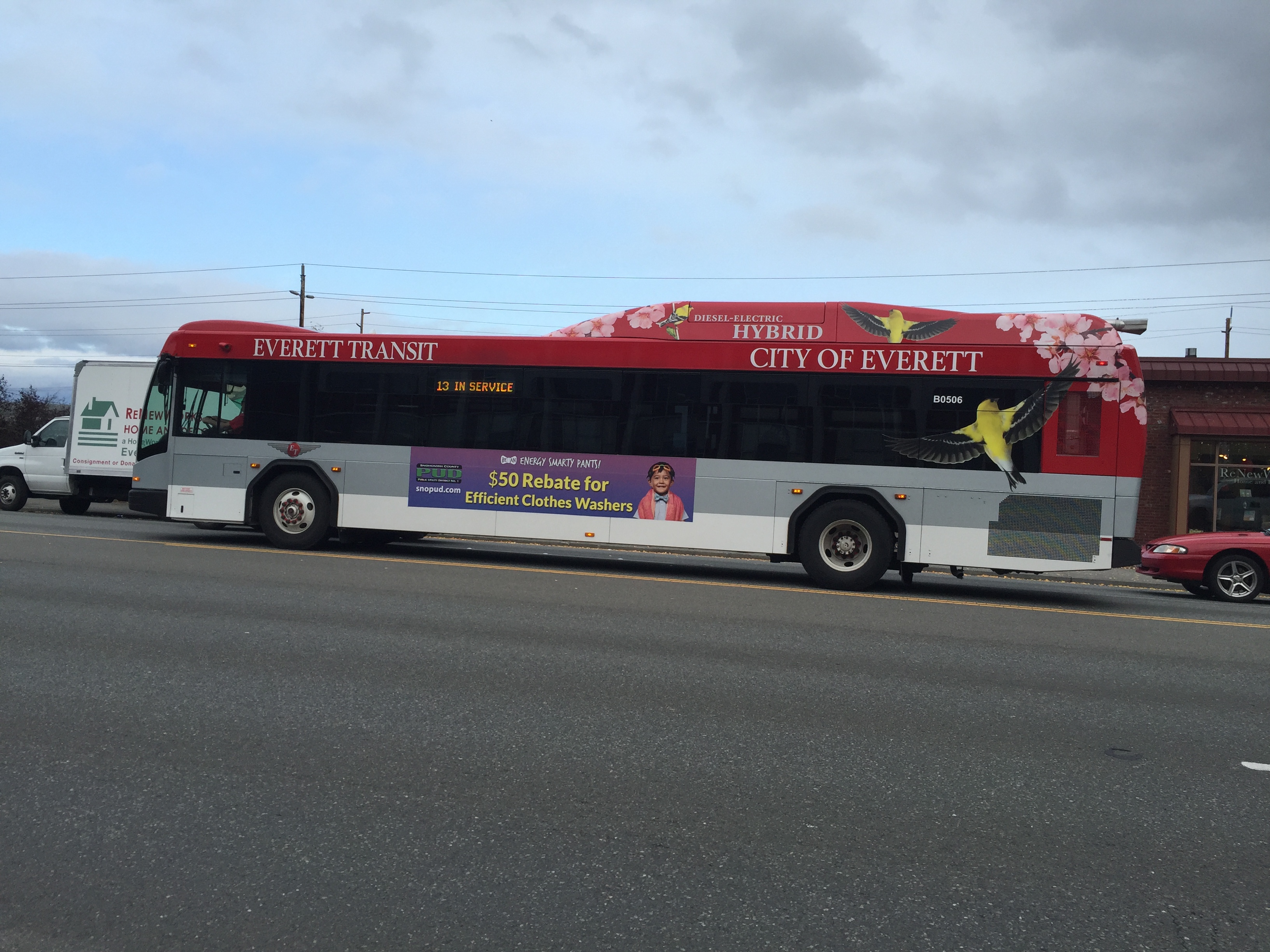 Everett Transit has been working through a long-range planning process for the past year. Looking out to 2040, the draft long-range plan envisions a more frequent bus network in Everett. But getting there will be a bumpy road.
Earlier this month, the transit agency released a draft plan charting the path forward. Many of the concepts would produce a more efficient and useful transit network for riders integrating with regional partners while serving key transit-oriented and transit-supportive uses. Putting together a new long-range framework is vital to laying the foundation for a denser city, particularly one that will become increasingly car-free or car-light. The city center, for instance, is supposed to grow by 13,000 by the mid-2030s while the city as a whole grows by 60,000. On top of that, light rail will arrive in Everett by 2036, which the city hopes will crown the city center.
Now the transit agency wants feedback on the draft plan before finalizing it.
Existing Network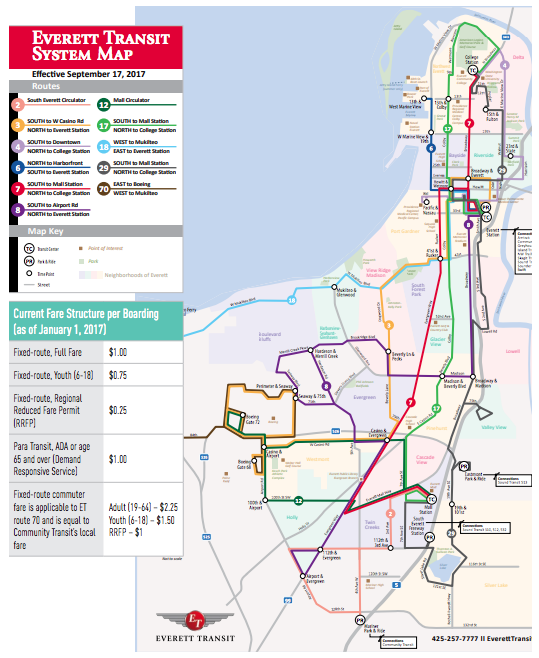 Currently, Everett Transit operates 11 bus routes, including one commuter route. Operationally, Everett Transit provides infrequent all-day weekend and weekday service. Only one bus route provides service at fifteen-minute frequencies on weekdays. Span of service runs early to late on weekdays and much shorter on weekends. Still, the coverage of the Everett Transit is expansive. Community Transit and Sound Transit service is somewhat layered onto the local network expanding options and connection opportunities locally and regionally.
The local route structures are fairly complicated. Everett Transit has worked to revise how routes operate throughout the city in the past several years with modest restructures, but the overall network breaks most best practices in designing bus service. Many routes operate in one direction, circle themselves, and zigzag their way through neighborhoods to provide coverage, which wastes valuable service hours to pick up few riders.
Ridership has not responded well to the existing network. Only 6,500 riders use Everett Transit buses on weekdays. Route-level data backs this up. Hourly boardings on most routes are below 20 riders and total monthly boardings per route below 10,000 riders. Two routes find themselves the exception.
Route 7 clocks in with over 76,000 monthly riders and hourly boardings over 30. The route is fairly straight operating relatively direct from Everett Community College, Everett Station, the city center, and Everett Mall via Evergreen Way. Likewise, Route 29 has more than 20,000 monthly riders and the highest productivity with 48 hourly boardings. The route serves Everett Community College, the city center, Everett Station, and Everett Mall via Broadway in a somewhat less direct manner than Route 7. The number of service hours and frequency undoubtedly help play a role in the performance of these two routes, but directness surely also provides an incentive for riders to use the routes knowing that they won't be wasting their time on slow routes.
Still, the overall productivity of the Everett Transit system lags far behind that of Community Transit, which happens to charge much higher fares. This points to systematic operational problems plaguing Everett Transit.
Long-Range Plan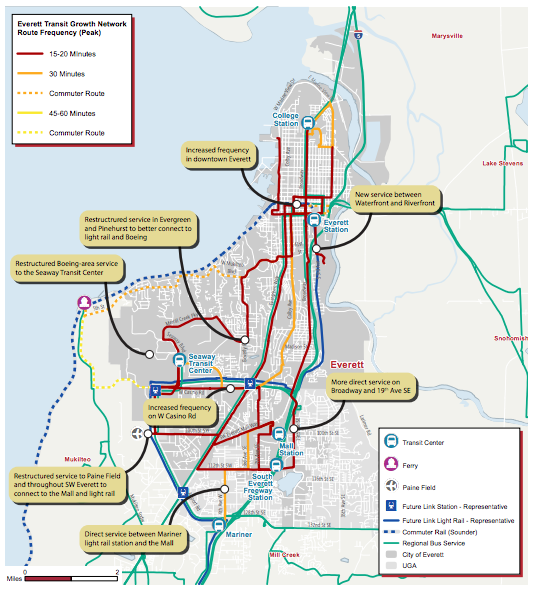 Everett Transit wants to create more routes like the 7 and 29. The long-range Growth Network Plan (GNP) seeks to achieve the following system objectives:
A 25% increase in service hours;
Purchase up to eight new buses (fleet totaling up to 50 buses);
Reduced headways to as few as 10 minutes on key routes;
Double productivity from 19 riders per revenue hour to 38 riders per revenue hour; and
Increase ridership to 17,000 riders per day.
The GNP specifies several important adjustments to the system to realize those objectives, including:
Improving the overall level of frequency of service to Everett's city center;
Reforming routes on Broadway and 19th Ave SE by consolidating service and deleting mid-route tails and loops;
Boosting frequency on the W Casino Rd corridor where higher local densities in housing and residents are located;
Restructuring local service between future light rail stations, including Mariner, and Paine Field and Everett Mall; and
Extending the waterfront-to-city center service to the growing riverfront area near the Snohomish River.
The latter proposal, however, is another clear example where even the routing leaves much to be desired. The proposed routing would make a dogleg to provide direct service to Providence Regional Medical Center instead of staying straight on Marine View Dr, which would add five blocks to the route and at least another minute or two of service delay. While it may entice a handful of additional daily riders at that stop by saving a two-block walk, it sacrifices valuable service hours, speed, reliability, and frequency, which are actual drivers for ridership.
Still, the GNP would largely provide 15- to 20-minute frequencies at peak hours. Several others would operate half-hourly intervals or more. Two peak-hour-only routes would remain under the GNP to provide connections from the Mukilteo ferry terminal for commuters to and from Whidbey Island.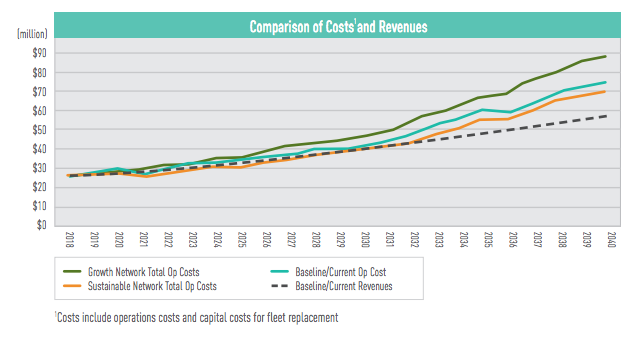 The financial means to reach the GNP are challenging to the say least. The immediate financial situation within existing and presumed resources is bleak. Labor costs have continued to outpace rising tax revenues, which primarily come from the local Everett sales tax for transit (currently 0.6%).
Baseline operational costs are projected to begin falling below revenues within the next year. Everett Transit is considering various strategies to stave off funding challenges, which include reducing peak-hour service, eliminating Sunday service, contracting span of service, and restricting paratransit use to only those with accessibility challenges. Also under consideration are a sales tax increase (the city does have remaining authority to increase the transit sales tax up to 0.9% if approved by voters), fare hikes, and non-city operating grants. Alternatively, city government could finance transit through the general fund or use alternative taxes like business license fee increases (such as head count taxes), commercial parking taxes, on-street parking fees, and Uber and Lyft fees to name a few. Vehicle license fees could be another option, but voter approval is required and likely unpalatable politically right now.
Years ago during the Great Recession, there was also talk of merging or contracting with Community Transit. This would likely provide greater benefits than Everett Transit remaining on its own. But that sort of remedy, though good for riders, would likely set ire into labor and management.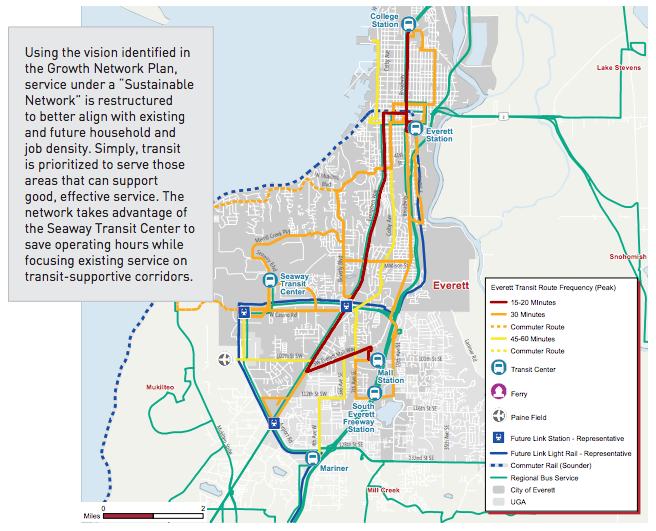 As an intermediate step to implementing the long-range plan, Everett Transit has put out its Sustainable Network proposal. The proposal amounts to a substantial restructure that works within the spirit of the system that the GNP would be, but retains some features that the existing network has. Service levels would also be similar to the existing network. However, the Sustainable Network restructure would allow Everett Transit to save service hours from elimination of inefficient service patterns and redeploy service hours to transit-oriented and transit-supportive areas in the city. The cost of operating the Sustainable Network would also be less than the existing network deferring financial challenges until the early 2030s. That would give Everett Transit ample time to come up with a better financial structure for the future.
Comment on the draft plan is open through the end of today. A finalized plan could be issued next month and adopted.

Stephen is a professional urban planner in Puget Sound with a passion for sustainable, livable, and diverse cities. He is especially interested in how policies, regulations, and programs can promote positive outcomes for communities. With stints in great cities like Bellingham and Cork, Stephen currently lives in Seattle. He primarily covers land use and transportation issues and has been with The Urbanist since 2014.