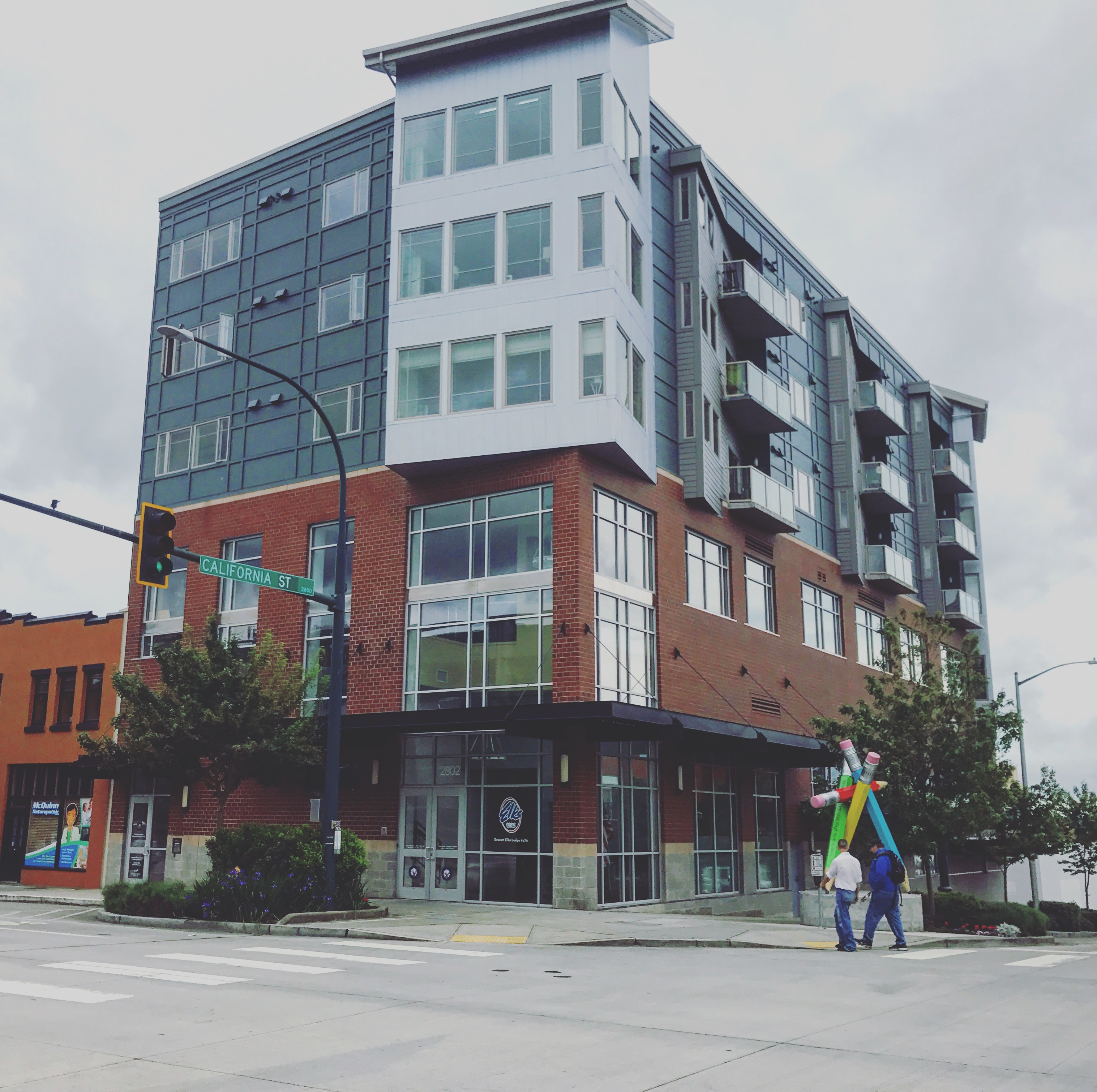 The City of Everett is moving ahead with its subarea planning effort to dramatically increase development capacity and remake the city's downtown core. Known as Metro Everett, the draft plan touches on a variety of topics, including transportation, zoning, housing, and historic preservation, to offer specific strategies and policies. The plan has been in the making for more than a year and is beginning to firm up now that the city's planning commission has had months of review on individual policy areas.
Draft Plan Recommendations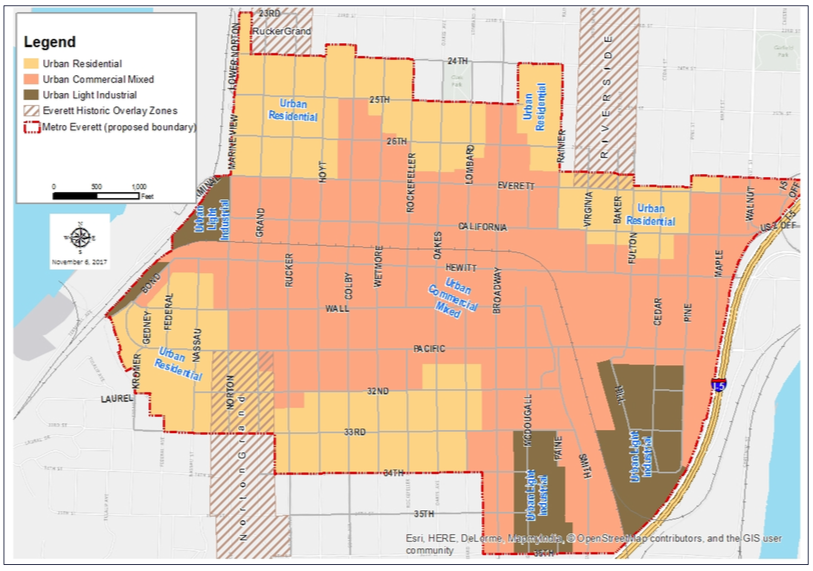 The draft plan provides an extensive number of recommendations. One of the key objectives is to modify land use patterns. The plan, if implemented, would consolidate a spectrum of zoning types into three land use types: Urban Residential, Urban Mixed, and Urban Light Industrial. Most of the zoning would be Urban Mixed. Layered on top of zoning, the city would regulate buildings by height and other supplementary development standards. Right now, the city has more than a dozen zoning types within the Metro Everett area.
Urban Residential areas would primarily encourage multifamily residential development, but some mixed-uses and institutional uses would also be allowed. Urban Mixed would be some of the densest areas and allow wide mixing of commercial, residential, and institutional uses. Urban Light Industrial would continue to allow industrial uses while accommodating flexible commercial and multifamily residential uses.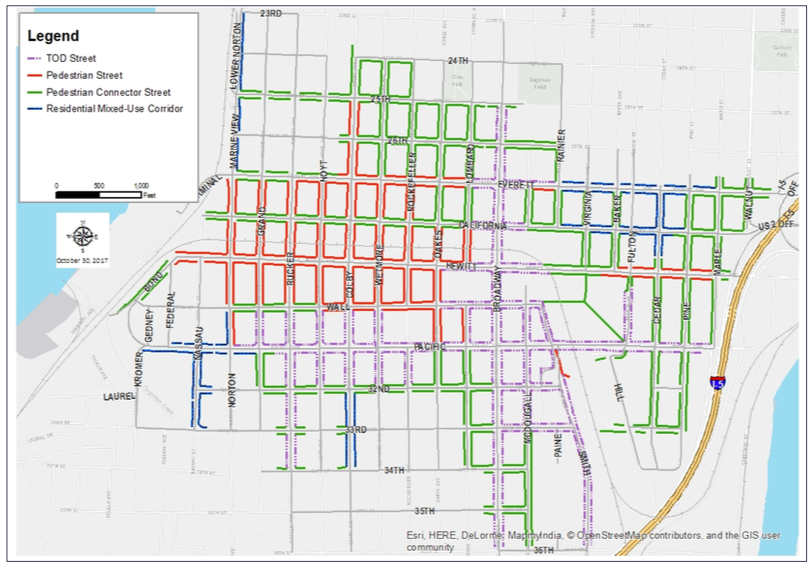 Another controlling feature recommended in the draft plan is street designation types. These would act as an overlay setting differing requirements. Four types could be recognized, including: Pedestrian Streets, Pedestrian Connector Streets, Residential Mixed-Use Corridor, and Transit-Oriented Development Streets.
The draft plan describes Pedestrian Streets as areas where the ground floor of buildings are typically composed of commercial and active uses. Special development regulations would be applied to these street frontages, such as overhead weather protection, transparency, pedestrian access, and discouraging vehicles. Streetscape standards would also be specially tailored to the street type.
For Pedestrian Connector Streets, the draft plan identifies these as a secondary street type than have less rigorous standards than Pedestrian Streets.
Residential Mixed-Use Corridor streets would primarily serve as a transition to residential areas or are located key gateways.
Finally, Transit-Oriented Development Streets would be tied to proximity to frequent transit and functional resemble Pedestrian Streets. The difference, however, would be that they would directly require minimum density and building height on lots in addition to creating block requirements for minimum active ground floor uses.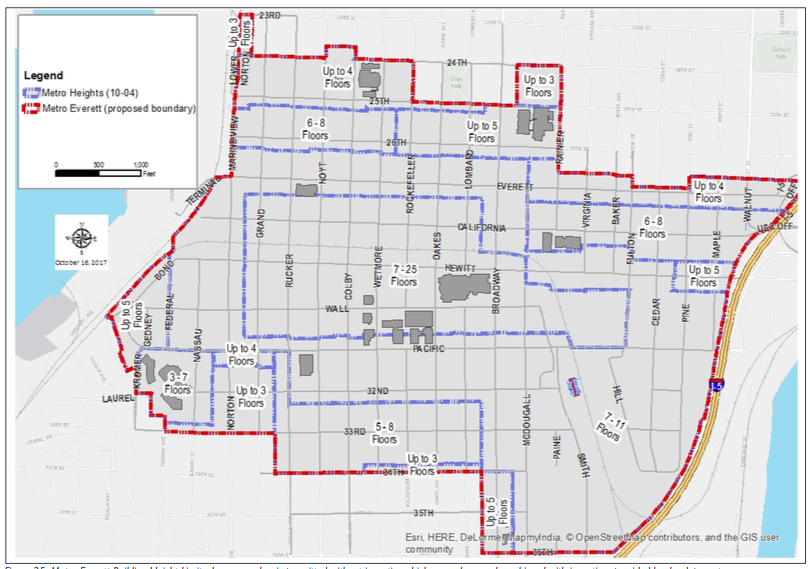 The draft plan would largely encourage the tallest buildings toward the existing downtown core. Buildings up to 25 stories would be allowed. Closer to the edges of the Metro Everett boundary, maximum building heights would be considerably lower to transition into detached single-family areas. Policies related to building height would generally encourage compatibility and urban design best practice such as stepping back upper stories for taller structures while allowing reduced lower floor setbacks. Developers would be able to unlock additional building height in two-tiered height areas (e.g., 7-11 Floors and 7-25 Floor noted above in the map) by providing specific public benefits (e.g., public art, transfer of development rights, and affordable housing).
The draft plan makes several other key recommendations on zoning, including:
Elimination of density limits and maximum floor area ratio;
Establishment of different off-street parking standards (including parking maximums) by two parking zone types;
Financial incentives that encourage infill and redevelopment (e.g., multifamily property tax exemptions);
Creation of flexible zoning regulations;
Increased SEPA threshold exemptions for development;
Encouragement of at least four-story development within a quarter-mile of existing or planned light rail and Swift stops;
Maintaining historic overlay zones and districts to preserve certain structures and character elements;
General prohibition of single-family homes, except in very specific circumstances;
Zoning incentives for low-income housing projects like added building height and floor area;
Establishment of minimum density and building height requirements when development is located along Pedestrian or Transit-Oriented Development Streets.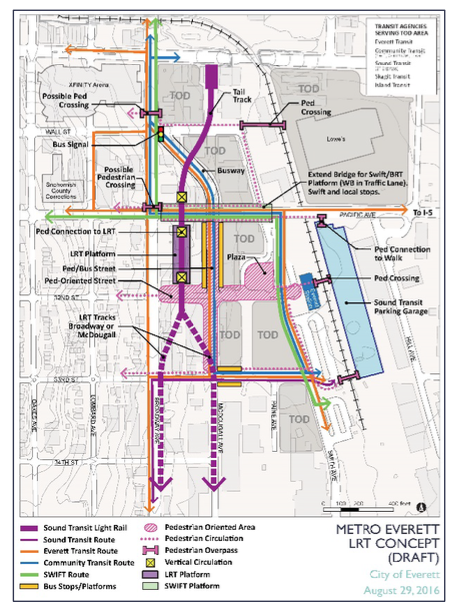 The Metro Everett plan explicitly identifies several areas where redevelopment and reuse are especially desired. Some areas east of Colby Avenue and on the western reaches of Hewitt Avenue are highly run down and blighted. The city ideally would like to adaptive reuse or full redevelopment.
Another priority is redevelopment around Everett Station where light rail is eventually supposed to arrive. The city is considering a few options to incentivize redevelopment, which could involve reducing impact fees, offering jobs tax credits, and reducing off-street parking requirements. Other efforts could include sale of surplus city land and development of public spaces such as a farmers market.
On the Lowe's property just north of the station, Everett would like to see the 10-acre parcel blossom into a high-density mixed-use district. The draft plan suggests working with the property to identify several strategies to realize this objective (e.g., higher allowed building heights, minimum floor area ratios, and development of public spaces).
The draft plan is a fairly expansive document touching on more than just regulatory objectives and incentives. Other programs and actions to help facilitate and realize a denser city core are also embodied in the plan, including wayfinding objectives, needed pedestrian and bike facilities, and community initiatives. The city's planning commission will have its first opportunity to review the full draft plan tonight (February 6th). An open house on the plan will be held sometime next month and public hearings could come in April. For now, the public has an opportunity to weigh in on the draft plan.
Metro Everett Draft Recs Offer Window Into Building Heights, Parking Policy, And More

Stephen is a professional urban planner in Puget Sound with a passion for sustainable, livable, and diverse cities. He is especially interested in how policies, regulations, and programs can promote positive outcomes for communities. With stints in great cities like Bellingham and Cork, Stephen currently lives in Seattle. He primarily covers land use and transportation issues and has been with The Urbanist since 2014.