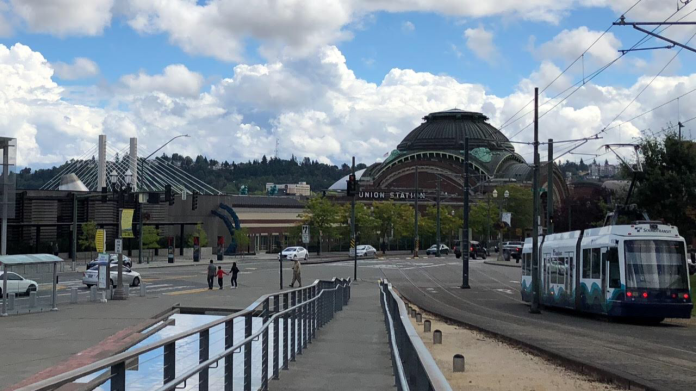 I moved to Tacoma the last weekend of July. Even as I got keys to my apartment the day after I arrived, my stuff wasn't scheduled to arrive until later in the week. I spent my first weekend in the city in a hotel. These in-between-places days forced me into a sort of nomadic existence that wasn't entirely unwelcome.
I'm not the first to recognize that walking in a city is the best way to really get to know it. My involuntary nomadism forced a meeting that, given how things go when you first move to a new place, you don't always get.
It's also true that not all cities are set up for walking. Some cities–it's as if they don't want you to get to know them: not really, not intimately. Sidewalks end, or weren't there to begin with. Multi-lane roads and high speed limits clearly tell you that you proceed at your own risk. Crosswalks are non-existent or few and far between. I come to Tacoma from a city that works against getting to know it.
I'd been in Tacoma a few times before. Because I had come and gone in a car those times, I knew a specific place in the city–the university campus, a restaurant, a friend's house–but not the city. Now, I wanted to know my new city. So, I walked every evening, hoping that the sidewalk wouldn't end–that there'd be a sidewalk–that cars would defer to me, that regular crosswalks would let me choose my path.
My first walks in Tacoma–downtown, 6th Avenue, in the Proctor District, around Tacoma Mall, in a strip mall off Highway 16, a neighborhood in the North End–tells me that there's more work to do in here in order to make the city knowable through walking. These walks also tell me that a whole lot has already been done. At least where I've walked, sidewalks are continuous, road-calming features slow cars in major thoroughfares, sidewalks chirp when it's time to cross. Here and there, you'll come across a bench or chairs if you need a rest.
One of the most telling features I encountered during a walk is this:
This slideshow requires JavaScript.
In Tacoma, property owners are responsible for maintaining sidewalks. (In fact, state and city codes require that property owners maintain the property on which the sidewalks exists. The city claims an easement on behalf of the public providing the right passage.) The particular stretch of sidewalk shown in this picture in interesting because it shows a deliberate effort to ensure continuity. Here the city opted to subtract from the roadway in order to ensure that pedestrians wouldn't be forced to cross the street to continue on a sidewalk or, what's more likely, to walk on an open roadway.
There are many cities that would have fallen back on policy to defend its decision to let a gap exist, no matter how unsafe for pedestrians. Another city might have seen a gap in the sidewalk network as beyond their purview. Many cities would not prioritize pedestrians over vehicles; few would take away from a roadway for pedestrians.
Ongoing research shows that people who live in poverty and minorities are more likely to get around, at least partly, on foot. This same research shows that the neighborhoods they live and work in makes getting around on foot particularly hard because they lack continuous sidewalks, crosswalks, and traffic islands. According to this research, when people are faced with limited choices or incomplete infrastructure, people die.
A city's approach to walking, therefore, goes beyond how knowable it may be to people like me. A city's approach to walking can also have real impacts on people's ability to make a living, to get an education, and it can also be a matter of life or death.
These early walks in Tacoma tell me that this is a city that wants to be known. It also tells me that the city knows and sees those who can't or don't want to get around by car.
It's been one week. I'm in the apartment and am no longer quite as nomadic. But I'll keep taking walks. I'll take transit, visit parks, meet new people. I'll be back with more about my experiences in my new city soon.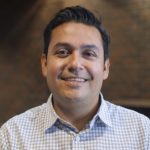 Rubén is a scholar and teacher of rhetoric and writing. His teaching and research emphasize the role everyday use and civic engagement play in making places more livable, accessible, and equitable. In particular, Rubén examines how cities and the institutions that comprise them imagine, plan, and build in ways that promote and/or discourage community and a sense of place.