Let's start with the bad news. Initiative 1631 did not pass and Washington state will not have a fee on carbon pollution to invest a billion dollars per year in clean energy. Other progressive-minded ballot initiatives had a solid night though. I-940 (a police accountability measure) passed easily with 59% in returns thus far. I-1639, a gun safety measure, also passed decisively, carrying more than 60% of the vote on election night. All three of these ballot measures were endorsed by The Urbanist.
In other positive news, Kim Schrier won, meaning Democrats picked up the 8th Congressional District seat vacated by retiring Representative Dave Reichert. Dino Rossi loses yet again. No other Washington state congressional districts changed hands. Senator Maria Cantwell easily coasted to reelection as well, surpassing 58%.
What the Carbon Fee Defeat Means
I-1631 carried only 43.7% of the election night vote, strongly suggesting remaining votes to be counted aren't enough to close the gap. I had hoped the carbon fee's more political savvy approach (where revenues were invested in popular clean energy initiatives rather than used to reduce other taxes like I-732 tried to do in 2016) would pay dividends. It looks like I-1631 will do better than I-732 but not by nearly enough to score a win.
The carbon fee only carried in three counties: King, Jefferson, and San Juan. In King County the measure managed to run a 57.3% to 42.7% margin, but that wasn't enough to carry the whole state with huge margins in the other direction for other counties. Notably, I-1631 carried only 36% in Pierce County and 39% in Snohomish County, the next two most populous counties after King County, which has about a 30% of the state's population. 34% in Spokane County was also a dismal result.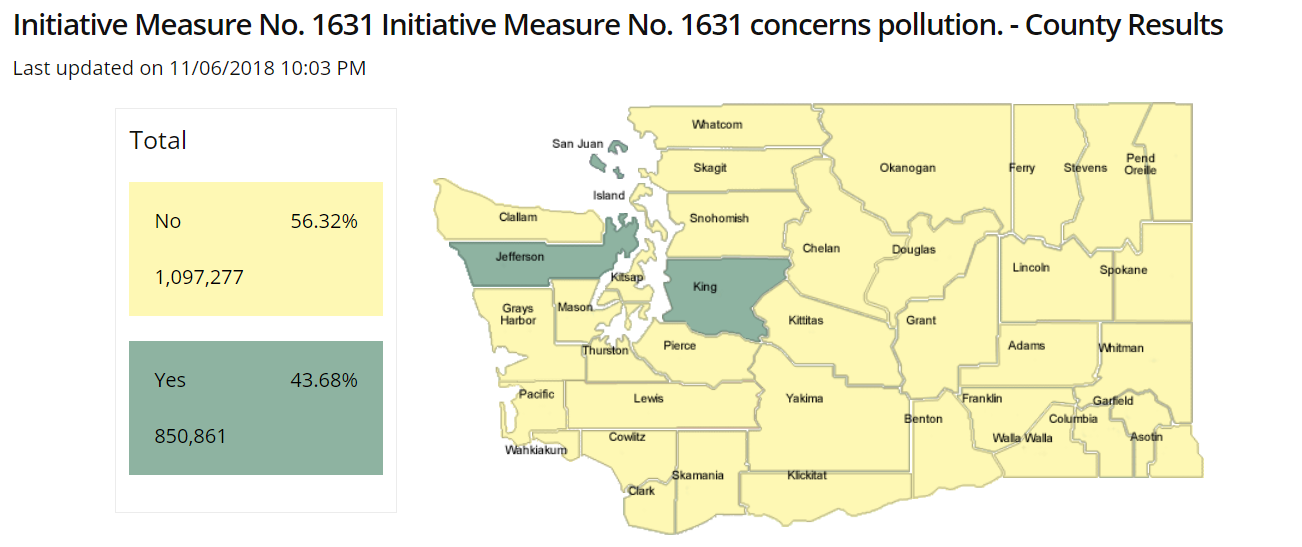 Obviously, carbon fee proponents have a lot more work to do to convince suburban and rural counties. The $32 million the fossil fuel industry pumped into defeating I-1632 obviously made it an uphill battle and they're likely to pour just as much money at the blocking the next effort. I, for one, saw the Rob McKenna anti-I-1631 ads too many times to count.
Our state, our nation, and our planet sorely needs to invest in clean energy and price carbon in some way. It's back to the drawing board to figure out how to do that in Washington state, which fancies itself a climate leader. The Democrats cemented their control of the Washington State Legislature with some big pickups. Perhaps there is a legislative answer to this mess that gets Washington state on track to meet its climate goals. Right now, without a carbon fee or a large-scale green investment strategy, our State Government knows we're not.
State Senate Results
It remains to be seen exactly how many seats the Democrats will pick up in the state house and senate. Claire Wilson sent Republican State Senator Mark Miloscia packing, winning 53% in the 30th. Democrats also appear to have won the 26th Legislative District with Emily Randall narrowly defeating Marty McClendon. Republican Joe Fain, who was recently accused of rape, is narrowly holding on in the 47th but, Democrat Mona Das may pass him as more votes come in. If those three pickups materialize, Democrats would expand their one-seat state senate advantage to a 28-21 advantage.
State House Results
In the state house, Republicans lost both seats in the 5th Legislative District, they may lose LD6-B if Democrat Dave Wilson, who's narrowly behind, gains in late returns. Kay Murano also still has a chance to unseat incumbent Mike Volz in LD6-A. LD10-B is also looking like a pickup with Dave Paul narrowly leading incumbent Dave Hayes in a battle of the Daves. If Election night results holds, Mari Leavitt will unseat Republican Dick Muri in LD28-A. There is a chance David Daggett catches incumbent Drew MacEwen in LD35-B in a close race. Republican Marks are dropping like flies too, as Jared Mead leads incumbent Mark Harmswoth in LD44-B, and Debra Entenman is leading incumbent Mark Hargrove. On other hand, it doesn't look like Victoria Mena, who we endorsed, will be able to pull off the upset against Republican Drew Stokesbary.
Additionally, a handful of other races are too close to call, including both 42nd Legislative District seats, meaning the state's Blue Wave could be even bigger. It certainly going to be a much larger advantage for Democrats in the state house. It should make for an interesting legislative session.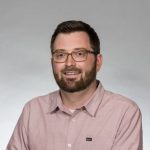 Doug Trumm is the executive director of The Urbanist. An Urbanist writer since 2015, he dreams of pedestrianizing streets, blanketing the city in bus lanes, and unleashing a mass timber building spree to end the affordable housing shortage and avert our coming climate catastrophe. He graduated from the Evans School of Public Policy and Governance at the University of Washington. He lives in East Fremont and loves to explore the city on his bike.