On Monday, two projects went before the Northeast Design Review Board, each for their second round of Early Design Guidance. Each promised to deliver more than 100 homes, but in markedly different ways.
The first project is on a spacious 35,000 square foot lot at 4106 Stone Way. The second is a snug 13,000 square foot lot sandwiched between Fremont Brewing and Urban Earth garden center at 3421 Woodland Park Ave N. Nonetheless, the first site will get only 113 homes and the second will get 123 homes. The project achieves more homes on a much smaller lot through the power of moderately-sized apartments and greater zoning capacity via imminent Mandatory Housing Affordability (MHA) rezones.
The first project is geared toward more of a luxury market and planning 87 underground parking spots–and by the way the developer is seeking a code departure to put the garage bay on Stone Way rather than N 42nd St (the side street), which the developer argues is too steep and has poor sight lines. The developer aims to hit 134,651 gross square feet and will have a MHA requirement of 6% (five units) or $13.75 per square foot (for in lieu payment of about $1.85 million). They aren't broadcasting this MHA participation in their design packet, but their floor area ratio (FAR) of 3.75 (existing zoning allowed only 3.0) gives them away.
The second project is focused on modest apartments averaging 415 square feet in size, with 10 car parking spots and 136 bike parking spots planned. The smaller apartment sizes and smaller parking garage will translate into lower rents. Moreover, MHA participation will guarantee some new homes are affordable to low-income households (either 9% on-site or a $20 per square foot in-lieu fee).
Lots of homes for people rather than cars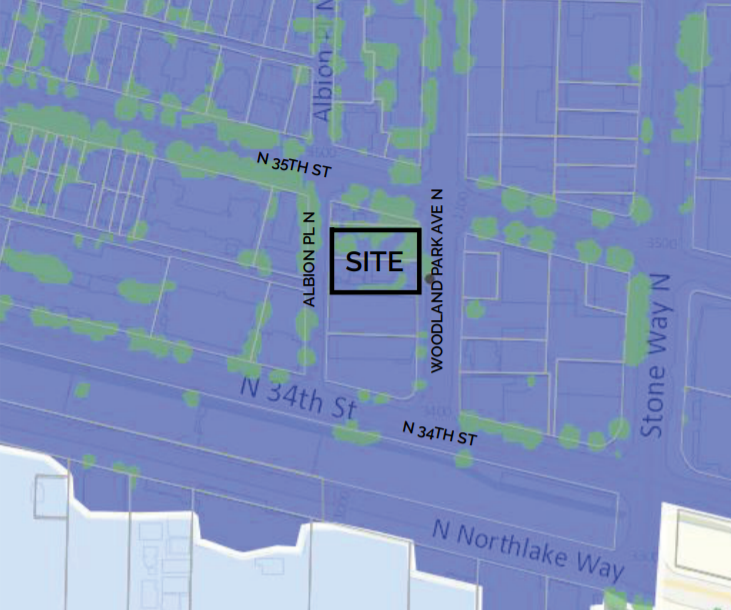 Hybrid Architecture's preferred scheme is a "Flying V" design could add some visual interest to the block while also allowing more light to the north where Urban Earth nursery sits–potentially defusing a landmine for the project.
Neither project is required to build off-street car parking because they are within an Urban Village and have access to frequent transit (Route 62 in this case). Even so, the first project still has a parking ratio of 0.77 stalls per unit and a large underground parking garage. The second project is taking greater advantage of waived parking minimums to build at a 0.08 ratio. This gives people within the building who really need a car the choice to get parking on-site, and a nudge to those who don't need one. Some tenants would rather save money not subsidizing off-street parking for their neighbors, and solid transit, lots of bike parking, and access to the Burke-Gilman Trail provides plenty of good car-free options.
Partially, the different decisions may be driven by different intensity of zoning changes. The first project gains an extra story under MHA to five total–going from Neighborhood Commercial 40 (NC2P-40) to Neighborhood Commercial 55 (NC2P-55). Meanwhile, the second site goes from Commercial 40 (C-40) to Neighborhood Commercial 75 (NC2-75), which makes an eight-story design feasible. An higher "M1" intensity bumps the MHA requirement to 9% or $20 per square for this project.
The City could have opted to grant bigger upzones along Stone Way and gotten a larger percentage of MHA units and more market-rate units. Instead we see a one-story gain with the lowest "M" requirement intensity. Either way, it appears developers are itching to take advantage of the additional development capacity, giving another boost to the development of "Frelingford"–as I've playfully called the Fremont and Wallingford borderlands (don't @ me).
Whatever the motivation, the end result is the second project aligns better with climate action goals and mode shift goals, while the first project's large garage with a curb cut interrupting the sidewalk and Stone Way bike lanes continues in the American tradition of half-hearted change on transportation.
Is the case for a Stone Way curb cut convincing?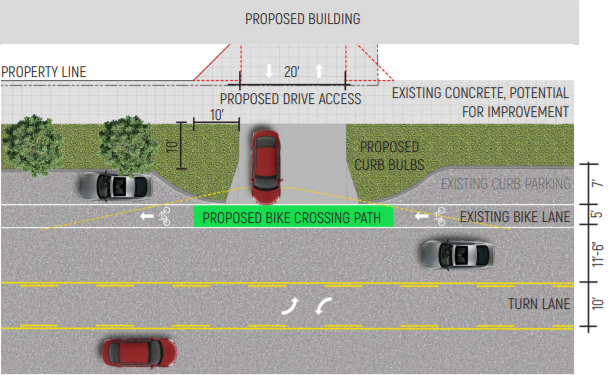 It appears the City is poised to support the code departure to build the Stone Way curb cut and access to 87-car garage. Both the Seattle Department of Construction and Inspections (SDCI) and the Seattle Department of Transportation (SDOT) offered letters in support of the scheme, which the developer included in the design packet.
"Emily Ehlers (SDOT) sent an e-mail on September 8, 2018 in which she acknowledges the proposed Stone Way access curb alignment provides better sight lines, adequately alerts motorists of passing bicyclists, and allows space for vehicles to queue without blocking the sidewalk and that SDOT could support the Stone Way access," the packet states. We'll see if that works in practice.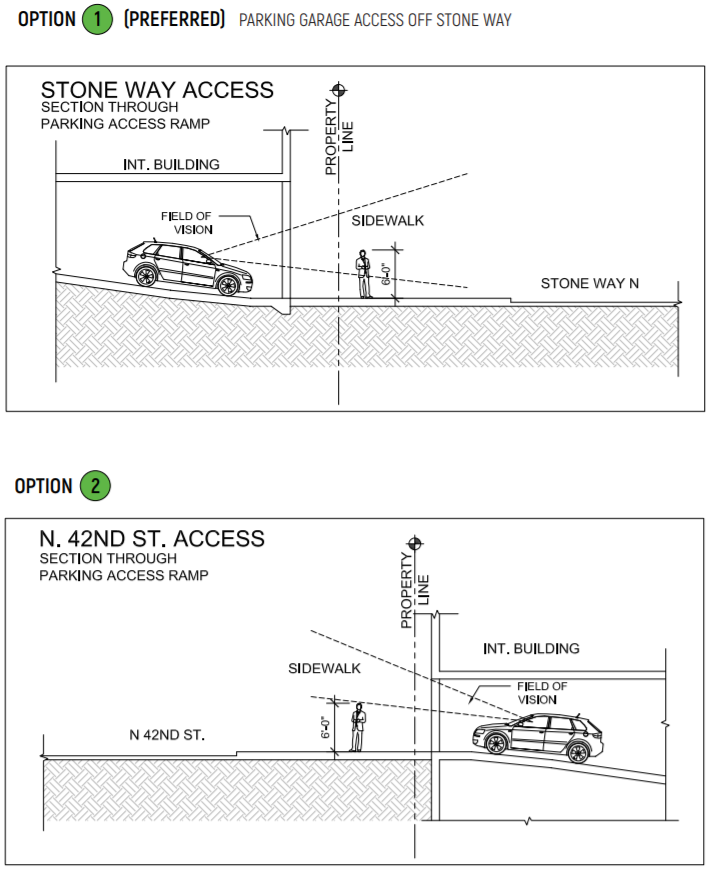 The rationale for the code departure isn't completely unreasonable. Building an access point on the steeper N 42nd St could lead to awkward sight lines, and the project does reduce the three existing curb cuts to one. However, the 87-car garage will create a much busier curb cut for people walking and biking. It seems like a shrinking the size of the parking garage even to a moderate 0.5 parking ratio (trimming 30 parking spots) could decrease the conflicts parking motorists create with pedestrians and cyclists.
The Northeast Design Review Board centered their comments from the first Early Design Guidance meeting on more facade modulation, which is designspeak for wanting lots of juts in and out and setbacks on the side of the building that won't necessarily be functionally superior or more visually attractive, but does break up the blank "monolithic" facade which is deemed unsophisticated (side note: design boards and design guidelines and code seem overly obsessed with modulation). They also encouraged more attention to pedestrian features, which was more on the mark. The architect seems to have done a pretty good job responding and modulating as directed, as you can judge for yourself below.
As these projects likely move into the Recommendation phase of design review, you can still comment by contacting to the assigned City planner or attending the next design review meeting. For the five-story Stone Way design, contact Sean Conrad at sean.conrad@seattle.gov. For the eight-story Woodland Park Avenue project contact Abby Weber at abby.weber@seattle.gov. And remember passing the "citywide" MHA rezones makes projects like these possible and brings in big affordability contributions.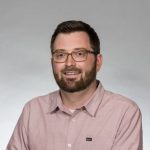 Doug Trumm is the executive director of The Urbanist. An Urbanist writer since 2015, he dreams of pedestrianizing streets, blanketing the city in bus lanes, and unleashing a mass timber building spree to end the affordable housing shortage and avert our coming climate catastrophe. He graduated from the Evans School of Public Policy and Governance at the University of Washington. He lives in East Fremont and loves to explore the city on his bike.