On Friday, local elected officials met to discuss end-to-end alignment alternatives for light rail extensions to West Seattle and Ballard. It was the fifth such meeting for the Elected Leadership Group (ELG), this time looking at full corridor alternatives for the extensions and discussing the tradeoffs they present. The alternatives build upon earlier feedback that the ELG provided in the fall that screened out many segment alternatives in order to arrive at complete corridor options as part of the Level 3 screening process, which is narrowing in on a Locally Preferred Alternative for the Sound Transit 3 (ST3) package for Seattle.
The information that Sound Transit shared with the ELG was very similar to the estimates we scrapped together based upon the Level 2 screening process. The alternatives to the ST3 Representative Project could cost anywhere from $400 million to $2.1 billion more, the agency said, with little to no noticeable gain in ridership projections, squarely putting into question what value they would bring.
Third party is a must for pricier alternatives
Sound Transit ultimately is asking the ELG to pick two preferred alternatives: one with secured third party funding and one without. The latter would likely be a pared down alternative with many fewer bells and whistles, like an elevated alignment in West Seattle instead of a tunneled one. According to Cathal Ridge, Executive Corridor Director for Sound Transit, the Sound Transit Board of Directors could then consider if they would like to study both preferred alternatives as part of the environment review process.
Elected leaders in the room, who sit on the Sound Transit Board of Directors, largely affirmed what Ridge said. They encouraged the ELG members to come up with third party funding agreements in advance of a decision in April, otherwise a pricier preferred alternative would likely not be recommended for evaluation in the environmental review process.
Overview of alternatives
The West Seattle Elevated / C-ID 5th Ave / Downtown 6th Ave / Ballard Elevated alternative would primarily focus on elevated alignments near the ends of the West Seattle and Ballard extension. In SoDo, the West Seattle line would at-grade. For the Ballard line, trains would run in a new tunnel between Uptown and Chinatown-International District.
Meanwhile, the West Seattle Tunnel / C-ID 4th Ave / Downtown 5th Ave / Ballard Tunnel alternative would primarily consist of tunnels through the Chinatown-International District to Smith Cove, across Salmon Bay and into Ballard, and from Delridge into Alaska Junction. Several portions of the corridor would otherwise be at-grade or elevated, but never conflicting with other traffic. Several alternatives to tunneling in Chinatown-International District and serving the ends at Ballard and Alaska Junction are still under consideration.
Critical choices remain ahead
Breaking down the alignment alternatives at high level and taking them in their purest form, Sound Transit has indicted that ridership differentials are not all that great despite higher construction costs:
ST3 Representative Project alternative. This alternative could range from 158,000 to 203,000 daily riders.
Elevated alternatives. This alternative could range from 155,000 to 197,000 daily riders and an additional $400 million to $500 million.
Tunnel alternatives. This alternative could range from 160,000 to 206,000 daily riders and additional $1.9 billion and $2.1 billion.
Going segment by segment, Ridge highlighted various tradeoffs that the alternatives present. Notable issues, include:
More displacement between Alaska Junction and Avalon stations under the West Seattle elevated alternative versus the tunnel alternative;
Difficulty in future extension of the West Seattle line with the orientation of the station under the ST3 Representative Project alternative;
In SoDo, the ST3 Representative Project presents several issues that the other alternatives resolve with grade-separated at-grade alignments, such as conflicts with traffic, lack of track interconnections, and engineering complexity;
For the Ballard line extension in Chinatown-International District, all three alternatives could create different impacts to the bus bases there and construction schedule, and either provide better or degraded passenger transfer experiences;
Near the north portal in Uptown, the ST3 Representative Project alternative would require more displacement than the other alternatives; and
In Ballard, the three alternatives consider a moveable bridge (ST3 Representative Project alternative), high fixed-bridge (elevated alternative), and tunnel (tunnel alternative) as well as whether to put a terminal station on 14th Ave NW or 15th Ave NW.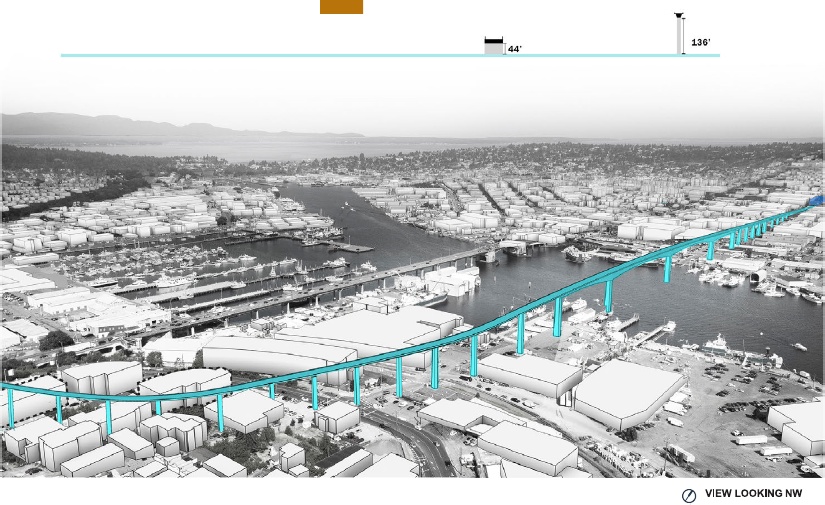 With this in mind, there are still opportunities to further mix-and-match segment concepts to build final alternatives. The cost differential between them is occasionally fairly consequential and at times with cost savings or no difference from the ST3 Representative Project alternative at all:
Segment
Duwamish Crossing
South Side: -
North Side: +$300M
Downtown
6th/Mercer: +$300M
5th/Harrison: -
Smith Cove
Station at W Galer St: +$100M
Station at W Prospect St: +$200M
Alaska Junction / Avalon / Delridge
Elevated 41st Ave SW south of SW Alaska St: -
Tunnel at 41st Ave SW / SW Alaska St: +$700M
Tunnel at 42n Ave SW / SW Alaska St: +$700M
Tunnel at 44th Ave SW / SW Alaska St: +$700M
SoDo and Chinatown-International District
5th Bored / Cut-and-Cover: -$200M
5th Bored / Mined: -
4th Cut-and-Cover: +$300M
4th Bored / Mined: +$400M
Salmon Bay Crossing and Ballard Station
Fixed-Bridge Crossing / Elevated Station at 14th Ave NW: +$100M
Tunnel Crossing / Tunnel Station at 14th Ave NW: +$350M
Tunnel Crossing / Tunnel Station at 15th Ave NW: +$350M
The most expensive option is tunneling in West Seattle. Any variation will run more than $700 million in added costs, which according to Sound Transit provides little to no ridership increases. The only benefits are no visual clutter from aerial guideway and fewer property acquisitions that could cause displacement, mostly of homeowners.
Seattle Councilmember Rob Johnson expressed his hope for further refinement of alternatives by Sound Transit staff. "The ST3 Representative Project, if you look at the summary of differentiators is remarkably lower than most of the other alternatives," he said. "So what I would love for staff to continue analyze is what we can really do to get that [elevated] option to be as close to the cost and schedule without changing the scope of…that option so we can eliminate the Representative Project from consideration."
"When I look at these three options, what I would love in a perfect world is to be able to see analysis move forward that is comparable in cost and schedule to the Representative Project but that performs better than the Representative Project," Councilember Johnson added. "And then, a project that may cost a little bit more than that but does even better in terms of all the other things that we care about."
The next ELG meeting will happen in March, which will focus on issues surrounding Chinatown-International District. A Stakeholders Advisory Group meeting will then happen in April followed by the final ELG meeting to make recommendations. After that, the process for picking alternatives to move to environmental review will be in the hands of the Sound Transit Board of Directors. A final decision is expected in May.
Correction: At the time of publishing, this article identified the cost differential of the 5th Ave S cut-and-cover options as $200 million more than the ST Representative Project. The actual estimate is $200 million less, which has accordingly been updated in the table.
The featured image is a rendering of West Seattle's Pigeon Point tunnel option by Tomasz Biernacki.

Stephen is a professional urban planner in Puget Sound with a passion for sustainable, livable, and diverse cities. He is especially interested in how policies, regulations, and programs can promote positive outcomes for communities. With stints in great cities like Bellingham and Cork, Stephen currently lives in Seattle. He primarily covers land use and transportation issues and has been with The Urbanist since 2014.