Seattle teens are part of an international youth movement calling on governments to do more to combat climate change.
On the first organized "Friday for the Future" strike, a small group of Seattle teen climate activists gathered on the steps leading to Seattle City Hall in the early afternoon. The day was remarkably hot and cloudless for the first week of spring; in the sunshine it felt as warm as the recording breaking 79 degree heatwave measured at Pike Place Market the previous week.
"Climate change is not a lie. Do not let our planet die," the teens chanted, waving colorful signs at the street below where more cars than pedestrians continued to pass by, demonstrating one facet of why the climate movement has been so slow obtain measurable achievements, even in one of the greenest cities in the United States.
Fridays for the Future has been organized as a follow up to the March 15th Seattle Youth Climate Strike in which hundreds of students left school to rally in Capitol Hill's Cal Anderson Park. It is also part of an international movement for climate justice, inspired by climate activist Greta Thunberg, a Swedish teenager who gained attention after her social media posts of her protest in front of a government building in Stockholm went viral. Thunberg has gone on to speak at the United Nations climate conference and the World Economic Forum, in Davos, Switzerland. Her call to action speech at TEDxStockholm has been viewed over 1.6 million times.
Local organizers Lydia Ringer and Joe Mangan, both seniors at Roosevelt High School, have cited Thunberg as a major inspiration for their activism. They have also pledged to continue to rally students every Friday until local government begins to take serious action on reducing carbon emissions. (Note: Mangan also wrote about the need for a safer NE 65th Street with better transit for The Urbanist)
Seattle is not achieving its climate goals
By any measure the City of Seattle is failing to meet its stated climate goal of achieving carbon neutrality by 2050, and if the recent IPCC report on climate change is correct, 2050 will be too late to avert the worst consequences of climate change on our region and the planet at large.
"The UN says we have twelve years to preserve our earth for my generation and future generations," said Mangan, who in his remarks to the crowd asked for the local democratic party to "live up to its ideals."
According its 2016 performance monitoring report, the most recent released by the Seattle Office of Sustainability and the Environment, carbon emissions have continued to climb. Between 2014 and 2016, carbon emissions increased in Seattle by 2.5 percent.
Seattle is not alone. Progress in reducing carbon emission has been slow on all levels: city, state, and national. In the United States, the role of cities is especially important because of the Trump administration's resistance to commit to carbon emission reduction targets or support a transition to clean energy.
Of course, population growth has to be taken into account when analyzing Seattle's carbon emissions. One potential bright spot is that as Seattle's population has climbed, the amount of carbon emissions created per resident and per employee have both decreased, indicating that there just might be something to the argument that living in denser more energy efficient neighborhoods and commuting less by car reduces people's carbon emissions.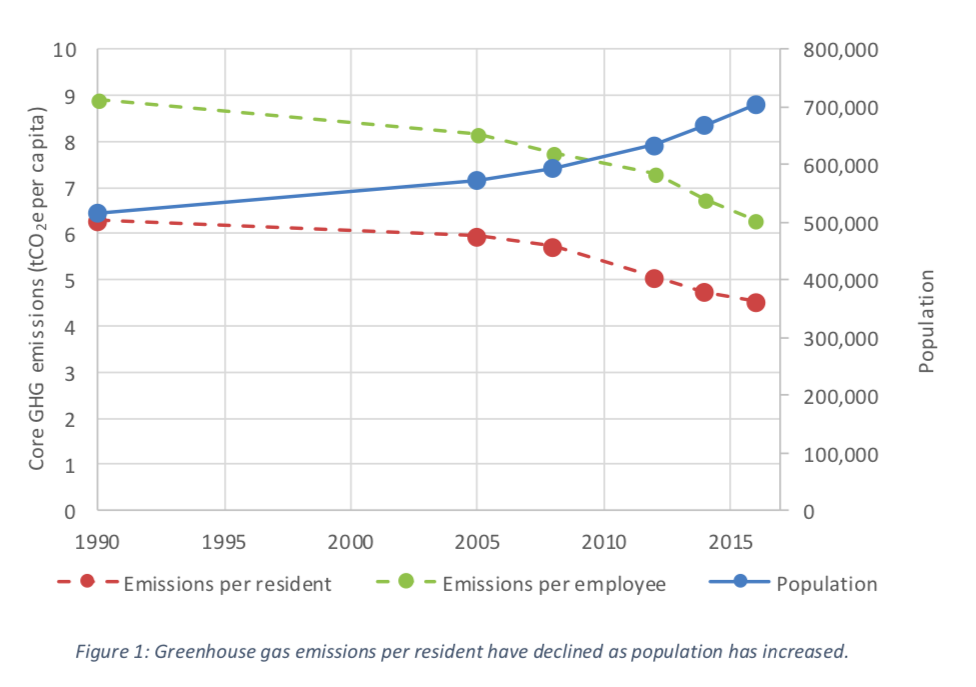 Lack of affordable housing and public transit are climate issues
Both Mangan and Ringer would like Seattle's government to show it is taking climate change seriously by investing affordable housing and free public transit.
"People have been priced out," Mangan said. "Forcing them to pay to come back is a stab in the back."
They believe these investments will allow more people to live closer to where they work in Seattle and incentivize the use and expansion of public transit. They will also improve quality of life for many Seattleites, including those who are lower income.
The topic of equity is important to Ringer. Listing several examples of environmental racism, including a record shattering drought that she observed first-hand during a trip to Cape Town, South Africa, in which poorer black communities struggled for basic access to water while wealthier white communities stockpiled bottled water, Ringer warned that "all of these injustices will only worsen" with climate change.
Like Mangan and Ringer, District 4 City Council candidate Shaun Scott, who came out to support the youth activists and plans to be a regular attendee of the Fridays for the Future rallies, is an advocate for increased government investment in affordable housing and transit. In addition, Scott is also calling for Seattle to change its zoning laws to increase density.
Referencing the sparse distribution of residential density in many areas of Seattle, Scott said, "A lot of neighborhoods look like suburbs. We need zoning changes so that our neighborhoods look like neighborhoods in a city–which is not a big ask for a big cosmopolitan city like Seattle."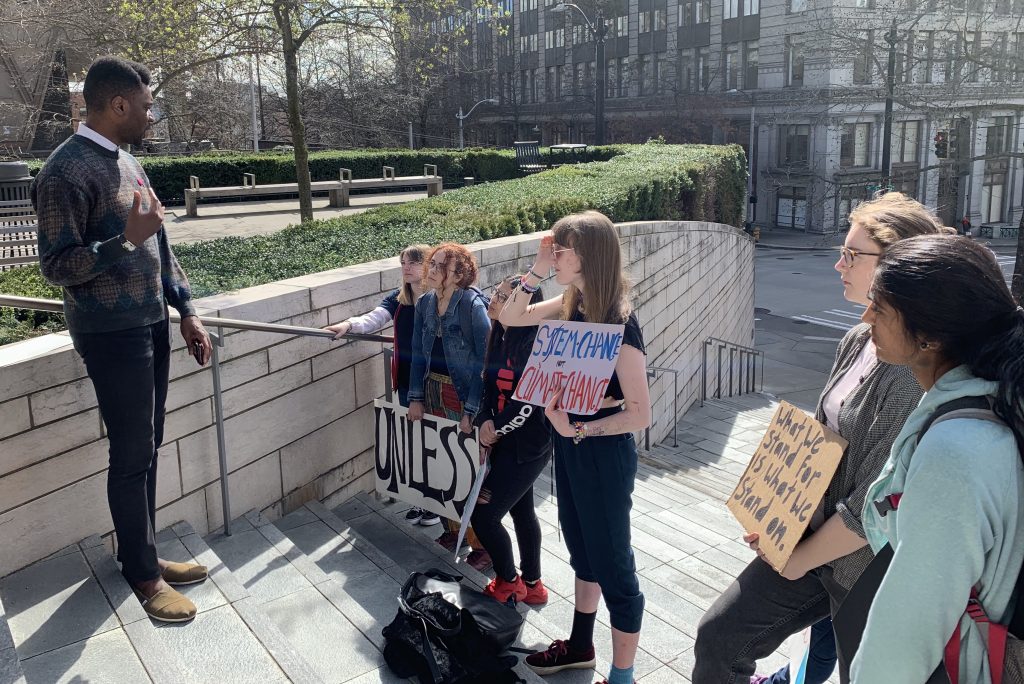 Scott was excited to note that presidential candidate Elizabeth Warren had recently released updates to her expansive housing plan which includes calling for "historic federal investments to increase housing supply." As part of the plan, Warren supports "changing state and local land-use rules that needlessly drive up housing costs." She also has advocated for federal investment in dense housing developments as a means of undoing the discriminatory past of exclusionary zoning practices.
Like the youth climate activists, Scott believes that all levels of government need to step up and pass policies that further the aims of the climate justice movement.
"Cities will be on the frontlines of climate change," said Scott, who want Seattle to be as prepared as possible for a future in which the federal government is more responsive to climate change.
As a supporter of the Sunrise Movement which promotes the Green New Deal, a plan championed by many progressives that calls for massive government investments that would advance the clean energy economy and create living wage jobs, Scott believes the City of Seattle should be doing more to fight for climate justice. "We need this movement to be both bottom up and top down," he said.
Mangan and Ringer, who plan to rally other youth activists every Friday until the City of Seattle takes significant action against climate change, agree that change needs to come from all areas of society- including from youth.
"We are the ones who will have to deal with the consequences of an earth without pollinators and an ocean full of plastic," Ringer said. "So, we have to be the ones that demand change."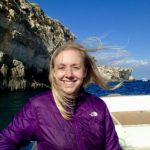 Natalie Bicknell Argerious (she/her) is Managing Editor at The Urbanist. A passionate urban explorer since childhood, she loves learning how to make cities more inclusive, vibrant, and environmentally resilient. You can often find her wandering around Seattle's Central District and Capitol Hill with her dogs and cat. Email her at natalie [at] theurbanist [dot] org.