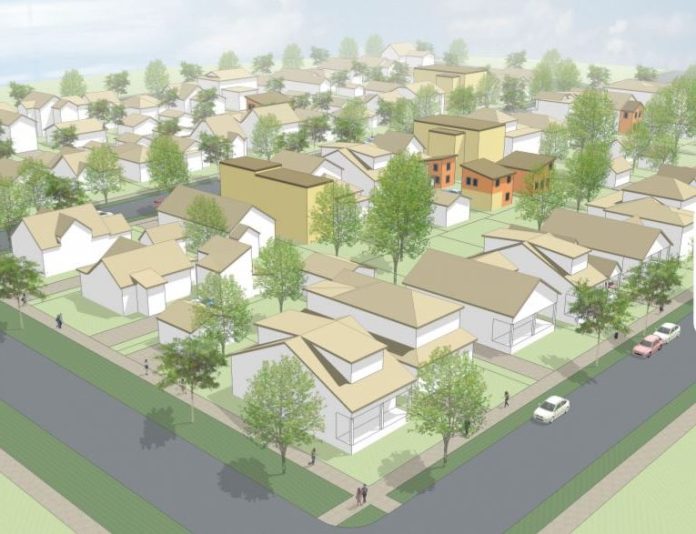 New regulations to remove financial and regulatory barriers to backyard cottages and stem the tide of McMansions are moving forward in Seattle, possibly completing a five-year process that started in 2014. Last Wednesday, the Seattle City Council's Transportation and Sustainability Committee met to discuss the latest proposal to develop the sweeping housing regulations. Three weeks ago, the city's Deputy Hearing Examiner Barbara Dykes Ehrlichman issued a decision that the city clearing the way for such legislation, settling an environmental dispute with opponents under the State Environmental Policy Act.
Cottage Proposal
The proposed legislation heard in committee addresses eight key policy areas for attached and detached accessory dwelling units (colloquially "mother-in-law apartments" and "backyard cottages"), ranging from unit size and parking requirements to owner-occupancy requirements and height limits. If reform is made, the legislation could help spur a new cottage industry in accessory dwelling unit (ADU) building.
Since Seattle modestly reformed ADU regulations in the 2000s, production has been increasing year to year. However, peer cities that have gone much further in removing barriers in Portland and Vancouver, British Columbia are seeing much higher rates of ADU output. Vancouver tops the region with more than 730 ADUs being constructed each year–almost double Seattle and Portland combined; the city recently updated their ADU regulations and is famed for their in-demand laneway houses. Portland is also on course to permit one ADU per day this year, according to Aly Pennucci, a Council Central Staff analyst.
The Environmental Impact Statement (EIS) issued last year on ADU reform projected more than a doubling of ADU production over the 10-year period from 2018 to 2027 if regulations were modified as contemplated in the EIS. At the same time, the pace of single-family residence teardowns would slow by 25% over doing nothing. That is primarily due to the proposed restrictions on standalone single-family home size limitations and strong incentives to convert space in or expand single-family residences for ADUs.
The impact of the proposed legislation on developing and redeveloping single-family lots for megahomes is fairly consequential, according to The Seattle Times. "Only 9.5% of Seattle's existing single-family houses would have been blocked had [the proposed legislation] been in place when they were built," reporter Daniel Beekman wrote. "But 47% of new houses built in the city since 2010 (1,753 of 3,694) would have been blocked, according to data requested by The Seattle Times."
Number of ADUs Per Lot and Eligible Lots
Current regulations only allow one ADU, whether or attached or detached, per lot. Detached ADUs are only permitted on a lot this is at least 4,000 square feet in size or greater. Many commenters during the EIS process indicated a preference to allow up to ADUs per lot and make more lots eligible for detached ADUs. Consistent with this, the proposed legislation would:
Allow up to two ADUs per lot under certain conditions; and
Reduce the minimum lot size required to be eligible for detached ADUs to 3,200 square feet.
Eligible lots would be entitled to accommodate a second ADU if the property owner commits to green building standards for the second ADU or principal residence. Ultimately, eligible properties would be entitled one attached ADU and one detached ADU or two attached ADUs per lot.
Several possible amendments that Council Central Staff have highlighted in this topic area include:
Only allowing one attached ADU and one detached ADU per lot;
Only allowing two attached ADUs per lot;
Setting a minimum time period of a person owning a lot before a second ADU could be permitted;
Enacting an incentive zoning requirement so that a second ADU is only permitted if rent- and income-restricted;
Not allowing a second ADU altogether;
Increasing the minimum lot size for detached ADUs; or
Not changing the minimum lot size for detached ADUs.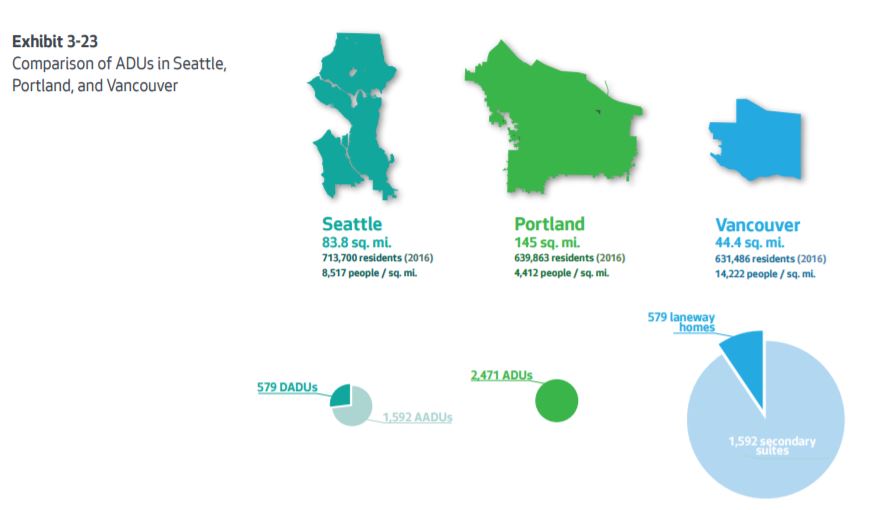 Pennucci cautioned the city council on the incentive zoning option since state law is fairly prescriptive about the requirements of how that must work. She said that concept would probably discourage most second ADUs. Councilmember Mike O'Brien said he had spoken to state legislator about reform the state law on the matter. He said he might pursue an interim option that would not enact the incentive zoning requirements until state law is modified. Councilmember Lisa Herbold said she was interested in how the city might provide a small bridge subsidized loan program for second ADUs for eligible households to encourage their production as rental units.
Number of Unrelated Persons Per Lot
Single-family residential areas currently have a maximum of eight unrelated persons allowed to live on a lot at any given time. For most properties, this cap is not a problem, even with a single on-site ADU. However, the allowance of a second ADU per lot, as proposed, could occasionally result in a conflict with the existing Land Use Code requirement. The proposed legislation recongizes this issue by allowing lots with two ADUs to accommodate up to 12 unrelated persons to live on-site. If amendments are brought forth, they could reduce this number or entirely remove the increase.
Maximum ADU Size
Detached ADUs are currently limited to 800 square feet, inclusive of storage and an attached garage, while attached ADUs are permitted up to 1,000 square feet. The size limitation and calculation method has been a challenge for many people interested in building ADUs who would like to build two bedrooms while providing all the other basic trappings of a domicile. The proposed legislation would allow each ADU, whether attached or detached, to be 1,000 square feet, exclusive of storage and any attached garage. It is possible that this proposal could be eliminated or modified to still count storage and attached garages as part of the allowed square footage.
Detached ADU Height Limit
Base height limits on detached ADUs range from 12 feet to 16 feet under current regulations. Additional height is allowed for butterfly, shed, and pitched roof designs above the base height, generally providing an extra three feet to seven feet in building height to work with. Height limits are broken into five tiers, depending upon lot widths, with the most restrictive height limits on lots less than 30 feet feet in width and most permissive on lots greater than 50 feet in width.
The proposed legislation would consolidate the number of tiers to three height limit variations and simplify the allowed building heights. Importantly, the proposal would generally allow an extra two feet for the base height limits, so that lots with less than 30 feet in width permit detached ADUs up to 14 feet in height. On lots with widths greater than 50 feet, detached ADUs could benefit from 18-foot height limits. On top of this, roof designs using green building strategies could benefit from a bonus two feet in height. If amendments are brought forward on the topic, they could reduce the proposal or eliminate it.
Rear Yard Lot Coverage
Seattle has unique provisions governing lot coverage by structures, which is geared toward promoting green space on lots and partially controlling building location and density on lots. In addition to a basic maximum lot coverage standard, detached ADUs are subject to a maximum 40% rear year lot coverage standard. The proposed legislation would increase this maximum to 60%, allowing larger detached ADU footprints, if the building height does not exceed 15 feet. If amendments are brought forward, they could apply the incentive to the conversion of existing rear yard accessory structures to detached ADUs or eliminate the proposal.
Off-Street Parking
Existing regulations generally require one off-street parking space for an ADU. Off-street parking can often be problematic to locating an detached ADU on-site or expanding the footprint of an existing residence for an attached ADU. Likewise, not all properties are able to obtain easy access connections to a public road due to the layout of sites and structures, not to mention the problems that new curb cuts can create (e.g., elimination of street trees and landscaping and impediments and danger to people on sidewalks). The proposed legislation would fully eliminate off-street parking requirements for new ADUs. However, existing required off-street parking located on a lot cannot be removed without replacing it elsewhere on the site, even if to accommodate a new ADU. It is possible that amendments on this topic could be brought forward, either eliminating the exemption or only requiring an off-street parking space for a second ADU.
Owner-Occupancy Requirements
ADUs are currently only permitted if the property owner agrees to owner-occupancy of either the main residence or ADU for at least six months per calendar year. This has been identified as a substantial barrier to may would-be ADU property owners. The proposed legislation would fully remove the owner-occupancy requirement for ADUs. If amendments are brought forward, they could retain owner-occupancy requirements for properties that have short-term vacation rentals operating on them or eliminate the proposal. Councilmember Herbold expressed interest in restricting short-term vacation rentals because as she sees it, rental housing and housing for long-term residents should be a priority of the city in the legislation.
Floor Area Ratios
New floor area ratio (FAR) limits would apply to single-family residential zones under the proposed legislation. The purpose of this is to slow the construction of new megahomes on residential lots, nudging property owners toward ADUs or would-be McMansion homeowners to suburbs outside the city. Generally speaking, the proposed legislation would set FAR for all structures at 0.5 on all single-family residential lots, except ones smaller than 5,000 square feet in size. On lots in the latter case, property owners would be authorized up to 2,500 square feet of total floor area on the lot, inclusive of all structures. However, ADUs would be exempt from the FAR cap. Additions to pre-existing homes would also be exempt from the FAR cap as long as they do not exceed a 20% increase. The proposed FAR limits is similar to other cities like Boston and Los Angeles.
Several possible amendments are possible, such as further increasing the allowed FAR, modifying the FAR exemptions, and not adopting an FAR standard.
Other Proposed Changes
The proposal includes a host of other changes that could find their way into final legislation. Key among these is a requirement tree retention and installation requirements when a new ADU is built. With this, there would be some flexibility in ADU design and development standard to retain existing on-site trees. Entrances to ADUs could also be located on any building face as long as the unit is at least 10 feet from a lot line, and height limit exceptions could be granted for minor projections like dormers that create more interior space for an ADU.
Councilmember Sally Bagshaw expressed an interest in limiting restricted parking zone decals per lot and coming up with pre-approved designs for ADUs to encourage more compatible structures with existing development, similar to an approach Portland has taken. Councilmember Kshama Sawant said that public funding for property owners to build ADUs on their lots is "crucial" to create more affordable units and place them on lots owned by working class households. She also encouraged looking at language about how to enact income- and rent-restricted requirements for a second ADU.
Next Steps
With the legal hurdles cleared, Councilmember O'Brien is looking to shepherd the legislation through relatively quickly. He introduced the ordinance on June 3rd at full council. A public hearing is tentatively scheduled for the following week June 11th and a committee vote on amendments and whether or not to move it to full council on June 18th. Final passage could occur shortly after that, but while this many seem like a short period, the overall policy development process has been ongoing for several years with substantial discussion occurring at the city council level already.

Stephen is a professional urban planner in Puget Sound with a passion for sustainable, livable, and diverse cities. He is especially interested in how policies, regulations, and programs can promote positive outcomes for communities. With stints in great cities like Bellingham and Cork, Stephen currently lives in Seattle. He primarily covers land use and transportation issues and has been with The Urbanist since 2014.