An extended transit-only lane is in the planning process for Wallingford. The Seattle Department of Transportation (SDOT) is proposing a small rechannelization of N 45th St between Midvale Ave N and Stone Way N, which could reduce dwell times in the westbound direction for Route 44, a workhorse in the King County Metro system.
The existing bus lane in the neighborhood picks up a half-block west of Stone Way N as N 45th St bends north and turns into N Midvale Pl. That westbound bus lane extends as far as the Green Lake Way N intersection and includes a queue jump, the result of earlier corridor improvements for transit implemented several years ago.
"We estimate that the N Midvale Pl transit lane extension will lead to time savings for about 44% of bus trips," said Ethan Bergeson of SDOT. "In addition to time savings, the transit lane extension will also have safety benefits because buses will not need to merge into the same lane as cars."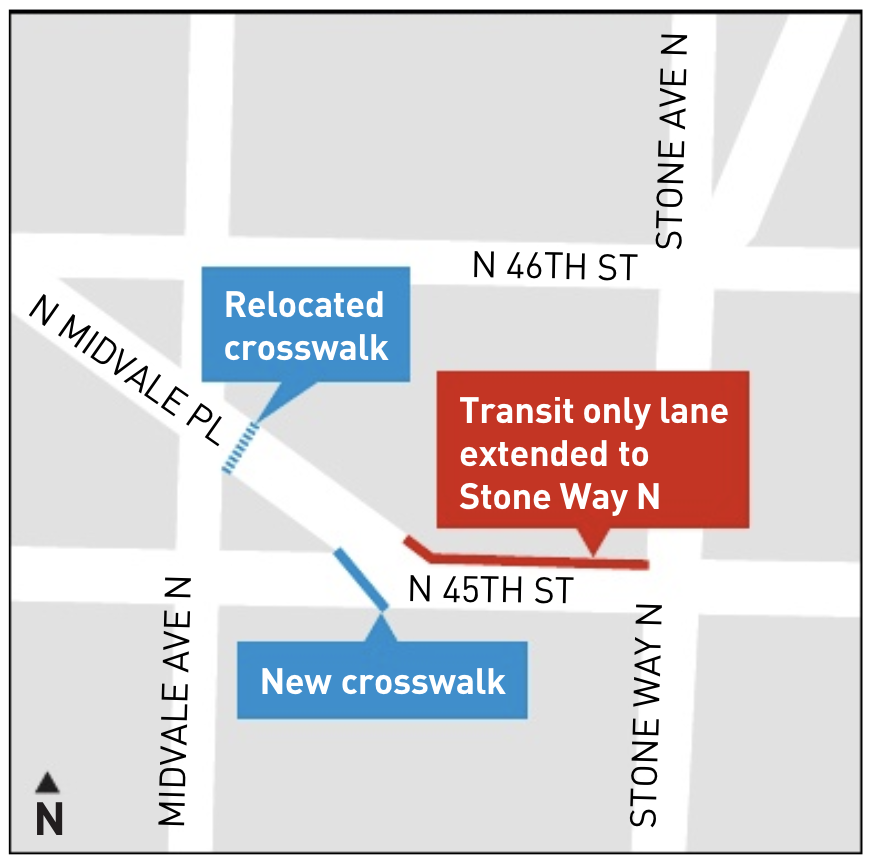 The vehicle-to-vehicle conflicts would be reduced in several ways:
SDOT plans to partially eliminate an intersection point on N 45th St by removing the westbound lane west of the street bend where the street turns into N Midvale Pl. Currently, vehicles can stay straight on N 45th St to reach Midvale Ave N instead of following the bend, but that means crossing a lane of traffic heading the opposition direction on N 45th St. SDOT would remove the stop sign at this intersection and convert the north side of N 45th St between the bend and Midvale Ave N into angled back-in on-street parking.
The new bus lane on N 45th St means that buses will not need to pull in and out of traffic, further reducing that potential conflict.
Rechannelization, as proposed, does mean changes for pedestrians. The existing midblock pedestrian crossing at the awkward bend-intersection would be moved back a half-block west on N Midvale Pl, which could mean longer walks for some people. This configuration realistically could result in safer crossings since the intersection at Midvale Ave N is more obvious to people driving. SDOT would also install a pedestrian crossing connecting the south side of N 45th St to the triangle island, which strangely is missing the marked crossing.
Under the preliminary schedule, improvements are planned for installation in winter 2020.

Stephen is a professional urban planner in Puget Sound with a passion for sustainable, livable, and diverse cities. He is especially interested in how policies, regulations, and programs can promote positive outcomes for communities. With stints in great cities like Bellingham and Cork, Stephen currently lives in Seattle. He primarily covers land use and transportation issues and has been with The Urbanist since 2014.