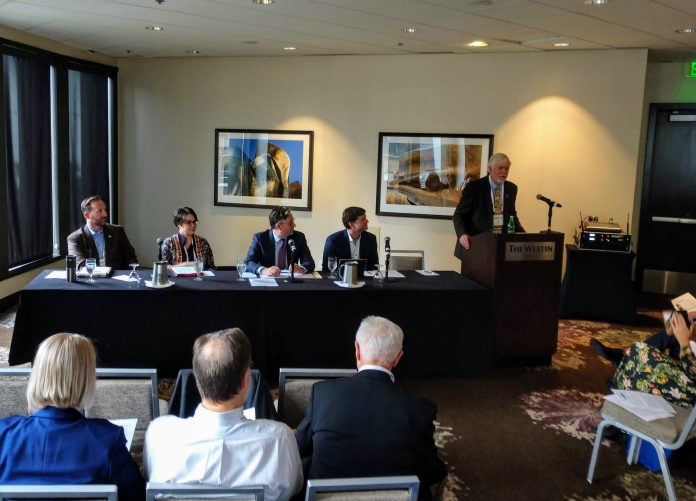 Yesterday, Challenge Seattle hosted a conference that demonstrated widespread support for high-speed rail among political and business leaders in Cascadia. And then there was Peter DeFazio, the Democrat who has represented Oregon's 4th Congressional District since 1987. During the "Federal Partnership" session, Representative DeFazio came out as a hyperloop enthusiast and high-speed rail skeptic.
The Southwest Oregon legislator emphasized the high-speed rail's cost and suggested that a hyperloop would be much much cheaper–despite little evidence for that other than dubious promises of erratic billionaires like Elon Musk. No pressurized vacuum tube mass transit system (i.e., hyperloop) operates anywhere in the world beyond small-scale experiments, and there have been broken promises for gullible cities like Los Angeles.
Rep. DeFazio's skepticism wouldn't matter much except that he chairs the U.S. House transportation committee, making him one of the most powerful transportation policymakers at the federal level. If Cascadia high-speed rail is to get significant support from the federal government, it will have to go through Chair DeFazio–at least until the next round of committee shakeups or his retirement. Rep. DeFazio is 72.
Business and governmental leaders from Oregon to British Columbia convened at the Westin in Seattle for the "Connect Cascadia" conference to explore how to foster stronger collaboration in the Cascadia region. The biggest course on the menu was high-speed rail from Vancouver, B.C. to Portland, and potentially on to Eugene. With Rep. DeFazio's notable exception, most speakers at the Cascadia Innovation Corridor conference seemed bullish about the prospects for high-speed rail along the I-5 corridor.
Governor Jay Inslee and British Columbia Premier John Horgan shared the stage and announced a new shared 100% clean energy grid pact between their jurisdictions. They both talked up high-speed rail as a means to to unite the region, drive down carbon emissions, and overcome congestion on I-5, which is hindering economic growth and mental well-being of many a traveler in the region.
$115 billion for I-5 widening or high-speed rail for a third the price?
In a transportation-focused breakout session, Washington State Department of Transportation (WSDOT) Secretary Roger Millar delivered an update on the "ultra-high-speed ground transportation" study–and the alternative of widening I-5. Adding one freeway lane in each direction from Canadian border to the Oregonian border would cost $110 billion, Millar said, "and the lanes would be full as soon as they open."

"So why spend money on ultra-high-speed rail with all this going on?" Millar said. "We need to look out 165 years. We need to look out 50 years. We need to think about what kind of population are we going to have, what's the land they're going to live on, and how are they going to get around."
"We looked at what would it take so that everybody can drive 60 miles per hour whenever they want. It's $115 billion dollars. If we built that on gas tax and bonded it on the gas tax, we would only need to raise our gas tax $2.50 to do it," Secretary Millar said. "And that's only the people here today. It doesn't account for growth. And it doesn't account for growth in city roads and county roads that would be connected to this glorious transportation system where you can drive 60 miles per hour any time you wanted."
"We've completed some preliminary studies of the corridor and a business case analysis," Millar continued. "We know we can build a system that would allow you from here to Portland and from here to Vancouver in less than a hour. We know that it would be an all-electric system and that it would be on a separated right-of-way. We know that it could reduce our greenhouse gas emissions by six million metric tons over next 40 years…"
Rep. DeFazio's knee-jerk analysis of Cascadia high-speed rail's viability, on the other hand, fails to take into account land use, climate impact, or the untenable alternative of automobiles continuing to play as big of role as they do now as our region grows.
Distributing growth along the line
As the breakout session progressed, the four city officials present from across Cascadia said they wanted high-speed rail for their city. That's how moderator Kevin Desmond, CEO of TransLink and former head of King County Metro, framed the issue. Travel between three anchor cities is important and a major ridership driver, he said, but connecting intermediate cities is also part of rationale for building it.
Distributing growth was a theme throughout the conference, and Mount Vernon Mayor Jill Boudreau said her community could take growth while still maintaining a high quality of life. Roughly halfway between Vancouver and Seattle, Mount Vernon has a population of about 35,000 and would be about a half hour away from either metropolis with high-speed rail.
Steve Stewart, who is city manager of Ridgefield, a city 20 miles north of Portland, agreed about high-speed rail's potential for his community. High-speed rail would allow them to conenct to the economic powerhouses of the region, while freeing them to specialize and play to their strengths.
Vancouver Mayor Kennedy Stewart noted one challenge for high-speed rail in getting community buy-in. "Benefits have to be much more widespread than they are now," he said.
Stewart mentioned a few mixed-income transit-oriented development strategies that Vancouver is trying to implement, such as rental-only zoning along the Broadway corridor, as Skytrain is extended out to the University of British Columbia at the tip of the peninsula.
Shiny objects: Scooters and autonomous vehicles
Rep. DeFazio also shared his thoughts about needing inflatable helmets for e-scooters given the safety crisis, and suggested autonomous vehicles are a few years away and would soon permit highways to carry twice the traffic. The helmet conversation is a common canard. It's not a bad idea to wear one while scooting, but the idea that our federal transportation officials should be focusing on scooters and helmets when 40,000 people die every year in car crashes–increasingly people walking, rolling, and biking who are run over by cars and SUVs–is a bit ridiculous.
As for autonomous vehicles, they may have a huge impact on our transportation system one day. But that day doesn't seem it's particularly close at hand. Autonomous vehicle companies are still trying to solve that pesky issue that also plagues human-piloted cars–namely not mowing down pedestrians and cyclists, which artificial intelligence struggles to identify.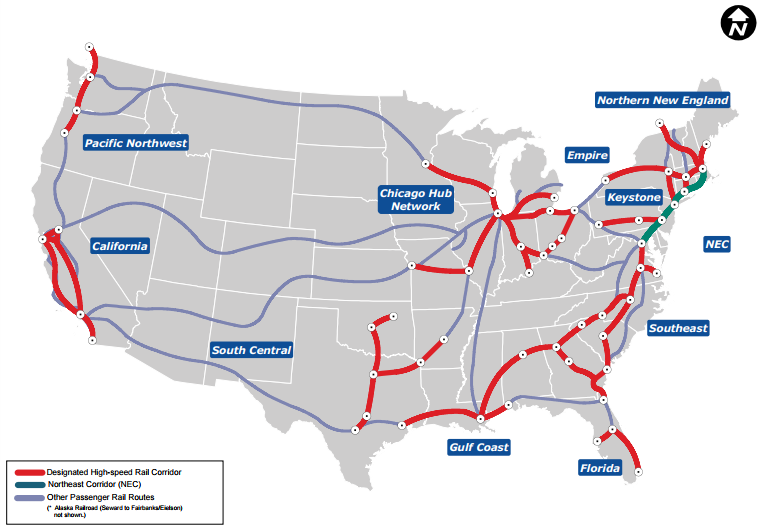 Rep. DeFazio also told Curbed he opposes regulating ridehailing companies like Uber and Lyft and scooter companies like Lime and Bird, preferring to let these companies regulate themselves. This seems out of step with the realities of exploitative practices ridehailing companies use–and cities like Seattle are stepping in to fill the regulatory and leadership vacuum. And if and when ridehailing companies switch to autonomous vehicles, a lack of federal oversight and regulatory interest would be free rein.
We've come to expect kooky or outmoded transportation ideas from Republican lawmakers. Hopefully, the next Democrat to take the helm of the federal government will do much better. Our planet depends on it. High-speed rail in key corridors like Cascadia would be a good place for the Feds to step in with support–or at least get out of the way.
It's our fall subscriber drive. If you appreciate reporting like this, please consider becoming a monthly donor.
2019 Fall Subscriber Drive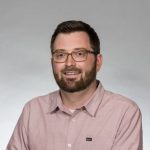 Doug Trumm is publisher of The Urbanist. An Urbanist writer since 2015, he dreams of pedestrianizing streets, blanketing the city in bus lanes, and unleashing a mass timber building spree to end the affordable housing shortage and avert our coming climate catastrophe. He graduated from the Evans School of Public Policy and Governance at the University of Washington in 2019. He lives in East Fremont and loves to explore the city on his bike.