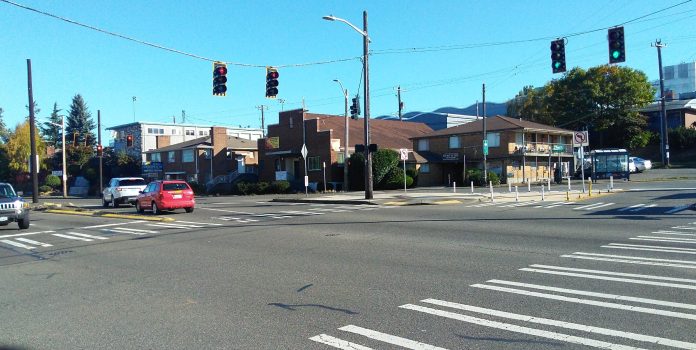 The Seattle Department of Transportation (SDOT) has shelved plans for a safety improvement adjacent to Asa Mercer Middle School in Beacon Hill, the location of the most automatic tickets for speeding in school zones anywhere in the city during the last full school year.
The project had been fully funded, and was selected by both Beacon Hill's District Neighborhood Council and the Move Seattle Levy Oversight committee as a part of the 2016 Neighborhood Street Fund (NSF) program. The idea for the project had originated in neighborhood planning dating from at least 2008 and was submitted to the NSF project in coordination with Mercer Middle School, according to SDOT's outreach materials. It was originally planned to be completed last year.
Ethan Bergerson of SDOT told The Urbanist in a statement: "After extensive design and coordination with the community, we were unable to reach a consensus on a design that could be supported by the community as a neighborhood proposed NSF project."
The project would have slowed traffic near the huge triangular intersection where 15th Avenue S joins S Columbian Way. Only one marked crosswalk exists on Columbian Way with a signalized crossing, and the expanse of roadway encourages high speeds through the intersection, which is used by middle schoolers before and after school in order to access transit heading north or south. Twice in the last five years a collision at this intersection has resulted in an overturned vehicle–these aren't fender benders.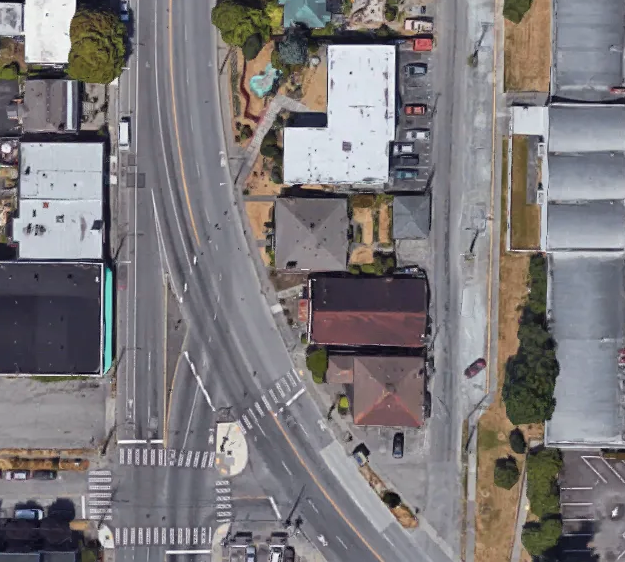 The safety improvement would have squared of the intersection by eliminating the the leg of the traffic triangle turbocharging 15th Avenue S through this trouble spot, requiring a turn to continue on 15th Avenue S south of Oregon Street. Instead, southbound 15th Avenue S transitions into Columbian Way without the messy interchange. A plaza would have been created with the remaining street space, a secondary consideration to reducing speeds.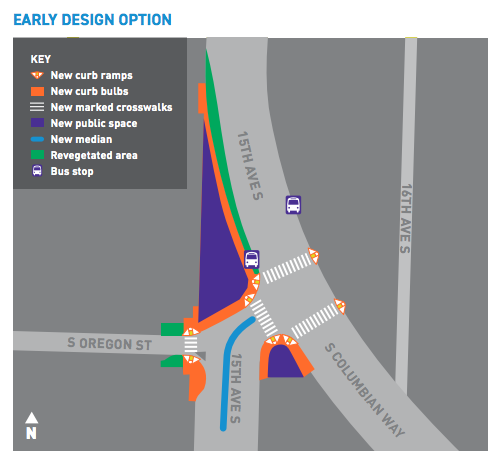 The primary design aspect that opponents of the project was the elimination of left turns from the eastbound S Oregon St onto northbound 15th Avenue S. Residents of the neighborhood to the west of the project argued that there was no good alternative to making that turn. We first reported on the objections to this safety project in July of 2017.
In response, SDOT offered to make improvements to nearby intersections that would mitigate the loss of that left turn, including adding a full all-way stop one block south at S Snoqualmie St and turning the pedestrian-only crossing signal two blocks north at S Dakota St into a fully signalized intersection. That full signal at Dakota was actually installed earlier this year. SDOT told us "we were able to accommodate this request outside of the NSF program."
They also developed an entirely new proposal that was presented in 2018 at community meetings: keeping the signal at S Oregon St that would have allowed left turns by eliminating the crosswalk on the north side of the intersection from the design. This increased maximum wait times for pedestrians to navigate the intersection to approximately three minutes, a fact not mentioned during their outreach process even as the vehicle travel times were prominently displayed.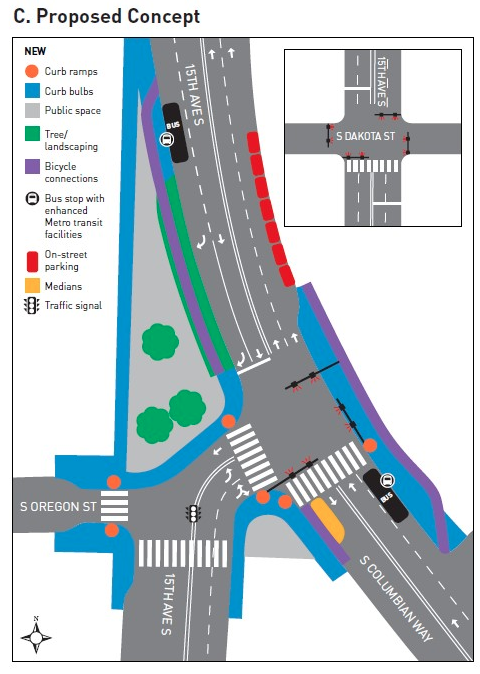 The school zone speed camera at southbound 15th Avenue S adjacent to the Middle School records an astronomical number of tickets issued: during the 2018-2019 school year, there were an astounding 8,012 tickets issued to drivers exceeding the 20mph speed limit, over 800 per month. The cameras only capture speeding at certain times of day immediately before and after school hours. This makes the southbound 15th Avenue S camera the busiest school zone camera in Seattle, way ahead of the second busiest on southbound 24th Avenue E at Montlake Elementary just south of SR-520. (Montlake Elementary also has the fourth busiest camera, the northbound one for 24th Avenue E, giving that school the title for most speed tickets overall–more than 12,000 in a single school year.)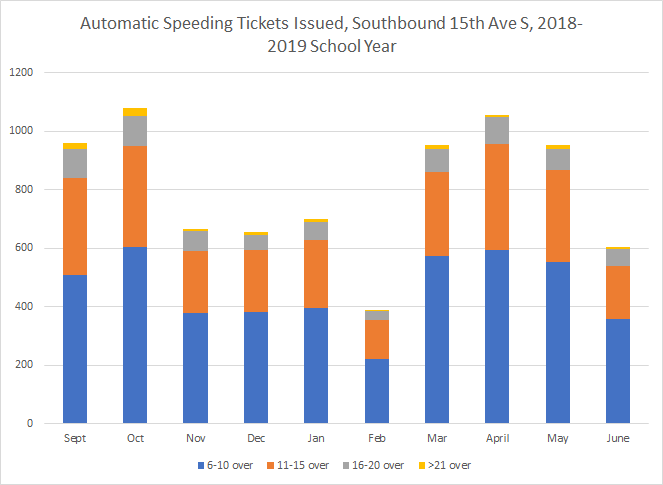 Margaret McCauley is a member of the City of Seattle's School Traffic Safety Committee (STSC). Reached via email, she told me, "STSC believes that SDOT should follow their own mandate to be 'data driven' and use the clear evidence that the current intersection design is not making it clear to drivers that they are in a neighborhood setting where children, the elderly, blind people, and people with mobility challenges are simply trying to get around and live their lives. If the speed camera data is not used to inform and improve our roads, what is the point of it?"
She continued, "I took my middle schooler to one of the public outreach sessions in 2018 thinking he might see how public engagement works. We were both horrified at the behavior of our adult neighbors. SDOT has talented engineers and designers. There are many thoughtful middle schoolers attending Mercer who are available to test potential intersection designs with SDOT. The data clearly shows that if we let the current adults decide how use this space, they choose to do so in a unsafe manner. If there is any point to school zone cameras beyond revenue generating, the City should make that clear by rapidly and physically making 15th and Columbian safe enough for middle schoolers busy impressing each other to cross."
According to SDOT, improvements to the intersection will be re-evaluated when the process for repaving 15th Avenue S begins, which is scheduled to be completed in 2021. But without full funding and with no clear support for completing the project as approved through the NSF process, even with numerous concessions made in the name of compromise along the way, that doesn't look very likely. 15th Avenue S and S Columbian Way will likely continue to see astronomical numbers of drivers speeding during school hours, and our chance to fix this intersection for the better appears to have passed. I really couldn't put it better than Margaret McCauley—what is the point of saying our transportation department is data-driven if we continue to see outcomes like these?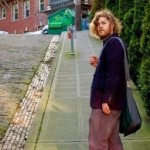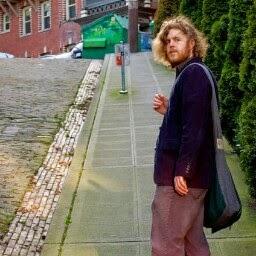 Ryan Packer lives in the Summit Slope neighborhood of Capitol Hill and has been writing for the The Urbanist since 2015. They report on multimodal transportation issues, #VisionZero, preservation, and local politics. They believe in using Seattle's history to help attain the vibrant, diverse city that we all wish to inhabit. Ryan's writing has appeared in Capitol Hill Seattle Blog, Bike Portland, and Seattle Bike Blog, where they also did a four-month stint as temporary editor.