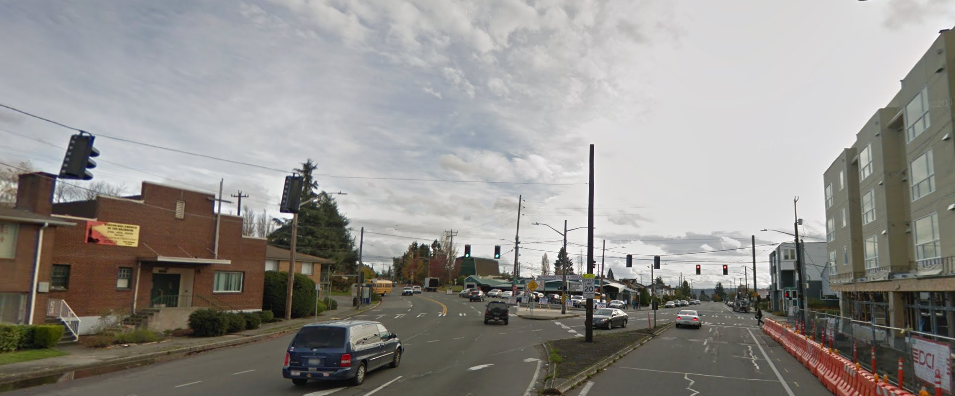 Around Seattle, a slate of street improvements that were approved nearly two years ago, in October of 2016, are being constructed. On Capitol Hill, street calming and new crosswalks are being added to E John St and E Thomas St. In West Seattle, a new bike signal will allow people to more easily access the Alki Trail. At Bailey Gatzert Elementary School in the Central District, S Washington St is about to close to add pedestrian scale lighting. Some projects, like one at N 40th St and Bagley Ave N in Wallingford are being pushed back to better coincide with other projects nearby in the next few years, but by the end of the summer most of the 2016 approved "Neighborhood Street Fund" projects will be wrapped up, creating safer and more improved streetscapes.
One project, however, remains stalled due to community pushback. Last summer, I wrote about how an attempt to tame an overbuilt intersection at 15th Ave S and S Columbian Way in Beacon Hill was generating pushback from community members. The project aims to square off the spot where 15th Ave S bends to meet S Columbian Way by converting some street space into a public plaza. The intersection is one block away from Mercer Middle School, and teens from the school use the intersection before and after school to access buses on 15th or Columbian.
At the time, the primary objection to the proposed changes to the intersection was to the removal of a traffic light on S Oregon St, which intersects with the other streets there from the west. Neighbors were concerned about losing a dedicated left turn onto 15th to head north, because at other east-west streets in the area it can be difficult to make a left turn onto 15th or Columbian due to infrequent breaks in traffic.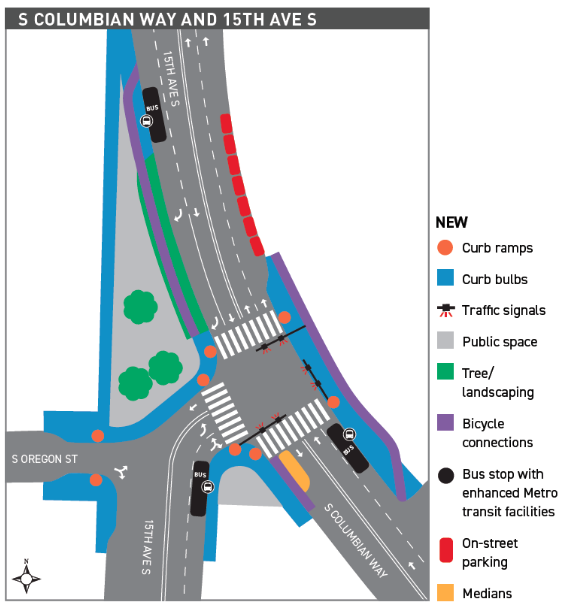 The first proposed fix for this problem was the addition of a four-way stop sign at S Snoqualmie St and 15th Ave S, which would allow drivers to turn left with minimal delay. That intersection is south of S Oregon St, and many neighbors were not happy with the idea of having to drive south to make a turn to go north, and so this change didn't suffice.
The next solution to the left turn issue was the proposed installation of a full traffic signal at S Dakota St, two blocks north of Oregon. Currently there is only a pedestrian half signal at that intersection, stopping traffic on 15th when a beg button is pushed. A full signal there would allow traffic to make a left from Dakota onto 15th without waiting for a break in traffic, and would allow drivers to avoid the 15th and Columbian intersection.
But even that was not enough to quell opposition to changes at Oregon. Now the Seattle Department of Transportation (SDOT) has released two additional options for changes at the intersection, of which only one is something that the department would actually implement.
"Option B", to contrast with "Option A" above, would retain the existing signal at S Oregon St, integrating it into the signal phases.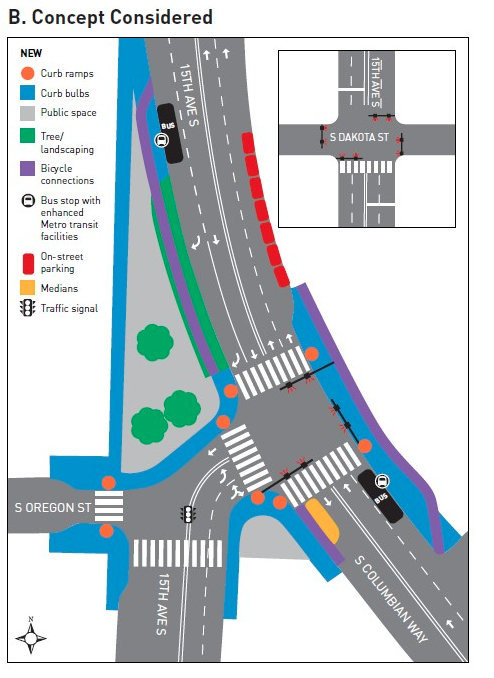 This option, after being reviewed by SDOT, showed times for vehicles to get through the intersection that were 72 seconds during the PM peak period and of more than 100 seconds during the AM peak. As a result of the intersection "failure" that this would cause, SDOT presented "Option C", which would reduce that delay for people driving by completely eliminating the north crosswalk.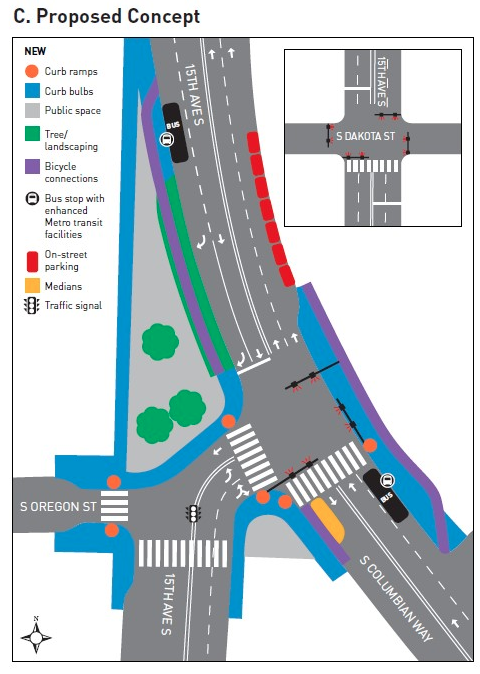 This project is primarily being done to benefit students traveling to and from Mercer Middle School, which is one block east of the intersection. Eliminating one of the crosswalks, which would leave the crossing configuration essentially as it is today, reduces the safety benefits of the project, for the benefit of keeping drivers moving through the intersection. The S Dakota St stoplight, which is still planned to be added, alleviated the complaints about making left turns while still preserving the project.
At a public meeting last week to hear community feedback on the project, SDOT staff did not have exact pedestrian signal timing information on hand, but did provide it to me after I asked for it. In the original proposal with a north crosswalk, if you just missed the walk signal to cross via the north crosswalk you would wait 111 seconds for it to come up again, leading to a maximum wait time to get through the entire intersection (including walking time) of over two minutes and twenty seconds. 

With the northern crosswalk eliminated, maximum time to cross the intersection could go up to nearly three minutes, with possible wait times to get the go-ahead to cross both legs of the intersection of a minute and a half (crossing 15th) and 30 seconds (crossing Columbian).

Either way, these times are way too high for the access routes between a middle school and the bus stops that students use to get to and from school. It's worth noting that high wait times for drivers were enough to prompt an entirely new design for the intersection, but pedestrian wait times, which haven't been presented to the public, do not seem to play into the project design much at all.
According to the Transportation Safety Research Board, middle school aged children have a "greater desire to take risk" when crossing streets, which could result in "walking across more risky roadways". Eliminating a crosswalk, combined with high times to cross at the remaining marked crosswalks, could present an opportunity to middle school kiddos to cross against the light, defeating the entire purpose of a redesign of the intersection. All for the benefit of drivers trying to get through the area as quickly as possible.
If that's where we're at with the project, it's worth considering if the project is worth doing at all. Or we could recenter the people who are intended to benefit from the project: the school kids who we're trying to protect as they get to and from school.
SDOT indicated at the public meeting last week that they may have another meeting on this project, but at that time the decision may already have been made. The time is now to make it clear to city councilmembers who can back up SDOT that "Option C" waters down this community-led project too much. Comments can be emailed to NSF15andColumbian@seattle.gov as well as to Councilmembers Bruce Harrell–who represents District 2 where this project will happen–and Teresa Mosqueda and Lorena González, who are both citywide representatives.
Update (9/10/18): Beacon Hill Safe Streets has created a petition that directly contacts city leadership about this project.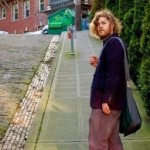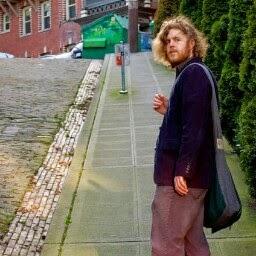 Ryan Packer lives in the Summit Slope neighborhood of Capitol Hill and has been writing for the The Urbanist since 2015. They report on multimodal transportation issues, #VisionZero, preservation, and local politics. They believe in using Seattle's history to help attain the vibrant, diverse city that we all wish to inhabit. Ryan's writing has appeared in Capitol Hill Seattle Blog, Bike Portland, and Seattle Bike Blog, where they also did a four-month stint as temporary editor.