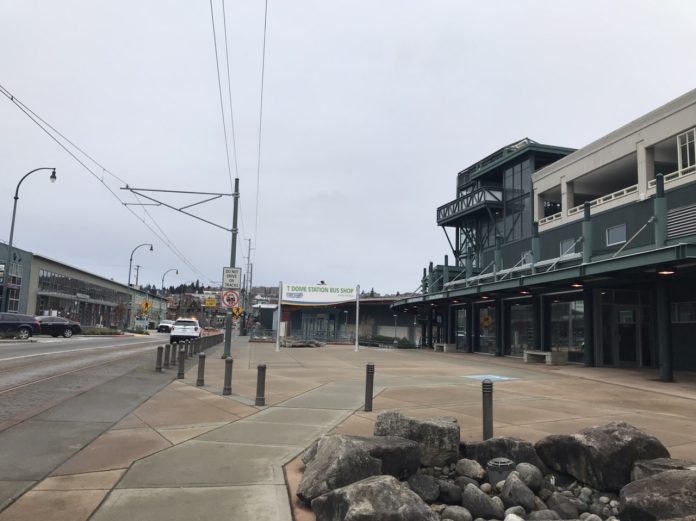 Pierce Transit has a vision of growth, but it will take a substantial amount of additional public investment to realize. A long-range plan update, as proposed, would put Pierce Transit to increase weekday ridership by 198% from 28,700 to 85,700 by 2040. This would be made possible by introducing three bus rapid transit lines, launching several new fixed bus routes, and increasing frequencies so that more routes benefit from 15-, 20-, and 30-minute service headways.
Pierce Transit has struggled in the past decade. The Great Recession devoured finances since the transit agency is heavily reliant on the sales tax. As a funding source, that type of tax is highly volatile to economic circumstances and based upon consumer purchasing. Demand for goods, particularly of high value, plummeted during the Great Recession in Pierce County. The transit agency also did not have a well-padded rainy-day fund to pull from to cover continued operational expenses.
The combined financial troubles of Pierce Transit led to massive service reductions after reaching a record high of about 660,000 annual service hours in 2008. The transit agency subsequently tried to obtain voter approval for new taxing authority to save and expand service. However, anti-tax activists led by the car sales lobby were successful in ensuring rejection of new taxes at the ballot box.
In order to create service efficiencies and consolidate bus service, Pierce Transit sought to reduce the geographic area of its Public Transportation Benefit Area (PTBA) in 2012. Cities like Bonney Lake, Buckley, and Sumner were taken out of the PTBA meaning that they would no longer be taxed but also would no longer benefit from bus service, limited as it was.
One way to fund service expansion that Pierce Transit is actively exploring is a sales tax increase. Existing statutory authority allows Pierce Transit to levy a 0.9% sales tax whereas the transit agency only currently levies a 0.6% sales tax. An additional sales tax is projected to raise an additional $262.09 million over the next five years, or an average of $52.42 million per year. For comparison, the 0.6% sales tax is projected to raise $97.5 million this year.
Revenue growth in the sales tax for Pierce Transit is relatively healthy. Projections indicate that it will grow about 5% over last year. Of course, inflation and operating costs may wind up eating away at much of that revenue growth. Still, rapid growth in tax receipts is a positive thing in advancing eventual service growth.
The long-range plan update indicates that the sales tax would be split 70% for new service and operations and 30% for capital investments, such as an expanded fleet and larger bus base facilities. The update also outlines how an increase in the sales tax could be used to fund service expansion to about 735,000 annual service hours in four buckets. Given existing service levels, that equates to about an additional 234,870 annual service hours or a 55% increase. So far about 213,000 annual service hours have been identified for various improvements:
The first bucket would invest more than 54% of new service hours into higher frequencies. This would help workhorse Routes 1, 2, 3, and 4 reach 15-minute frequencies on weekdays and 20-minute frequencies on weekends during the daytime. A secondary priority for this bucket would be 20-minute weekday daytime frequencies on six other routes. Service hours would also improve weekday and weekend daytime service to 30-minute frequencies on more than a dozen routes.
The second bucket would invest about 12% of new service hours on increased span of service. Most of this would be focused on non-truck routes to extend weekday and Saturday service until 10pm and Sunday service until 8pm. But about 5,600 annual service hours would go to workhorse Routes 1, 2, 3, and 4 to have service operate until at least 10pm on all days.
The third bucket would be invest about 21% of new service on new routes. This would facilitate extension of Route 54 further south to Parkland, a new Ruston Way express bus, and New Route 51 that would run from Lakewood to Tacoma via University Place using a north-south pathway. Not yet accounted for in this bucket is the number of service hours for a second bus rapid transit line when upgrading Route 2.
The fourth bucket would invest about 13% of new service hours in new mobility projects. Three zones are conceived for the Ruston, Port of Tacoma, and Midland-Parkland-Spanaway areas that would each be served by three vehicles for local service. Each vehicle would be programmed with about 3,000 annual service hours.
Pierce Transit has charted out what all of this new service might look like by corridor and frequency. A grid of 15-minute or better frequency at peak would begin to form across central Tacoma as well as South Tacoma, Lakewood, Midland, Parkland, Spanaway, Summit, and South Hill. Peak frequencies of 30 minutes or better would be much more widely offered across Tacoma, University Place, Puyallup, Lakewood, and unincorporated areas in between.
Eventually though, Pierce Transit would like to roll out bus rapid transit (BRT) across its service area. Route 1 is already well into the development process and should launch as a bus rapid transit line in 2022, serving communities between Downtown Tacoma and Spanaway. Four other corridors, however, are proposed in the long-range plan update. These include:
BRT 2 route from Downtown Tacoma to Lakewood Mall via South Tacoma–just barely missing Lakewood Station (a commuter rail station);
BRT 3 from Downtown Tacoma to Lakewood Mall via Tacoma Community College and University Place;
BRT 4 from SR-512 Park-and-Ride (Lakewood) to South Hill (Puyallup) via E 112th St; and
BRT 5 from Puyallup Station to Pierce County Airport via South Hill.
The latter routing is an odd but interesting choice, but may be indicative of Pierce County's hopes to eventually gain the region's second or third major commercial passenger airport.
Expansion of the Tacoma streetcar, regional light rail, and commuter rail should help improve transit access and service during the planning horizon. It stands to reason that Pierce Transit will be able to overhaul some of the local bus network to benefit from those investments by connecting and feeding into them rather than duplicating them. Although, the BRT 3 corridor proposed seems to make the mistake of covering the same corridor as the Tacoma streetcar extension planned to Tacoma Community College by 2039. A better investment may be helping Sound Transit in financing that streetcar extension for an earlier opening or focusing on the southern portion of the corridor.
Not clear in the updated long-range plan, however, is whether or not the service area and taxing district might expand during the 2040 planning horizon. There are real tradeoffs in doing so. Cost of operational service to some of the further out communities is higher with lower rates of transit ridership. Voting trends of those communities have shown that many residents are reticent to support basic public services like transit, which is a risk to creating a more nimble and expanding transit network. However, expanding transit service to provide better access to opportunity for lower-income households, improve local economic vitality, and reduce congestion and carbon emissions are all important considerations in enlarging the service area.
Whatever the case, expanding Pierce Transit service would be greatly welcome to Pierce County where local transit service is anemic. Increases in new service have largely been on the margins with little opportunity for further growth short of buoying revenues to aid expansion. The updated plan shows the way as a strategic increase in revenues can unleash service that nearly triples ridership for a relatively small price.

Stephen is a professional urban planner in Puget Sound with a passion for sustainable, livable, and diverse cities. He is especially interested in how policies, regulations, and programs can promote positive outcomes for communities. With stints in great cities like Bellingham and Cork, Stephen currently lives in Seattle. He primarily covers land use and transportation issues and has been with The Urbanist since 2014.