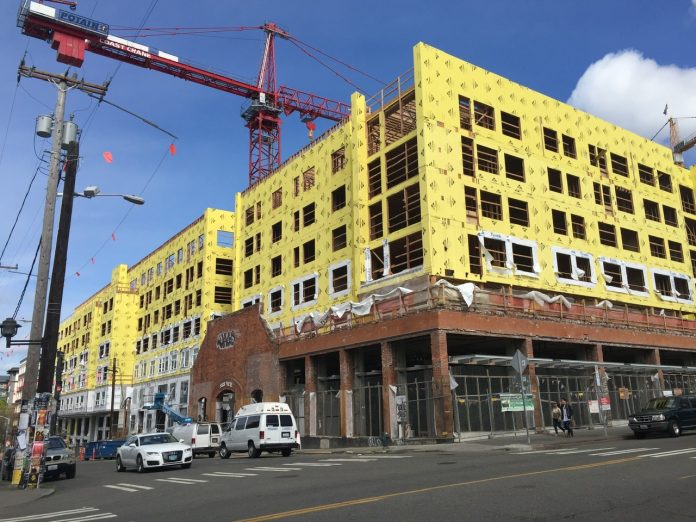 Most construction projects in Washington have been stalled out since mid-March when Governor Jay Inslee deemed the industry largely non-essential, except for critical infrastructure and low-income housing projects, as part of his stay at home order to reduce COVID-19 transmission. That changed on Friday when the governor issued a revised order allowing some construction projects to start up again if following required precautions. The revised order focuses on low-risk construction projects as part of a three-phase effort to fully restore construction activity in the state, which is critical to delivering needed infrastructure, housing, and future business opportunities.
In the first phase, the governor has established 30 separate health and safety requirements for builders to follow in order to recommence construction projects. An overarching set of principles stipulated in the revised order, however, are that a project must have already been under construction prior to the original order and social distancing protocols must be strictly enforced to be considered low-risk.
"Any existing construction projects complying with the points below may resume only those work activities that do not require workers to be closer than six-feet together," the revised order states. "If a work activity requires workers to be closer than six-feet, it is not considered low-risk and is not authorized. Adherence to the physical distancing requirement and the health and safety points below will be strictly enforced." Despite the stiff language, there are limited allowances for work that cannot maintain a six-foot distance between workers.
Since last week, the Governor's Office has clarified in a memorandum that the revised order considers "authorized construction" activities to be all projects that were previously authorized in the original order and all construction projects that were in existence before March 23rd–those being any project where a contractural obligation for construction activity was in place or where a permit approval for construction had been obtained. New construction projects will, for now, remain on hold. That may change in the coming weeks or months though if a second phase loosening restrictions is authorized by the governor.
The 30 health and safety requirements were developed as part of a collaborative effort between the Governor's Office, Washington State Department of Commerce, other relevant state agencies, and industry representatives. Many industry leaders praised this effort during the governor's press conference last week, urging all builders to tightly follow the requirements to keep industry open.
"I thank all those involved in the construction work group in helping us get to this decision in a responsible way that supports workers, businesses, and communities in a way that protects the health of all of their families and ours," the governor said. "Our strategy is working and we need to keep with it. We would much rather protect people from sickness and death now, so that we don't have to go through this crisis all over again later."
Builders will need to ensure that strict health and safety plans to reduce and mitigate exposure to COVID-19 are developed and implemented for each construction site. That means builders will have to ensure that that these plans include robust strategies, such as:
Equipping all construction workers with proper personal protective equipment;
Fully practicing social distancing between workers;
Providing on-site sanitation stations and enforcing good worker hygiene;
Active health and incident monitoring by site management;
Fully decontaminating the site if exposure occurs; and
Providing COVID-19 health and safety trainings for all staff.
The plans will not only need to be fully communicated to staff, but will also need to be conspicuously posted on-site so that staff can refer to them and be available for inspection by state and local authorities.
The requirements are broken down into seven general categories. The first of these deals with site supervision, which will be of absolute preeminence. "A site-specific COVID-19 Supervisor shall be designated by the contractor at every job site to monitor the health of employees and enforce the COVID-19 job site safety plan," the requirement states. "A designated COVID-19 Supervisor must be present at all times during construction activities, except on single-family residential job sites with 6 or fewer people on the site."
Safety training is the next bucket. All staff will need to be trained on COVID-19 safety on the first day back to work. Each week thereafter, trainings will need to be carried out to keep staff refreshed on COVID-19 safety practices. Social distancing may be a challenge on construction sites at times, but the state has put an emphasis on several requirements to maintain proper separation at all times, actively identifying and controlling worksite "choke points" and "high-risk" areas, and managing the flow of site activity to reduce congestion and proximity between workers.
Construction workers are used to personal protective equipment, but given the run on many supplies, builders may need to get creative to meet the requirements outlined. At minimum, all workers will need to wear some type of face mask as well as protective eye wear and gloves at all times. Other types of personal protective equipment may be appropriate for workers, depending upon the type of tasks they are doing.
For sanitation, worksites will need to be outfitted with handwashing stations, which may be portable. Even if running water is not available, these will need to be equipped with soap. Handsanitizer is also encouraged, but only as a supplement, not a substitute to handwashing stations. Disinfectants will also need to be used to deeply clean equipment and high-touch surfaces throughout worksites.
Health screening and monitoring will need to be strictly enforced. Firstly, workers exhibiting or feeling illness should be sent home or stay home. Secondly, workers will need to be screened each day before starting work, including a temperature check (anything 100.4°F or above will be considered a fever and require the worker go home). But workers should use their judgement and report any illness or symptoms that they may be feeling on the job or if they have sick family members at home COVID-19 to their supervisors so that they can act accordingly.
Finally, the requirements stipulate that all workers and visitors to worksites be logged. This information will need to be on hand for at least four weeks in case COVID-19 contact tracing needs to be carried out.
The construction industry is a major element of the state economy–accounting for over $18 billion in added value as well as sizeable receipts in sales taxes and real estate excise taxes for state and local governments–and is critical to the livelihoods of people for housing, services, and jobs. But it will be a test case in how business is able to deeply comply with strategies to reduce COVID-19 exposure while still being productive.
In the next several weeks, it should be evident how well these strategies are working and if an industry can adapt. In the meantime, the governor plans to collaborate with other major industries to develop similar health and safety programs to restore their activities since some form of his orders restricting operations of non-essential businesses are likely to be extended for the foreseeable future.

Stephen is a professional urban planner in Puget Sound with a passion for sustainable, livable, and diverse cities. He is especially interested in how policies, regulations, and programs can promote positive outcomes for communities. With stints in great cities like Bellingham and Cork, Stephen currently lives in Seattle. He primarily covers land use and transportation issues and has been with The Urbanist since 2014.