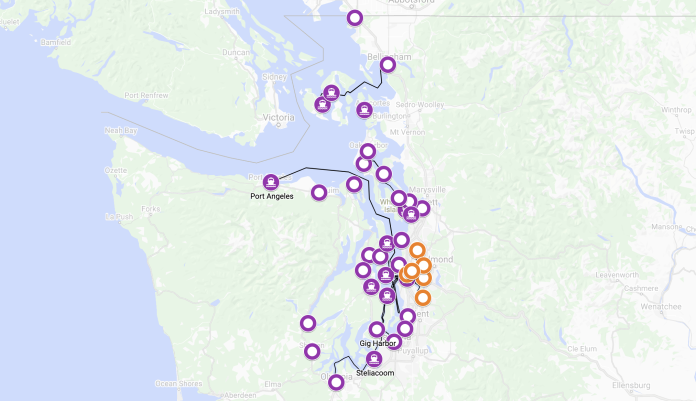 The passenger-only ferry (POF) system is set to grow in Puget Sound with the introduction of new service between Southworth and Seattle, making it the sixth POF in the Central Puget Sound Region, but could more destinations be on the horizon? The Puget Sound Regional Council (PSRC) is exploring that question in a study of 40 destinations and 15 routes. Not all of those are likely to the make the final cut in the study, but destinations as far away as Olympia, Port Angeles, and Blaine have been put into the initial screening process. The study is also looking at a half-dozen destinations on Lake Washington, Union Bay, and Lake Union.
The PSRC is studying possible POF routes for 11 Puget Sound counties on behalf of the state to determine viability and what it would take to launch new service. House Bill 1160, passed in 2019, tasked the PSRC with the effort. In 2008, the PSRC produced the last regional POF study, which has been instrumental in informing expansion of the POF network since. That study laid the groundwork for POF routes like Kingston-Seattle and Southworth-Seattle (not yet in service) operated by Kitsap Transit.
King County Metro has its own process underway to study new POF routes for the King County Water Taxi system. In December, the transit agency sought feedback on eight destinations and six routes, which could bring new service to parts of Lake Washington, Union Bay, Lake Union, and Shilshole Bay. There is some overlap between the Metro and PSRC study, but Metro's would essentially update a similar King County study from 2015.
The initial 15 routes identified by the PSRC include the following destination pairs:
Downtown Seattle-Seattle (Shilshole Bay);
Downtown Seattle-Suquamish;
Downtown Seattle-Tacoma;
Downtown Seattle-Des Moines;
Downtown Seattle-Olympia;
Downtown Seattle-Port Angeles;
Seattle (Lake Union)-Renton;
Seattle (Union Bay)-Kirkland;
Seattle (Union Bay)-Kenmore;
Bainbridge Island-Des Moines;
Everett-Clinton;
Everett-Langley;
Langley-Camano Island;
Coupeville-Camano Island; and
Bellingham-Friday Harbor.
This shortlist of routes may get trimmed and may be further refined depending upon the feedback received in the online survey. Ideas for other routes by the public could influence whether or not other destination pairs are worth studying in detail as well.
Many of the routes in the shortlist were studied in 2008. Twelve years on, circumstances may have changed enough in some communities that make potential routes more viable for public investment. However, there are some shortlisted that were lavishly expensive in the last study and probably not worth any further analysis:
Shilshole Bay with service to Downtown Seattle was projected to carry a mere 10 daily weekday riders and cost an astounding $139.92 per boarding;
Des Moines with service Downtown Seattle was projected to carry just 60 daily weekday riders and cost $127.67 per boarding; and
Service between Bainbridge Island and Des Moines was projected to carry 270 daily weekday riders and cost $58.76 per boarding.
The Suquamish-Downtown Seattle route was also quite expensive at $32.87 per boarding. However, assumptions for ridership were still fairly modest at 310 daily weekday riders. That number is probably much higher even if Suquamish would be competing somewhat with Kingston and Bainbridge Island for some ridership.
The Kirkland-to-Union Bay route, however, was much more affordable in the study at $23.36 per boarding with 420 daily weekday riders. Transfers, trip times, and comparable transit options across Lake Washington make the route highly questionable though. It is not clear what the route would really be solving for most riders. Likewise, the Kenmore-to-Union Bay route is questionable for the same reasons, despite the study indicating only 10 daily weekday riders and astronomical costs of $324.94 per boarding (a separate study by Metro found ridership to much higher and costs per boarding much lower).
The initial shortlist does have some very interesting routes that could be studied. Service from Everett and Whidbey Island locations could come out as quite viable. There is a strong workforce connection between the island and that part of Snohomish County, and could increase that connection if travel times were greatly reduced to jobsites over Mukilteo ferry. Routes connecting Bellingham and San Juan Island destinations may also be viable options.
But there might be other viable routes that are not already on the shortlist. Thinking outside the box, Shilshole Bay could be a useful port of call in next decade. In 2035, light rail to Ballard is set to arrive. Perhaps a ferry-bus-light rail connection could be competitive for some jobs, particularly between Ballard and Downtown Seattle. That type of port would also be beneficial people who work or have connections in Ballard and in places as far away as Children's Hospital in Laurelhurst along the Route 44 corridor.
As much effort has been put in to routes connecting Seattle with Tacoma and Olympia, it is really hard to see how any water-based route would be faster than ground-based transportation, setting aside what is bound to be astronomical service costs. But those routes appear set to be studied, if only to put them to rest.
The regional POF study is expected to run through early 2021, when a final study report is due to the Washington State Legislature. Right now, the project is in its second phase which is critical in determining potential destinations and routes. An initial assessment of those should wrap up by the end of summer. Toward the end of summer, the PSRC will move to start drafting the formal study, which will be followed by a check-in late this year before finalizing the study. For now, the PSRC has a survey open through June 4th seeking feedback on which potential destinations and routes should make the cut for further study.
Like the study that came before in 2008, this study could chart a course for new POF routes in Puget Sound. Not all studied routes will be viable or sensible, but many may rise to the top as real competitive candidates worth further analysis and real public investment, including previously discounted routes. In the wake of changed circumstances, studies like this are valuable in taking stock every so often to envision how communities can be better connected across the region's expansive waterways.

Stephen is a professional urban planner in Puget Sound with a passion for sustainable, livable, and diverse cities. He is especially interested in how policies, regulations, and programs can promote positive outcomes for communities. With stints in great cities like Bellingham and Cork, Stephen currently lives in Seattle. He primarily covers land use and transportation issues and has been with The Urbanist since 2014.