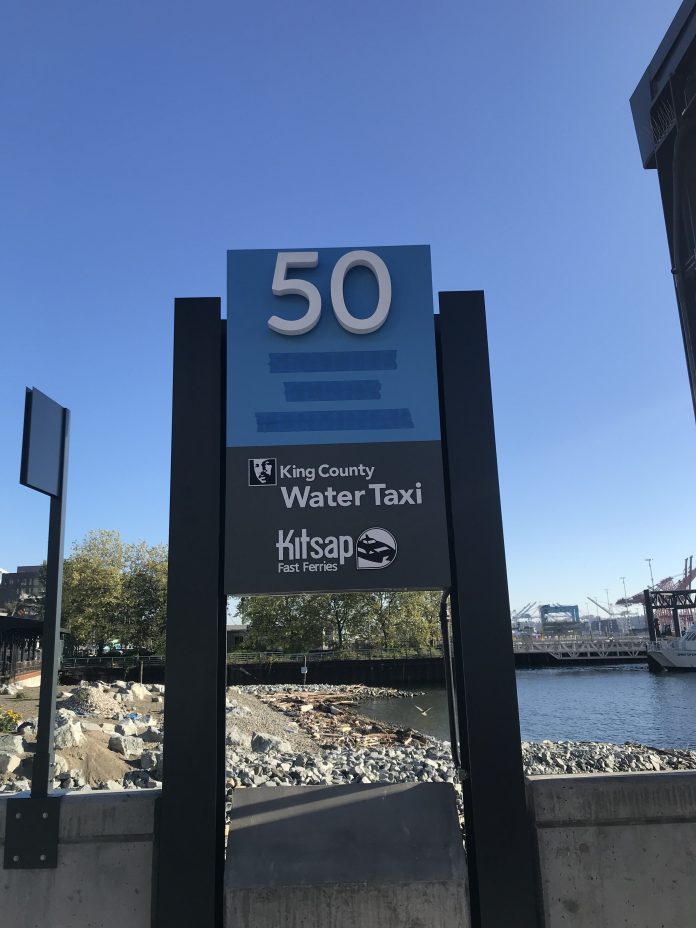 A new passenger-only fast ferry route is poised to begin service from Southworth next year. The service would operate on weekdays between Southworth and Seattle with six daily sailings each way. During the summer sailing season, service would be expanded to include Saturdays.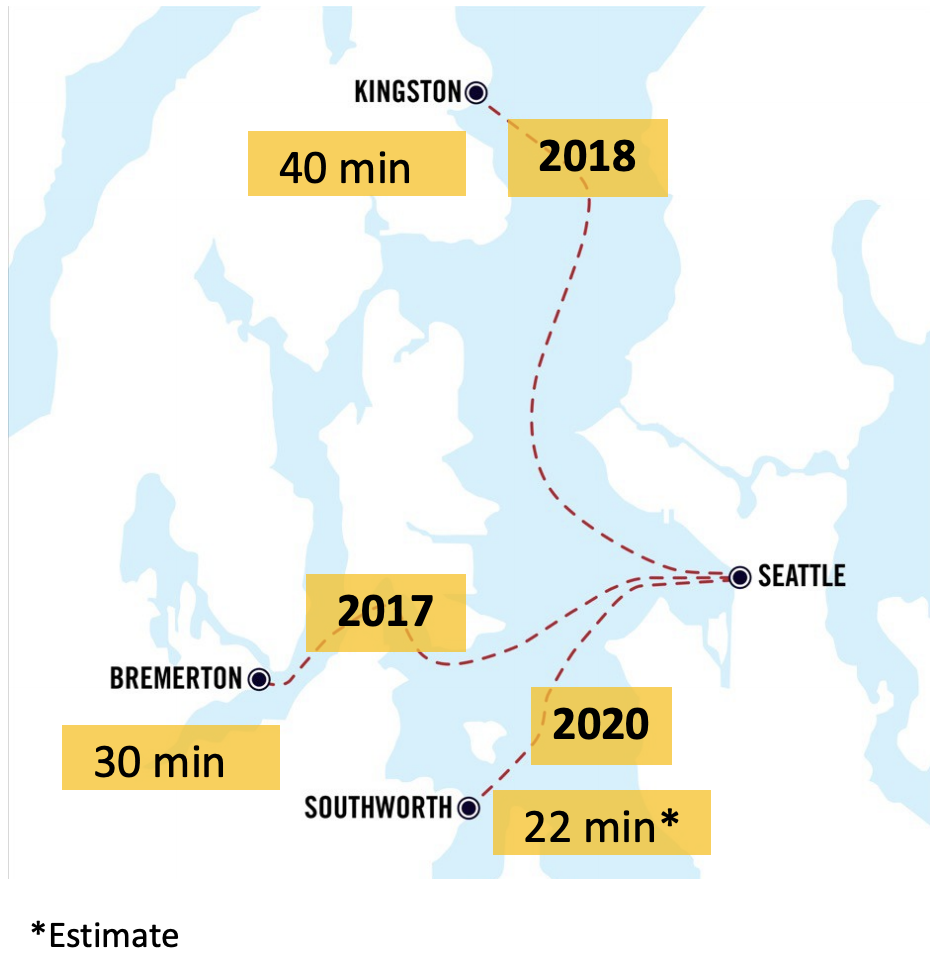 Over the weekend, staff from Kitsap Transit met with the Southworth community to discuss of the new service, including the vessels to be used, service levels, and possible landside connections. The new route will begin next year, coming on the heels of passenger-only fast ferry service from Bremerton (2017) and Kingston (2018). Kitsap County voters approved a sales tax in 2016 that paved the way for the ferry expansion.
Kitsap Transit plans to use small bow-loading vessels for the Southworth route. These vessels have a carrying capacity of 250 passengers in addition to room for 26 bike racks. Service is planned as first-come-first-served since Kitsap Transit does not offer reservations. Two vessels are currently being commissioned with MV Commander due for delivery in April or May followed by MV Enetai about three months later.
Kitsap Transit plans to put the MV Commander into regular service on the Kingston route to relieve the MV Finest as a backup vessel. The MV Finest is current the primary vessel for the Kingston route. For the new Southworth route, the MV Enetai will become the permanent primary vessel. However, when the MV Enetai must be taken out of regular service, the MV Commander will act as the backup vessel.
Travel times between Southworth and Seattle are slated to be in the range from 21 to 26 minutes, which is highly competitive with existing ferry options. Docking time, however, could affect trip times. This could be particularly acute at the Pier 50 in Seattle, which has two slips for vessels. At peak times, demand can be high as four routes split between King County Metro and Kitsap Transit already operate from the dock; the Southworth route will make for a fifth. Kitsap Transit plans to work on schedule coordination to minimize conflicts and service delays.
Kitsap Transit operates a comprehensive network of foot ferries, including the Port Orchard-Bremerton, Annapolis-Bremerton, Bremerton-Seattle (Pier 50), and Kingston-Seattle (Pier 50) routes. Metro also operates two routes as the King County Water Taxi from West Seattle and Vashon Island to Seattle (Pier 50).
Southworth is already connected to Seattle, but not directly to Downtown Seattle. Washington State Ferries (WSF) operates a two-vessel triangle route from Southworth with stops at Fauntleroy in West Seattle and Vashon Island. The trip time to Seattle is about 40 minutes on WSF vessels and requires transfer to the RapidRide C Line to reach Downtown Seattle.
For now, Kitsap Transit will have to share a slip at the Southworth ferry dock with WSF. That could change by 2027 if WSF's long-range plan is realized. A second slip for passenger-only ferries could be constructed sometime between then and 2022, but no funding has yet been identified by the state.
Kitsap Transit is in the process of determining how connecting buses could serve the Southworth fast ferry without causing disruptions to WSF operations. The transit agency is seeking feedback on whether or not future riders want more bus service to the ferry terminal. Kitsap Transit also has seven nearby park-and-ride lots within a short distance of the Southworth ferry terminal. The transit agency wants to know if locals would opt to use those facilities for carpooling or connecting bus service.
An online survey for fast ferry priorities is open for the next few weeks.

Stephen is a professional urban planner in Puget Sound with a passion for sustainable, livable, and diverse cities. He is especially interested in how policies, regulations, and programs can promote positive outcomes for communities. With stints in great cities like Bellingham and Cork, Stephen currently lives in Seattle. He primarily covers land use and transportation issues and has been with The Urbanist since 2014.