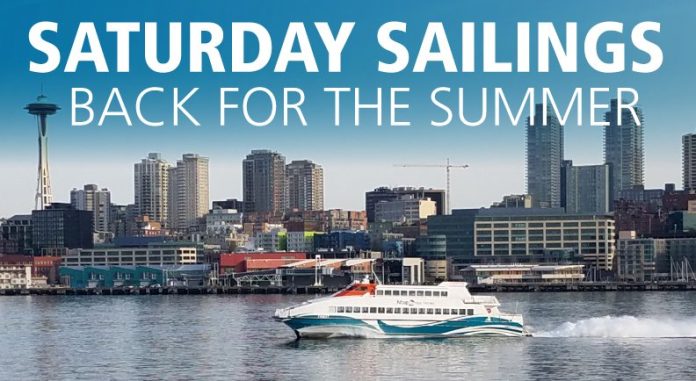 In a few weeks, Kitsap Transit will improve their fast ferry and foot ferry services on Saturdays. King County Water Taxi has already gone to their summer schedule as part of the March service change. And Intercity Transit flew under the radar beefing up Sunday service immensely.
Kitsap Transit service change in May
In May, Kitsap Transit will roll out the summer sailing schedule for the transit agency's fast ferry services. The fast ferries operate from Bremerton and Kingston to Seattle for walk-on passengers only. The summer sailings will bring the return of Saturday service to the Bremerton-Seattle route and commence for the first time Saturday service on the Kingston-Seattle route. Saturday service on the Bremerton-Port Orchard foot ferry will also be extended.
The service change starts on Saturday, May 4th. The Bremerton-Seattle fast ferry will provide service on Saturdays every 1.5 hours per direction. The first sailing will depart Bremerton at 9.20am and the last sailing will depart Seattle at 11.30pm. Crossings take approximately 30 minutes.
Likewise, the Kingston-Seattle fast ferry route will add Saturday service with sailings every 1.66 hours per direction. The first sailing will depart Kingston at 9.15am and the last sailing will depart Seattle at 11.25pm. Crossings take approximately 40 minutes. To support the new service, Kitsap Transit will operate Route 307 from the North Viking Park & Ride in Poulsbo to the Kingston Ferry Terminal. The last trip on this route, however, will be 6.56pm from the Kingston Ferry Terminal.
On Saturdays, Bremerton-Port Orchard foot ferry service will be extended until 11.45pm with the last departure from Bremerton.
Looking ahead, the Transit Development Plan for Kitsap Transit indicates that service on the fast ferry routes will increase by about another 50% by 2023. Ridership has grown rapid in the past few years, too. In 2017, Kitsap Transit reported ridership of 117,078 passengers on the fast ferry routes. Ridership topped 334,912 passengers last year, but that should rise significantly this year. By 2023, Kitsap Transit projects a conservative ridership of 500,000 passengers.
Ridership on the fast ferries has been growing as service improvements have been rolled out. Last fall, Kitsap Transit made a big gamble on the Kingston-Seattle route. That seems to be paying off in the peak direction, but ridership in the reverse-peak direction is not as stellar as the Bremerton-Seattle route. Eventually, Kitsap Transit would like to provide fast ferry service from Southworth to Seattle.
King County Water Taxi recently implemented service changes
In late March, the King County Water Taxi began running the summer service. The water taxi runs seven days a week from Pier 50 at the Colman Ferry Dock to the Seacrest pier in West Seattle. The service now includes late evening sailings on Fridays and Saturdays. King County Metro Routes 773 and 775 continue to meet the ferry trips, connecting passengers in Alaska Junction, Admiral District, and Alki. The summer service will run through October 25th.
Intercity Transit improved service, particularly on Sundays
In Thurston County, Intercity Transit implemented some noticeable service improvements in late March. Sunday service was increased a full 63% and additional trips were added on weekdays and Saturdays. With the improved service, the transit agency now has three primary corridors with 15-minute or better frequencies seven days a week. Routes 13, 12 and 42 (combined), 48, and 62A and 62B (combined) provide the high frequency corridors.
Intercity Transit added service as follows:
Routes 21, 42, 45, 48, 60, 64, and 66 received extra weekday morning trips.
Route 13 received extra trips on weekday evenings.
Route 41 received extra trips on Saturdays.
Routes 62A and 62B received extra trips on weekday mornings and evenings, throughout Sundays, and saw overall Sunday service levels match Saturdays.
Generally, Sunday service on routes were raised to Saturday levels.
Other small revisions were made to service, including the alignment of Route 45 and time points.
In the fall, Intercity Transit plans to open a new downtown transit center in Olympia. The expanded transit center will add five bus bays and 11,000 square feet of space. The expansion will include a new waiting area, customer service area to support ticketing, and restrooms on the ground floor as well as high quality landscaping, public plaza areas, and public art. Upper floor space will support transit agency operations. The existing facility currently supports 10 bus bays. According to the transit agency, the expansion will cost about $8.4 million with more than half coming from federal grants.

Stephen is a professional urban planner in Puget Sound with a passion for sustainable, livable, and diverse cities. He is especially interested in how policies, regulations, and programs can promote positive outcomes for communities. With stints in great cities like Bellingham and Cork, Stephen currently lives in Seattle. He primarily covers land use and transportation issues and has been with The Urbanist since 2014.