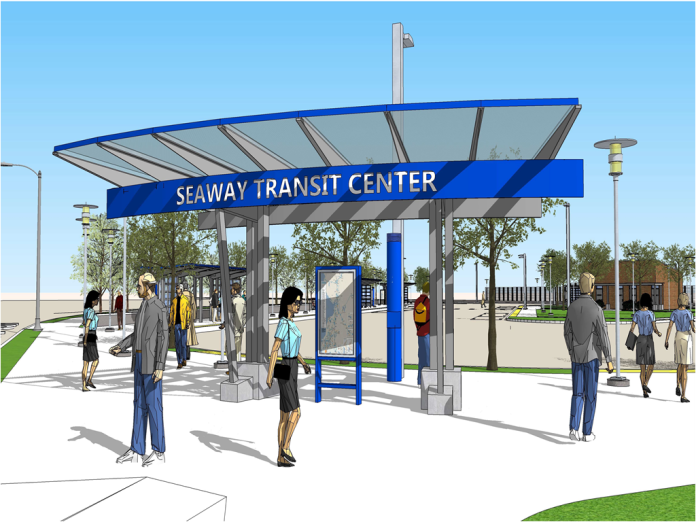 Community Transit will make a major service change with the introduction of a new bus rapid transit (BRT) line–the Swift Green Line–on Sunday, March 24th. The transit agency will also make some tweaks to several other routes due to the new service.
New Swift Green Line
Snohomish County's second BRT route, the Swift Green Line, will begin operating, providing high quality, frequent transit between Canyon Park Park-and-Ride in Bothell and the new Seaway Transit Center in Everett, right at the doorsteps of Boeing's Everett campus. Service on the line will operate along Airport Way, 128th St SW, and Bothell-Everett Highway to serve unincorporated Snohomish County, Mariner Park-and-Ride, McCollum Park Park-and-Ride, and Mill Creek. The line will also intersect with the Swift Blue Line, which primarily operates on SR-99 between Everett Station and Aurora Village Transit Center in Shoreline. Passengers of the line will have good access to the new commercial passenger terminal at Paine Field with a station pair at 100th St SW.
Service on the Swift Green Line is planned to be every 10 minutes on weekdays and every 20 minutes at early morning, evenings, and weekends. A total of 15 station pairs are planned, in addition to two terminals and a single-direction stop, along the corridor. With BRT quality stations, riders can expect off-board payment, level boarding, ticket vending kiosks, and other amenities and unique branding. The start of service will be at noon on Sunday, March 24th.
Looking ahead, Community Transit plans to extend the Swift Green Line deeper into Bothell and the Swift Blue Line to NE 185th St Station to connect with Link light rail in 2024. The transit agency is also planning a new Swift Orange Line to coincide with the opening of the Lynnwood Link light rail extension in 2024. That line would operate from Edmonds Community College to McCollum Park Park-and-Ride via Lynnwood Transit Center, Alderwood, 164th St SW, Bothell-Everett Highway, and 132nd St SE. This would provide further connections to the Swift Green and Blue Lines as well as Sound Transit's new I-405 "Stride" BRT line. The Swift Orange Line would eventually provide service to the future Ash Way light rail station in the 2030s.
Additionally, Community Transit has hinted at another BRT line, the Swift Red Line, that would operate from Everett Station to Smokey Point in Arlington via Marysville with possible opening in 2027.
Other Service Changes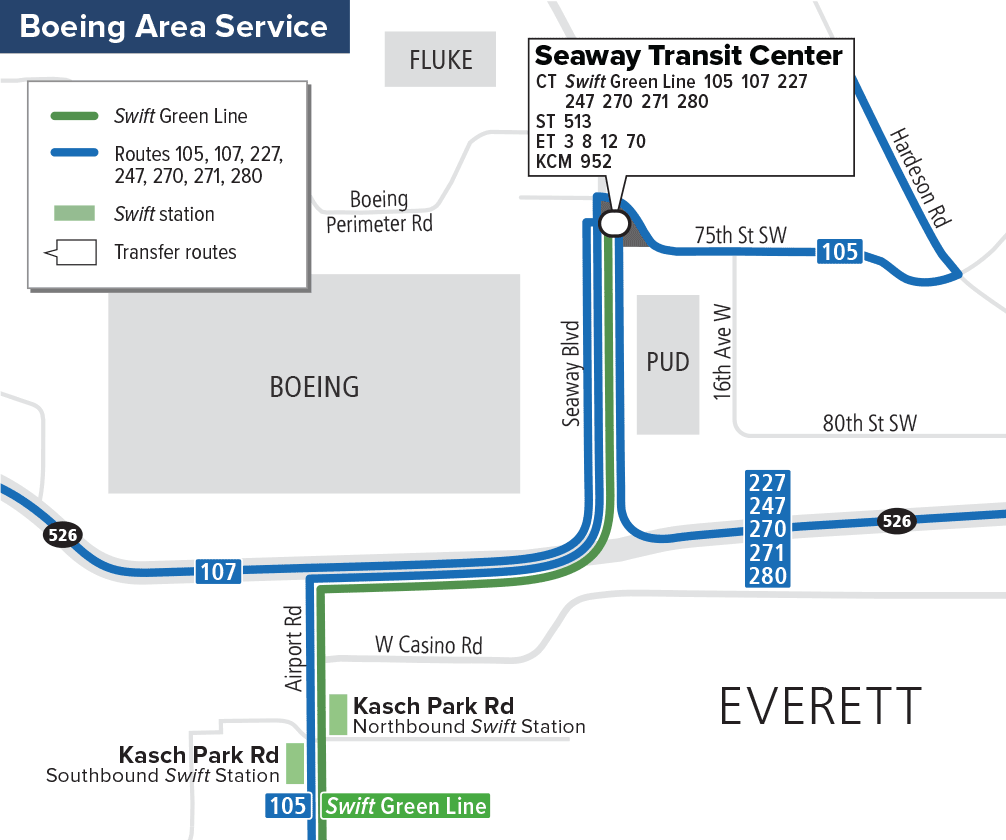 With the launch of Swift Green Line service at the new Seaway Transit Center, Community Transit plans to begin and end several other routes there. This will affect Routes 107, 227, 247, 270, 271, and 280. Trip times may also be adjusted to provide better timed transfers at the transit center. One additional weekday roundtrip will be added to Routes 107, 227, and 247 and a new stop will be added to Route 107 at 84th St SW.

Stephen is a professional urban planner in Puget Sound with a passion for sustainable, livable, and diverse cities. He is especially interested in how policies, regulations, and programs can promote positive outcomes for communities. With stints in great cities like Bellingham and Cork, Stephen currently lives in Seattle. He primarily covers land use and transportation issues and has been with The Urbanist since 2014.