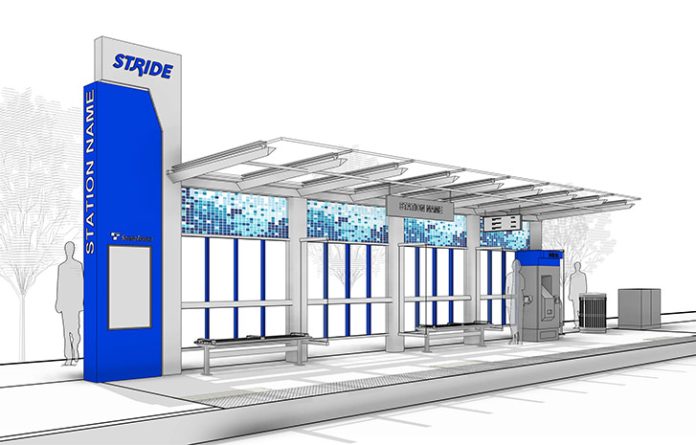 Sound Transit has unveiled the new brand name for its future bus rapid transit (BRT) services: 'Stride'. The transit agency also released early renderings of what branded BRT stations could look like once built.
"Best practices for successful BRT systems worldwide include developing a unique brand that makes it distinct from other transit services," said Tim Healy, Director of Sound Transit's Marketing and Creative Services Department. "Working with project staff and regional stakeholders, we determined that we wanted Sound Transit's BRT brand to convey a system that is modern, comfortable, and optimistic. We also developed criteria that stipulated the name of the new system be memorable, short, easy to pronounce and family well with the overall Sound Transit brand."
In describing what the new branding name is supposed to convey, Healy said, "It represents a positive, optimistic meaning: going at a quick pace, forward progress, and easy going–'take it in stride.'"
So far, Sound Transit is planning to launch three BRT lines in 2024. The two lines to open on the I-405 corridor will serve 11 stops, providing fast bus connections to suburban communities on the Eastside and in Southwest Snohomish County and South King County. Another line will run along the SR-522 corridor from Shoreline to Woodinville. The line will have more than a dozen stops and provide connections to I-405 BRT in Bothell and Lynnwood Link in Shoreline.
Renderings released of the Stride stations look remarkably similar to Community Transit's Swift BRT stations. Features that stations will include things like:
Real-time arrival displays and system information;
Ticket vending machines and ORCA card readers;
Elevated platforms for level-door boarding of buses at all doors;
Large transit shelters with modern canopies and high levels of transparency and lighting;
Identifiable totems to signify the stations and unique artwork; and
Seating, trash receptacles, and station signage.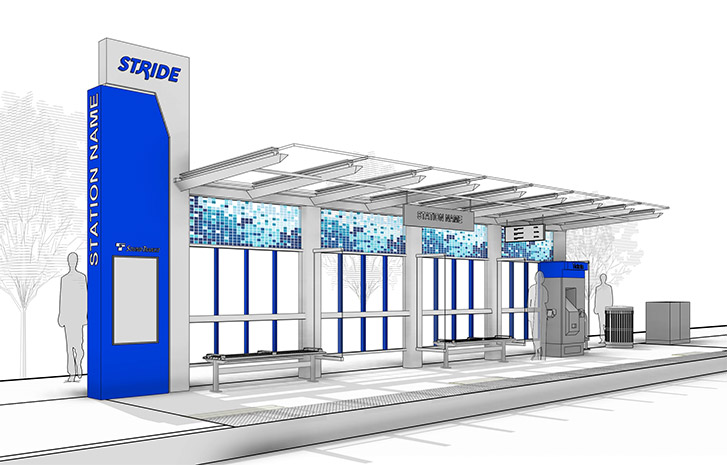 Sound Transit operates several other services, each with their own brand names: 'Sounder' (commuter rail), 'Link' (light rail and streetcar), and 'ST Express' (regional express bus). Partner transit agencies King County Metro and Community Transit operate their own BRT services, branding them as 'RapidRide' and 'Swift', respectively. Pierce Transit will join the ranks when it launches is own BRT service in 2022, meaning regional passengers will eventually have to learn not three, but four BRT brands.

Stephen is a professional urban planner in Puget Sound with a passion for sustainable, livable, and diverse cities. He is especially interested in how policies, regulations, and programs can promote positive outcomes for communities. With stints in great cities like Bellingham and Cork, Stephen currently lives in Seattle. He primarily covers land use and transportation issues and has been with The Urbanist since 2014.