Bus rapid transit (BRT) will stretch from Lynnwood to Burien via I-405 by 2024. It's the larger of two major BRT projects planned to be operated directly by Sound Transit (we profiled SR-522 BRT in May). The 37-mile corridor is anticipated to cost in the $870 million ballpark, carry 18,000 daily riders by 2040, and serve 11 stations–many of which will be freeway stops. Sound Transit is soliciting feedback now on the kind of station access improvements, land use coordination, and station configuration and amenities that should be made as part of the project.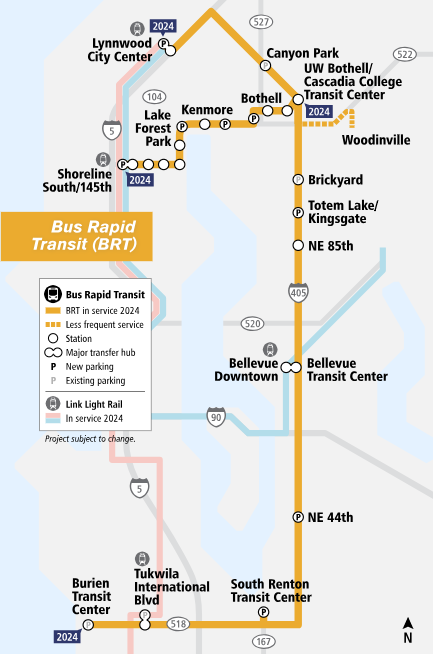 The new I-405 BRT route will essentially blend together portions of Routes 535 and 560, starting in Lynnwood and ending in Burien. BRT service will rely heavily on express toll lanes (ETLs), high occupancy vehicle lanes, and bus-on-shoulder lanes to keep buses moving fast. Sound Transit is partnering with the Washington State Department of Transportation (WSDOT) to build some new facilities, including bus-on-shoulder lanes, direct access ramps, and the NE 85th St interchange in Kirkland. WSDOT is also embarking on plans to expand I-405 to include more HOT lanes in the next few years. Whether or not bus service will be reliable is largely in the hands of WSDOT, which has an incredibly mixed, often poor record in ensuring transit reliability on their facilities throughout the Puget Sound.
Sound Transit, however, plans to run buses at relatively respectable frequencies. Service is planned for 19 hours a day Monday through Saturday with buses coming every 10 minutes during peak commute hours and every 15 minutes at off-peak times. On Sundays, 15-minute frequencies will be maintained over a shorter window at 17 hours.
Some of the big project items that Sound Transit has promised include:
A new parking garage at Totem Lake adding 600 additional parking stalls to the 300 already existing;
New direct access ramps at NE 85th St to the ETLs;
A new 200-stall parking park-and-ride lot at NE 44th St;
New direct access ramps NE 44th St to the ETLs; and
A new 700-stall parking garage at South Renton.
In addition, Sound Transit will construct new BRT station facilities at each of the 11 primary stop locations along the corridor. Several of these stations are already getting upgrades as part of other regional projects like East Link, Lynnwood Link, and Swift Green Line:
This slideshow requires JavaScript.
BRT stops will have common features to improve the rider experience and speed up the board process with:
All-door boarding, level boarding, and off-board fare payment;
Enhanced bus shelters, real-time arrival information, and security features;
Specialized branding; and
Bicycle storage.
Buses themselves will be distinctive with special branding and designed for high volume loading and unloading. Since buses will need to enter and exit freeways to access most of the stations along the corridor, Sound Transit will also seek to develop transit priority facilities, such as transit signal priority, queue jumps, and exclusive bus lanes where practical and useful.
NE 85th St will be one of two interchanges along the I-405 corridor slated for a very special treatment. In coordination with WSDOT, the transportation agencies have developed a multi-level interchange concept to allow transit, carpools, and fee-paying motorists to directly access the ETLs from NE 85th St without merging on and off the normal freeway lanes. The conceptual design would work as follows:
The bottom level of the interchange would essentially be street-level where NE 85th St is today. WSDOT is planning to build that level as a highway-style roundabout with access points in the roundabout to the I-405 on- and off-ramps. Slip lanes would also be provided from the on- and off-ramps for right turns on and off NE 85th St. NE 85th St would remain as a throughway option for east-west motorized travel.
The middle level would functionally look like an elevated roundabout and provide a complex mix of uses. Wide sidewalks would be elevated to this level continuing from either end of NE 85th St and allow for pedestrian and bike use. Near the center of the roundabout, space would be provided for local bus stops. BRT stops would be located at the north end of the direct access ramp connecting to the roundabout and ETLs above.
The top level would be the regular I-405 mainline with ETLs and general purpose lanes.
While the design is fairly elaborate, the initial concepts should present serious concern given the heavy auto-orientation. Hopefully whatever final design is chosen prioritizes safety and accessibility of people walking and biking over speed and capacity of people driving.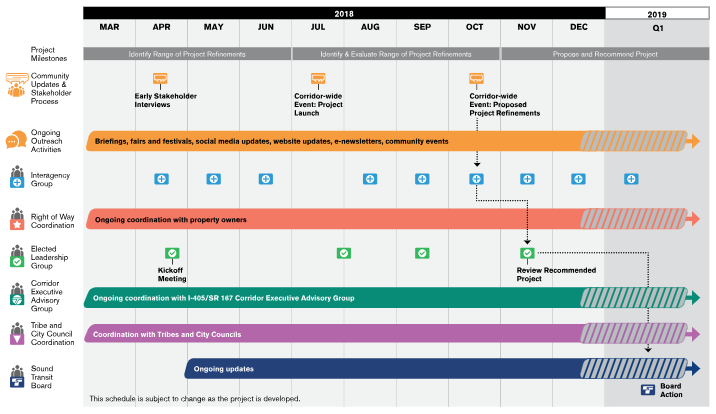 Over the next several months, Sound Transit will continue to identify and refine project priorities and elements as part of the planning process. Early next year, the Sound Transit Board of Directors will provide final direction on what should move forward to conceptual engineering and environmental review. Planning and design is anticipated to continue through 2023 with construction occurring in 2024 and 2025. However, public input now is critically important so that Sound Transit designs a project that will serve future riders in the ways they want (e.g., station amenities and station access like bike storage, bike lanes, landscaping and sound attenuation, pedestrian crossings, transit connections, and ideal stop locations).
Sound Transit will hold two open houses this week (one in Renton today and another in Kirkland tomorrow) and offer an online open house through July 31st. An online interactive map is available for commenters to pin their feedback on station access improvements and station design. Sound Transit is also seeking general feedback on how BRT should function for riders.
The featured image is courtesy of Sound Transit.

Stephen is a professional urban planner in Puget Sound with a passion for sustainable, livable, and diverse cities. He is especially interested in how policies, regulations, and programs can promote positive outcomes for communities. With stints in great cities like Bellingham and Cork, Stephen currently lives in Seattle. He primarily covers land use and transportation issues and has been with The Urbanist since 2014.