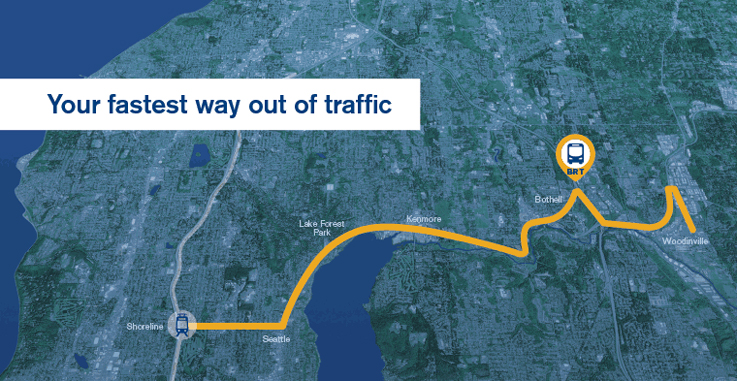 Bus rapid transit (BRT) is slated to come to the SR-522 corridor by 2024. Sound Transit has kicked of the planning process for the corridor, which is largely a concession to communities like Bothell and Lake Forest Park that won't be getting light rail under Sound Transit 3. However, the rapid bus corridor could show the promise of future ridership for the full light rail upgrade that many have championed.
The SR-522 BRT line is planned to run between the NE 145th St light rail station in Shoreline to Bothell with frequencies as high as every 10 minutes. Service on the line will be extended as far east as Woodinville, though with lower frequencies. The eight-mile line is expected to cost up to $386 million and serve 10,000 daily riders with travel times between Bothell and the light rail station around 28 minutes. Extended service to Woodinville would be closer to 45 minutes.

The line is designed to directly serve the urban core of Bothell, University of Washington-Bothell/Cascadia College, and connect with BRT line planned for the I-405 corridor. Service on the line will partially or fully supplant several local and express services already operating along the corridor, such as Routes 308, 312, 372, and 522.
Unfortunately, the representative project alignment does not indicate that the BRT line will serve Shoreline west of the light rail stop at I-5. Aurora Avenue has been a growing urban corridor (e.g., Bitter Lake) in recent years and rezones along NE/NW 145th St will only beget more transit-oriented development as time unfolds. Extending service further west, perhaps as far as Greenwood Ave N or Shoreline Community College, could be a useful way to boost ridership at the NE 145th St light rail station and provide direct connections to the RapidRide E Line and Route 5.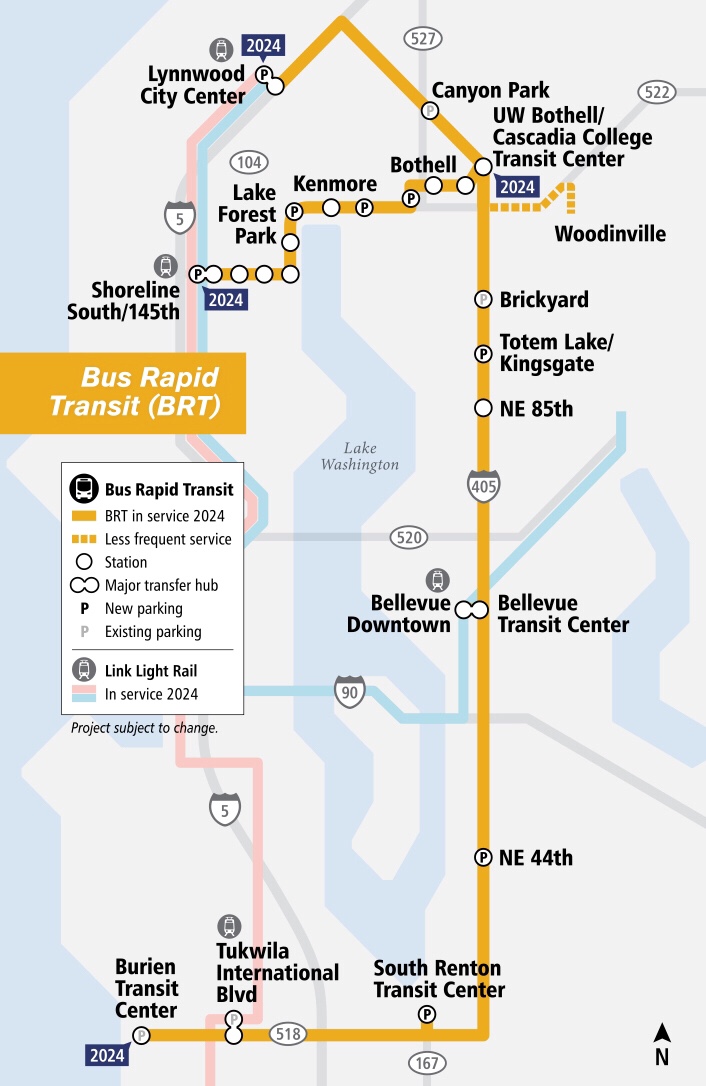 Sound Transit intends to employ many of the standard BRT features that regional riders are familiar with to the SR-522 BRT corridor. These include things like:
Higher quality buses with three doors;
Off-board fare payment;
All-door boarding and exiting; and
Modern stations with platforms, enahnced shelters, branding, lighting, and real-time information systems.
Sound Transit has already provided a conceptual diagram highlighting how service could function along the SR-522 corridor. Nine new BRT station stop pairs in addition to transit lanes and business and access transit (BAT) lanes would be installed from Shoreline to Bothell. New parking facilities will also be located at three stop pairs between Lake Forest Park and Bothell with up to 900 parking stalls (300 per stop); the light rail station at Shoreline is already planned to include 500 parking stalls. (A more detailed set of aerial images showing the corridor and possible improvements is shown in the Scribd PDF below.)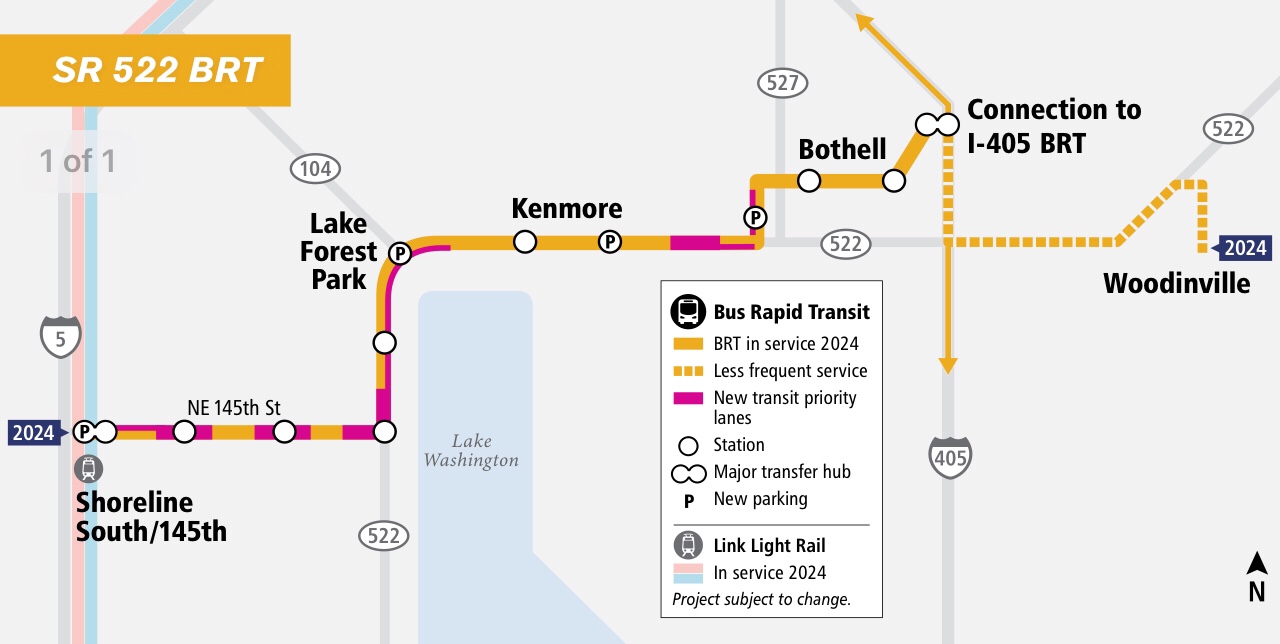 New transit priority signals, queue jumps, and other features are likely to be installed along the corridor to help aid speed and reliability of bus service. Many of the features planned for the SR-522 BRT line will invariably provide direct benefits to local and regional bus service that is retained.
Sound Transit will also considering other improvements to the corridor like sidewalk upgrades in addition to new pedestrian and bicycle facilities for access. That could mean significant upgrades to the public realm near stops and off-corridor improvements where access comes into play. Conceptually, improvements with lighting, new bike lanes, and additional pedestrian crossings could eventually be delivered with BRT.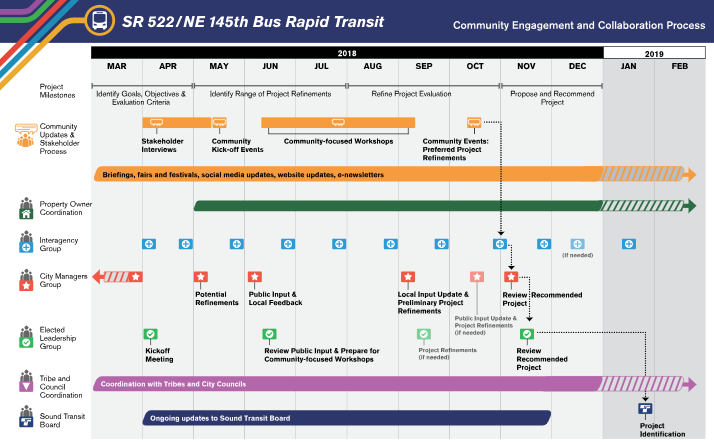 The planning process will further look at the type of branding that Sound Transit should use for BRT and overall system integration with regional transit partners. A restructure of bus service will be particularly important because there may be opportunities to feed local routes to BRT, consolidate services, and redeploy existing transit service in other ways.
An open house on the project will be held tonight (May 31, 2018) from 6pm to 8pm at Brookside Elementary School in Lake Forest Park where the public can learn more about the proposal and process. Sound Transit staff will also be soliciting feedback on the concepts. Comment is being accepted online through an interactive map that allows pinned feedback. Over the course of this year, the project will progress through a thorough community engagement and planning process with final recommendation on the project due by the end of year.

Stephen is a professional urban planner in Puget Sound with a passion for sustainable, livable, and diverse cities. He is especially interested in how policies, regulations, and programs can promote positive outcomes for communities. With stints in great cities like Bellingham and Cork, Stephen currently lives in Seattle. He primarily covers land use and transportation issues and has been with The Urbanist since 2014.