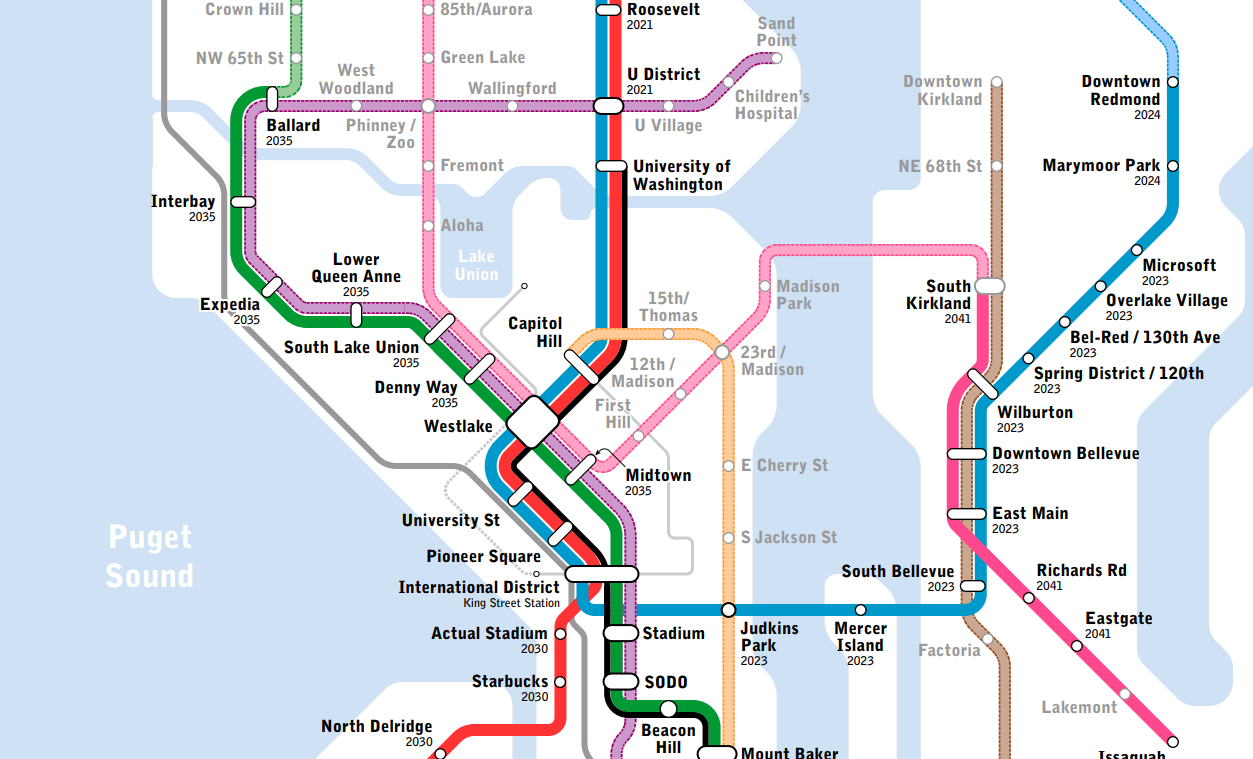 Seattle Subway released a new light rail system expansion map yesterday and hopes to use it to inspire Sound Transit and the general public to select Sound Transit 3 (ST3) alignments that allow for logical line extensions and follow a strategic long-term vision. "The key concept for ST3 planning," Seattle Subway wrote, is to "build for expandability." Seattle Subway's Executive Director Keith Kyle said the map has more than a dozen tweaks to the expansion map they released last year.

"The things we want to focus on are things we're fighting about now," Kyle said. "Madison and SLU [South Lake Union] station being built for interlined expansion, moving ID [International District] Station to the west side, and moving the stadium and SODO stations west."
The westward movement on International District/Chinatown Station and in SODO echoes my
Union Station proposal
, which also recommended running the West Seattle line on 1st Avenue, where it'd be much closer to the stadiums. In fact, Seattle Subway is calling the stop in question "Actual Stadium" in the latest map to highlight the advantage over the existing station location near 6th Avenue, which requires a nearly half-mile walk to games. Additionally, a 1st Avenue alignment would better serve Starbucks headquarters, which Seattle Subway calls out by name in the map.
One example of interlined expansion is the Magenta Line, which lives on, dropped a few shades, as the Pink Line.
"The Pink Line will serve the Aurora corridor, which is already a huge transit market but has bones to be the largest transit-oriented development opportunity in the region," Kyle said. "It will finally fulfill Sound Transit's promise to serve First Hill, the densest [American] neighborhood north of San Francisco and east of Chicago. Another exciting thing about the Pink Line is how it can integrate with a 520 crossing and create a one-seat ride for the ST3-approved Issaquah line."
Seattle Subway's Pink Line routing runs along Aurora Avenue, connecting the Bitter Lake neighborhood of Seattle to Downtown and crooking northeast on Madison Street, picking up First Hill, the Central Area, and Madison Park before crossing Lake Washington on SR-520, hitting South Kirkland and interlining with the Issaquah line (due for completion in 2041).
The SR-520 crossing replaces the Sand Point tunneled crossing of Lake Washington in Seattle Subway's previous vision map, which had extended the Ballard-to-UW line to the Eastside.
Also captured in this map update is a change in ST2 timelines with the Lynnwood Link Extension pushed back to 2024 after the budget grew considerably because of the rising cost of labor and of land and the expanded scope of the project from initial estimates. That makes 2024 a busy year for Sound Transit with the Downtown Redmond Extension's two stations and the Federal Way Extension's three stations joining the four stations added with Lynnwood Link. Sound Transit has also scheduled bus rapid transit (BRT) lines on SR-522 and I-405 for delivery in 2024.
King County Plans
Seattle Subway wants to keep the momentum going with another ballot initiative and the vision map with lines looping Lake Washington to serve Renton, Newcastle, Downtown Kirkland, and upgraded 522 BRT service to Woodinville, Bothell, Kenmore, and Lake Forest Park. The Renton to Bellevue section was an addition from the 2017 map.
"Some of the things we did were in direct response to feedback we've received from the public from past versions," Kyle said. "Adding the 405-oriented extension from Renton to the Eastside, for example."
While surburban King County's light rail coverage would be excellent, Seattle Subway didn't forget about Seattle between the new Pink Line, the Ballard-to-Sand Point line, the Red Line extension to White Center (and Burien), the Green Line extension to Crown Hill, Greenwood, Northgate, and Lake City, and the Gold Line, which has been re-imagined as a spur from Capitol Hill Station. The previous version had the Gold Line interline with Ballard Link Downtown and beeline to Sea-Tac Airport via South Park and Georgetown. Instead, the latest Gold Line iteration would serve 23rd and Madison and turn south mirroring the Route 48 bus through the Central Area, and terminate at Mount Baker Station.
Pierce and Snohomish Counties
Seattle Subway envisions fewer extensions envisioned in Snohomish and Pierce counties. Link extensions from Downtown Everett to Everett College and from Tacoma Dome to Tacoma Mall remain.
"For the long-term, we see subway expansions radiating from central Tacoma and Everett–but in the mid-term they don't appear to be ready to expand," Kyle said. "Demand in King County is more immediate. We are experiencing a full scale twin crisis of housing and transportation. We'll be ready for major improvements before the rest of the region is ready."
For the time being, Seattle Subway's King County focus would primarily leave the ST3 light rail spine to serve Pierce and Snohomish counties supplemented by bus rapid transit given the lower population densities. And some bus rapid transit is already on the way. Pierce County is in the process of planning a BRT line on Pacific Avenue, and if the project is as successful and transformation as planners hope, it's not hard to imagine the corridor densifying and eventually being light-rail ready–maybe 30 or 40 years down the road. Likewise in Snohomish County has a BRT line under construction–the Swift Green line, in addition to the Swift Blue line, which opened in 2009. Both counties have identified more BRT corridors in their respective long range plans.
Timelines
Seattle Subway has its sights set more immediately.
"The next transit measure, likely in 2024, will very likely be at the King County level.  We need to start planning for that now," Kyle said. "Demand is so high in King that we will also be ready to expand more when Tacoma and Everett catch up."
Many transit advocates have pointed to the pattern of Seattle backing away from transit investment, snatching defeat from the jaws of victory. This year is the 50-year anniversary of the Seattle region voting down Forward Thrust and Atlanta getting MARTA instead. More recently, the Seattle Monorail Project came close to expanding the high capacity network before mismanagement pushed local officials to pull the plug–the monorail taxing authority still remains should we decide to use it.
"Getting everything lined up to actually win a ballot measure while not suffering the same fate as the monorail (we will need establishment support) will be much more difficult," Kyle said last year when I asked about Seattle using monorail taxing authority.
Will King County forge ahead of the regional pack and support an ambitious plan to augment ST3 light rail? Time will tell.
A Faster Metro Plan: Fund E Rail with City Transportation Authority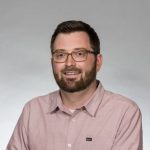 Doug Trumm is the executive director of The Urbanist. An Urbanist writer since 2015, he dreams of pedestrianizing streets, blanketing the city in bus lanes, and unleashing a mass timber building spree to end the affordable housing shortage and avert our coming climate catastrophe. He graduated from the Evans School of Public Policy and Governance at the University of Washington. He lives in East Fremont and loves to explore the city on his bike.