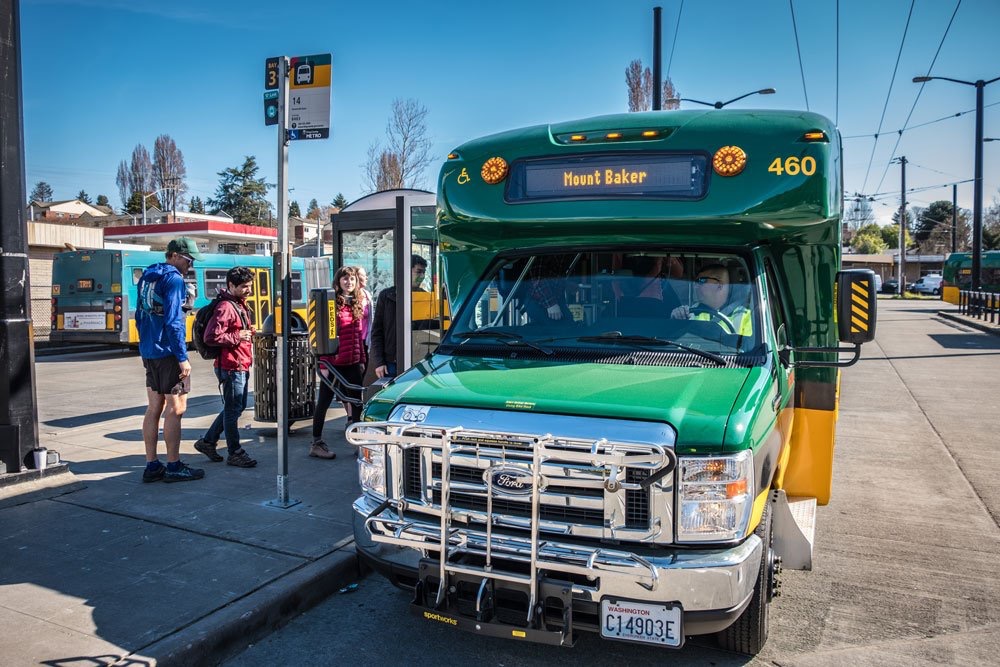 Urban hikers and outdoor enthusiasts will have access to Trailhead Direct once again beginning on Saturday–bypassing congested and often full trailhead parking lots. The weekend outdoor exploration service will provide semi-frequent trips to the Issaquah Alps, but with an extended route operating from Seattle and Bellevue in addition to Issaquah. The trial service was so popular last season that King County Metro Transit and King County Parks have teamed up to go bigger this year, in part due to the Seattle Department of Transportation and corporate sponsors REI and Clif Bar helping to support the program.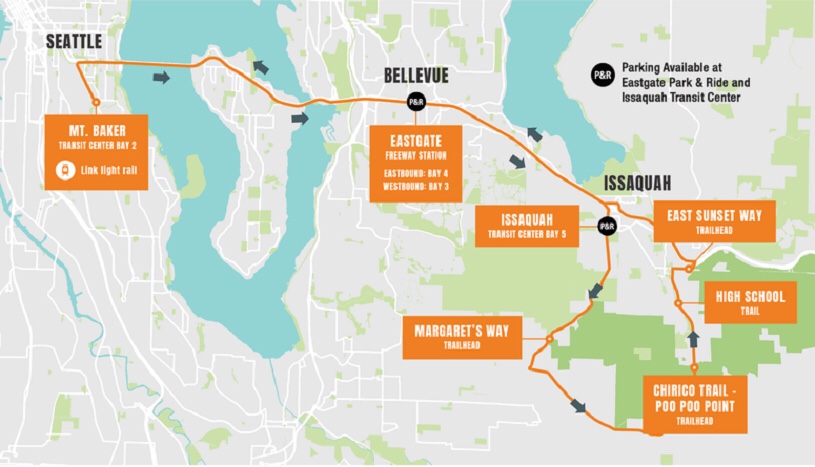 Seattle riders will be able catch Trailhead Direct transit vans from Mount Baker Station in the Rainier Valley, eliminating the need for many to make one or more transit transfers. However, those who don't live nearby can reach the stop from across Seattle by taking Link or Routes 7, 8, 14, 48, and 106. On the way to and from Issaquah, the vans will stop in Bellevue at the Eastgate Freeway Station, which offers bus connections to Routes 226, 240, 241, 245, 271, and 554. Hikers who would rather drive can use free parking at Eastgate. No park-and-ride facilities are available at Mount Baker Station, but on-street parking is an option.
Once the vans reach Issaquah, they will operate on a one-way circular loop with their first stop at the Issaquah Transit Center. Connections to Routes 208, 271, and 554 are available at the transit center in addition to parking. The vans will then proceed to four trailheads (Margaret's Way, Chirico Trail-Poo Poo Point, High School Trail, and East Sunset Way Trail) by heading south, east, and then north. Some vans will then loop back to the Issaquah Transit Center and onward to Bellevue and Seattle.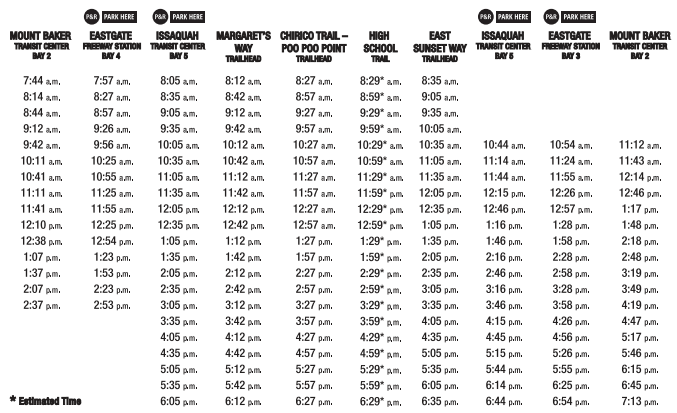 Service will operate every half hour on weekends and holidays through to the fall, but the service window from Seattle and Bellevue is shorter than in Issaquah. Metro plans to use smaller transit vans ranging from 13 to 27 seats. The vans will be able to accommodate bicycles, up to two on racks. Regular transit fares will apply, which can be paid with cash, ORCA, or a mobile ticket.
In addition to the Issaquah Alps Trailhead Direct service, Metro will launch two other Trailhead Direct services. The second route will begin in mid-May be providing service from Capitol Hill to Mount Si and Mount Teneriffe, near North Bend. Then in early summer Trailhead Direct will provide a shuttle between Mailbox Peak–an incredibly popular trail near North Bend–and a parking lot in town.
In our neck of the woods, we often think of transit as a purely urban service, but rural and recreational services also have their merits. In this case, Trailhead Direct seats are being filled up giving more people access to hard-to-reach trailheads. The service is a clear boon to urban outdoor enthusiasts who might otherwise need to own or rent a car and has the added benefit of mitigating parking demand at trailheads and reducing carbon emissions that would otherwise be spent in pursuit of a wilderness escape.

Stephen is a professional urban planner in Puget Sound with a passion for sustainable, livable, and diverse cities. He is especially interested in how policies, regulations, and programs can promote positive outcomes for communities. With stints in great cities like Bellingham and Cork, Stephen currently lives in Seattle. He primarily covers land use and transportation issues and has been with The Urbanist since 2014.