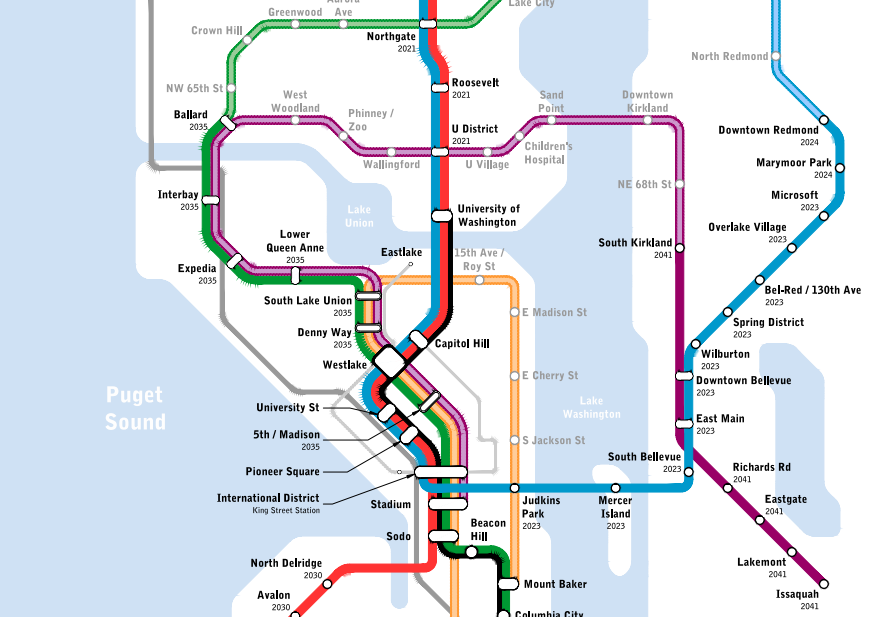 Seattle Subway, a local grassroots transit advocacy group, has a new regional vision map out that charts where they think future light rail lines and extensions should go after Sound Transit 3. The map emphasizes new light rail lines and extensions between Downtown Redmond and Woodinville, Ballard and Kirkland (via Sand Point), Ballard and Woodinville (via Crown Hill and Northgate), and a loop line in central Seattle. The map also draws extensions in Tacoma and Everett, and between West Seattle and Renton (via Burien).

I recently caught up with Keith Kyle, Executive Director of Seattle Subway, to find out what went into designing the new vision map. Kyle said that the map reflects many aspirations of Seattle Subway's membership, yet is grounded in political, technical, and funding realities. The regional vision map is one tool that Seattle Subway uses to convey its message to communities and supporters, Kyle said. Seattle Subway has kicked off a new campaign this summer to engage and activate supporters in advance of detailed project planning for lines and stations to be built in the next major phase of Sound Transit's light rail expansion progam.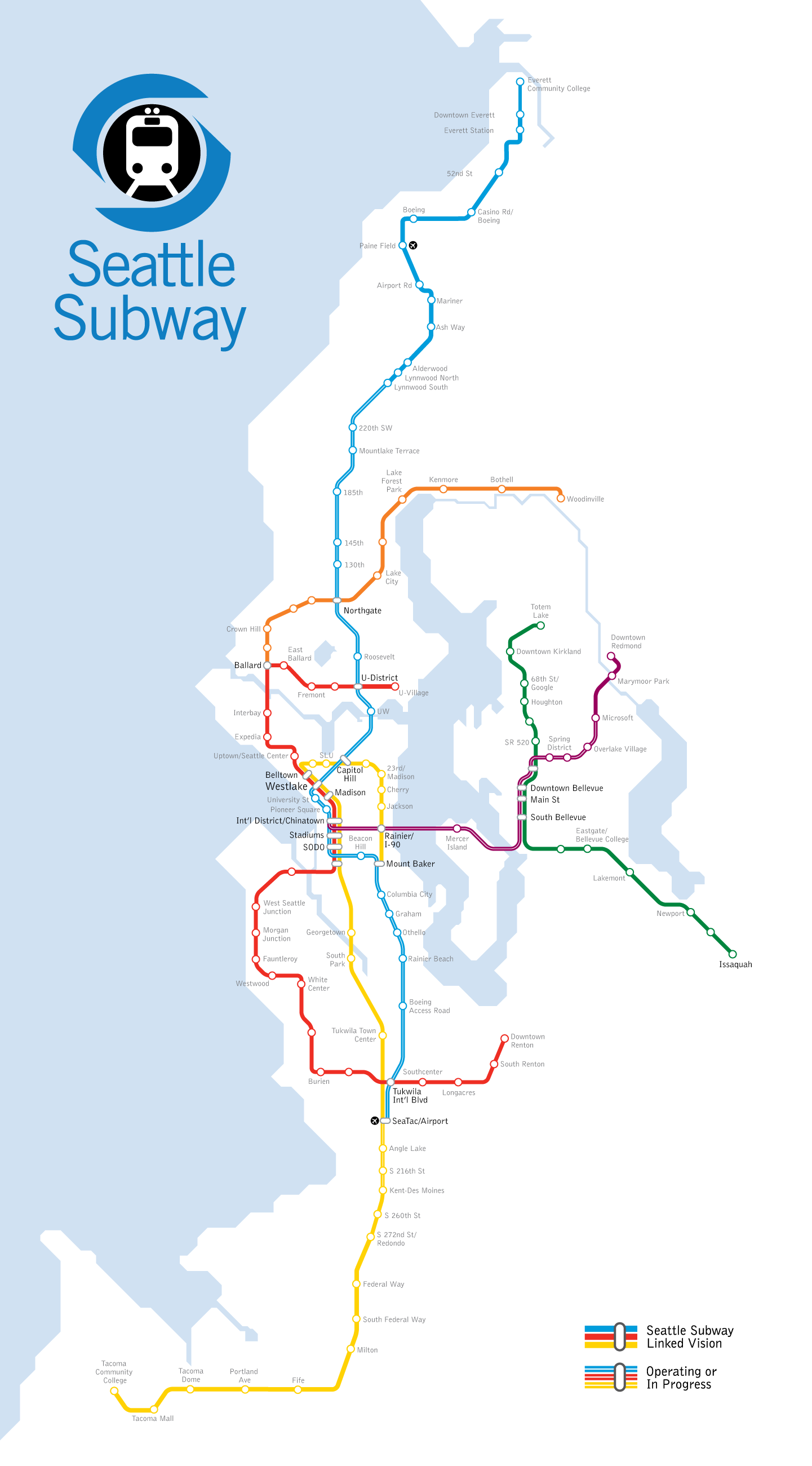 Despite being less geographically accurate, the refreshed map should be fairly familiar to eagle eye readers since it is largely based on the "ST Complete" map that Seattle Subway put out in 2015. Kyle said that some inspiration for the vision map also comes right from Sound Transit's long-range plan (e.g., Northgate to Woodinville, Ballard to University District, and West Seattle to Renton) and planned high capacity transit corridor studies (e.g., Everett to North Everett, Northern Lake Washington, and Tacoma Dome to Tacoma Mall) funded in Sound Transit 3. Sound Transit considered many of these alternatives during development of the Sound Transit 3 expansion package. Big ideas like Ballard to West Seattle and South Kirkland to Issaquah won out, but not as big ideas as many had hoped.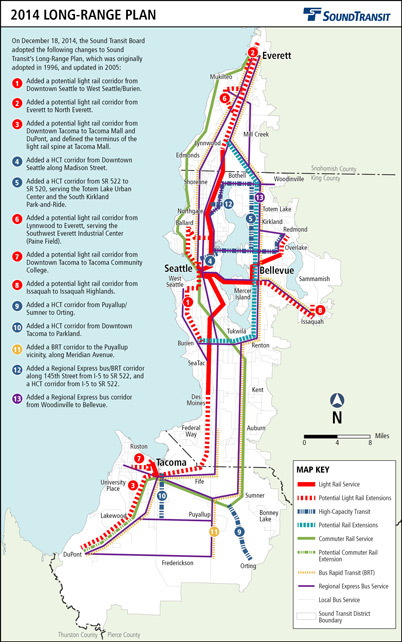 Significant Changes to the Vision Map
There is a variety of significant differences between the ST Complete and new vision maps, which includes the operation of lines, cutting out and adding some destinations and stops, and creating new corridor concepts. But there a few other basic changes as well, such as renewed approaches to identifying lines in operation, planned for construction, and envisioned in the future, Tacoma Link and Sounder commuter rail drawn in with their extensions, and existing Amtrak lines getting minor honorable mentions.
New Operational Structure
The new map presents a much more complex operational makeup of light rail lines using joint corridors. For instance, the new map envisions five lines converging at International District/Chinatown Station, though such an interchange would necessarily require multiple platform and track sets to facilitate the interchange. The 2015 map only pegged four lines converging for the station there.
In the new vision map, three lines would also emerge north of Downtown Seattle–two heading toward Ballard and another looping around North Capitol Hill and the Central Area. The Ballard-Downtown corridor would split into north and east of Central Ballard with the Green line heading toward Woodinville and Purple line toward Issaquah via Sand Point. The 2015 map, however, only hand one Ballard-Downtown line with a secondary Ballard-Woodinville line terminating in Central Ballard. The new Green Line threads together portions of the 2015 Red and Orange Lines creating a single line running from Woodinville to Sea-Tac Airport serving Ballard and Downtown Seattle in between. Likewise, the Purple Line blends together portions of the the 2015 Red and Green Lines by picking up a cross-lake connection so that service is provided seamlessly from Issaquah to Ballard via Kirkland and continuing on to International District/Chinatown Station.
Seattle Subway's envisioned network mirrors the complex type of service pattern found in a system like the DC Metro, where lines share common corridors in core areas to create frequency, allow for practical transfers, and provide for deeper coverage.
Changing Stops and Destinations
A few destinations and stops were cut from the new map, including a stop at Tacoma Community College (which will be served by the Tacoma Link streetcar), Tukwila Town Center, and select stops on the West Seattle-Renton and South Kirkland-Issaquah line. Some of these changes reflect new realities from planned investments in Sound Transit 3. Meanwhile, Seattle Subway's vision would include a number of added stops, such an S 38th St in Tacoma and a terminus at Renton Landing. The latter is a burgeoning urban district for housing, services, and jobs. As a terminus, the station could be a good transit center location that connects with local pulse bus service to districts to the north and east, adding to its overall utility.
New Service Concepts
The new vision map brings back the concept of a second cross-lake light rail line (I-90 being the other). Seattle Subway's concept provides the cross-lake connection via Sand Point and Kirkland, similar to ones proposed in the past. The map also highlights a new way to thread together cities on the Eastside with an extension of the Seattle-Redmond line to Woodinville. Previous concepts have generally focused on such a connection via Kirkland, but this new one is interesting since Kirkland trips could require a transfer via Bellevue or two transfers in Seattle to head toward Woodinville. Admittedly, that is probably not a high ridership corridor today, but with the growth of areas in North King County, Southwest Snohomish County, and other parts north and east of the King County line, it could prove a promising and useful service.
Where Is First Hill?
First Hill's absence from the map is notable. Kyle explained that crossing I-5 for University Link was an immense technical challenge and expensive alignment to construct as part of the initial Sound Move program. Doing it again as part of Sound Transit 3 would be, perhaps, even more complex since light rail would have to dive under three levels of roadways–twice–within a short distance and that a station in First Hill would have to be deep-level. The costs to do that would undoubtedly be high even if technically feasible.
Instead, Seattle Subway is hedging their bets for a station near Fifth Avenue in the office core of Downtown Seattle that would also offer a connection to the Madison RapidRide line. This would provide better coverage and access to First Hill while creating a larger light rail market for Downtown Seattle, but Seattle Subway is still hopeful that technical analysis from engineering and budgeting experts may cast a more favorable light on a First Hill station since serving the district is a regional priority. It is also possible that Seattle Subway's loop line–which links Mount Baker with the Central Area, North Capitol Hill, South Lake Union, and Downtown Seattle–could make a deviation to partially serve First Hill, but the utility of that is not entirely clear right now.
If You Map It They Will Fund
I asked Kyle why there were few extensions envisioned in Snohomish and Pierce counties. Kyle said that light rail, as a regional project, will probably complete its destiny after Sound Transit 3 and that specific subareas, such as those in King County, are more inclined to do big things on their own. Kyle also admitted that his organization was less familiar with local constituencies in Snohomish and Pierce counties. So while there may be some future for more light rail expansions in those areas, Kyle was not certain what those might be.
Readers will undoubtedly have their own quibbles (feel free to share them in the comments) with Seattle Subway's new vision map. But it is a bold statement on what a more extensive rapid transit system could look like in the region. For that reason, it will be a powerful tool to frame future planning discussions in the minds of the public, planners, and politicians in the years ahead.
Seattle Subway will hold a fundraiser and straw poll tonight from 7pm to 9pm at Hattie's Hat in Ballard. The straw poll will center on primary candidates for mayor and city council in Seattle.

Stephen is a professional urban planner in Puget Sound with a passion for sustainable, livable, and diverse cities. He is especially interested in how policies, regulations, and programs can promote positive outcomes for communities. With stints in great cities like Bellingham and Cork, Stephen currently lives in Seattle. He primarily covers land use and transportation issues and has been with The Urbanist since 2014.